From time to time I'll pull photos from the archives and assemble them to feature a particular boat. This boat is "PUNCHLIST", a beautifully maintained 1979 42-foot Commander TF (Tournament Fisherman) powered by a pair of 8V Detroit Diesels. It is representative of the 42' TF, and it is the so-called "second generation 42". The first 42 was an extension of the 38' Commander hull, maintaining the 13' beam, but just extended by 4 feet and with a higher freeboard. Very nice boat, by the way, but not anywhere near as rugged or robust as the second generation as shown by the photos of PUNCHLIST on this thread. The second generation was much heavier and intended from the beginning to be an open water wave crusher.
John and Sandy Even on their beautiful Commander, "PUNCHLIST". This boat has one of the nicest wood trimmed aft decks of any Commander I've seen. Very nice!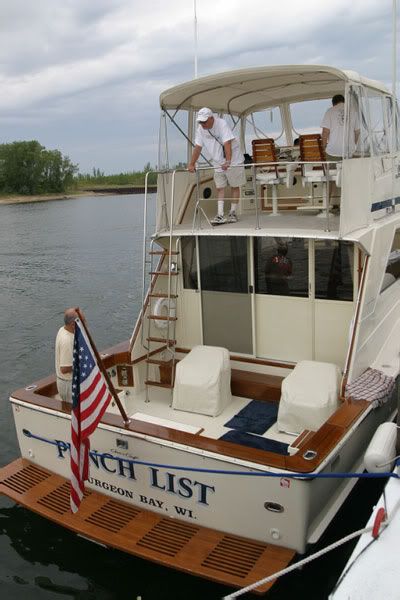 The photo below shows PUNCHLIST in action. Todd Heinrich took the photo and offered the following comments:
"The great lakes do not have the biggest waves but they produce close swells topped with chop and lots of white caps. Friday was a bad day for boating. Punch List's 8V Detroit Diesels punched the waves and made a smoother path to Michigan City Harbor for our little 38 Commander. Without her in front we would have had to turn back.
The attached picture was taken about 10 miles out of Mecca. Both of our boats suffered from the beating we took and entered M.C. harbor with small repairs to make."