This thread was originally posted by long term Commander Forum member, Heidi Pigeon, back in 2006, showing off some photos taken during Christmas of 2005 aboard SEASPRAY. Now it is June 18, 2010, and Heidi is still in the news, looking great too, and SEASPRAY is still serving the adventures of Heidi and Paul in the English Channel. Here is our
Photo of the Day
added below, for the week-end of June 18, 2010. The thread that follows is from 2006, with many links with lots of photos of what it is like to maintain and cruise a 31' Commander in these historic waters.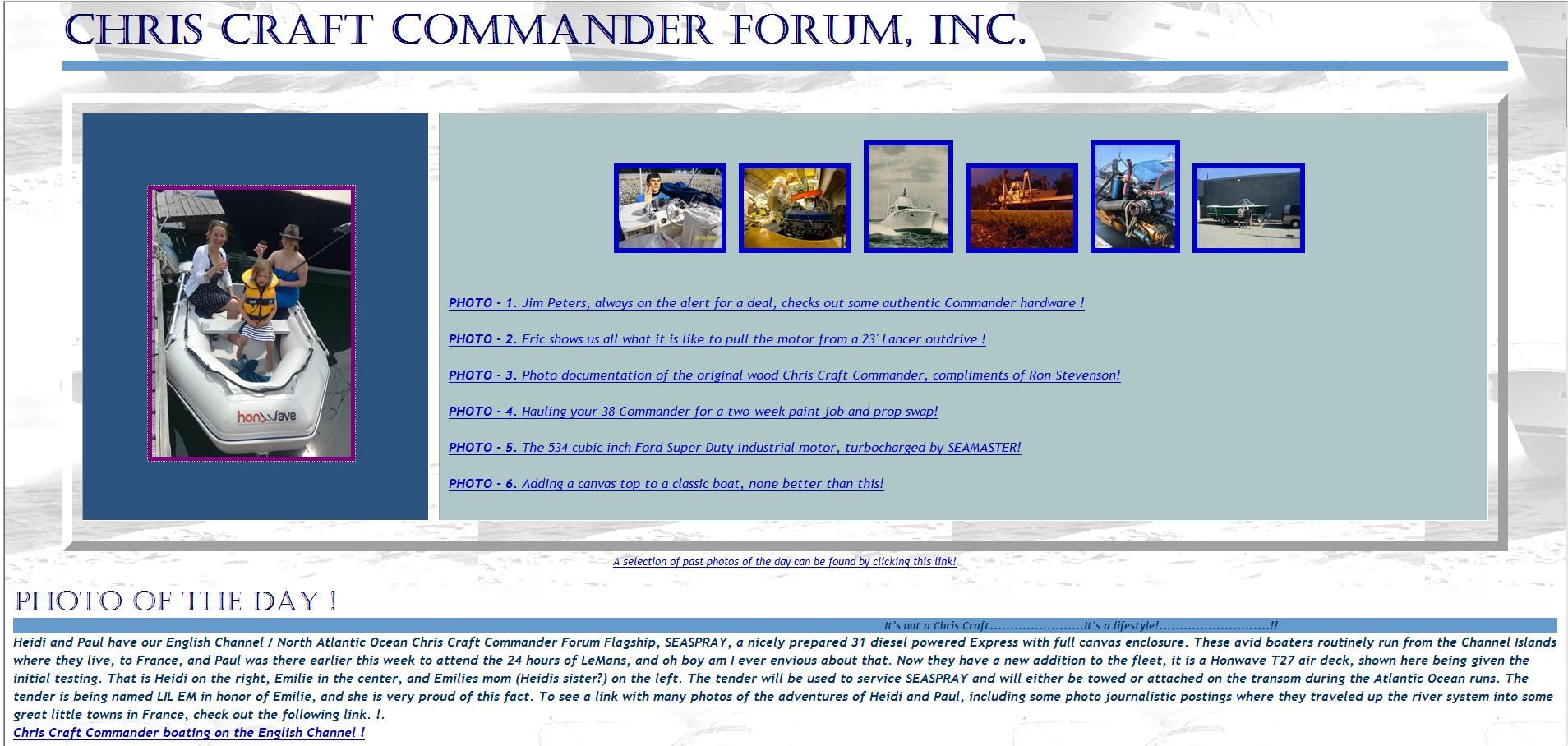 Enjoy!
(From December 2005) Christmas on the water!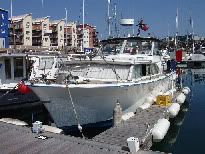 Here are photos of Heidi Pigeon and Paul Le Roux, of St Clement, Jersey, Channel Islands celebrating Christmas aboard their 1972 Commander, "SEASPRAY".. The boat resides at St Helier Marina, Jersey, Channel Islands. The boat is powered by twin 170 hp Yanmar diesels.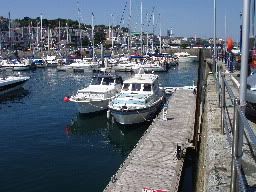 On the first trip of 2006 the boat made a 29 mile trip to their sister island, Guernsey for the weekend. The trip over was great but on the way back the port engine cut out, which was later traced to a diesel bug.
Heidi noted: We dried out a few days later and found that our prop. anodes had shot up, one was nearly touching, this happened last year on our first trip and it Grazed a hole in the hull about half an inch deep. They have now been removed and the engines and prop.s bonded. Hope we have better luck on our next trip. Cheers Heidi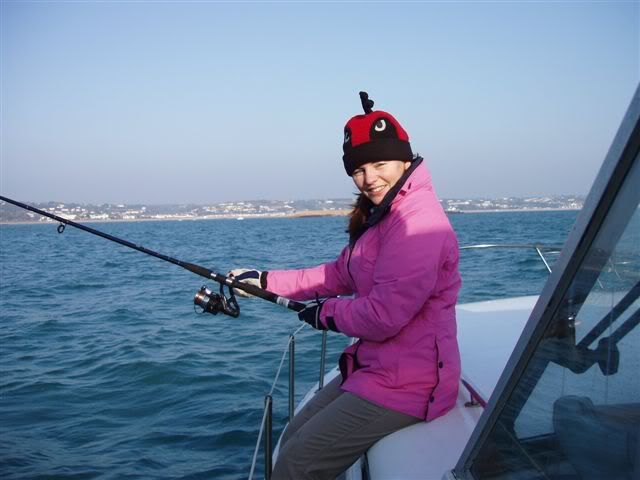 Heidi fishing for dinner in the English Channel.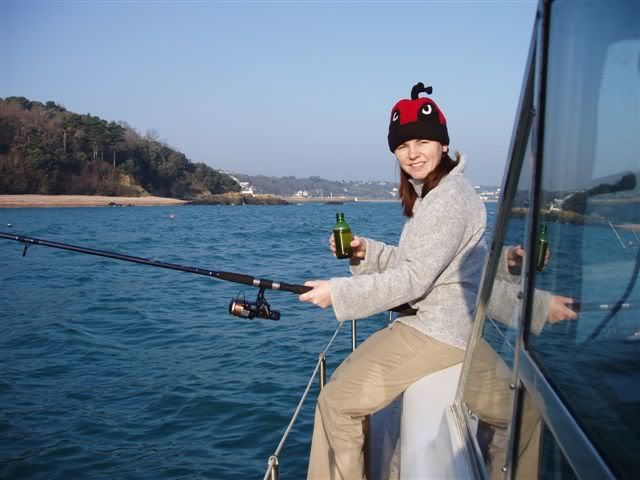 Heidi adapting a more comfortable style.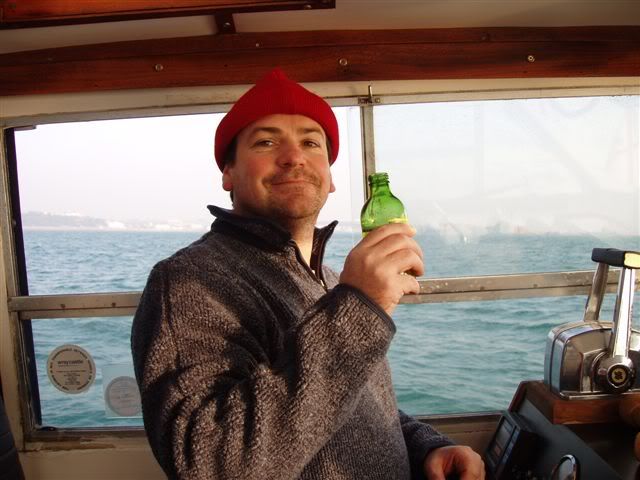 Al Capatano at the helm!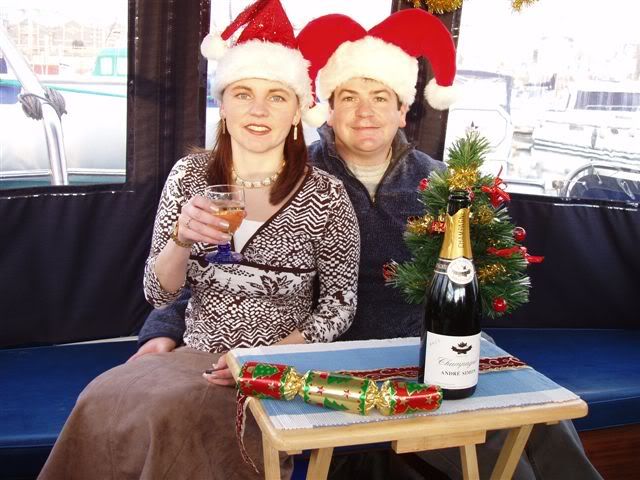 Christmas 2005 aboard SEASPRAY.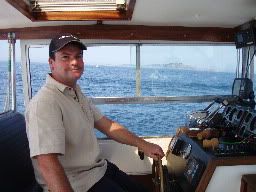 The Capatano showing excellent form at the helm.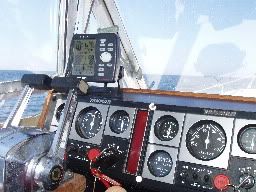 Helm station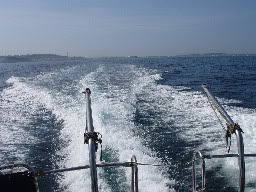 Yanmar diesel power making the trip across the English Channel.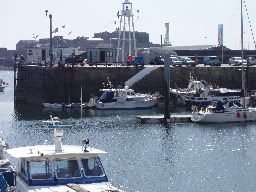 St Helier Marina, Jersey, Channel Islands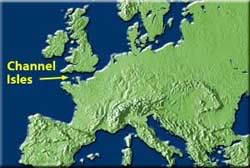 As a popular tourist resort, Guernsey has seen a steady growth since the end of the second world war but fortunately the authorities ensure that it does not become too commercialised and therefore keeps some of its charm and traditional ways. Remember to get cheap flights to Guernsey (Channel Islands) for your trip.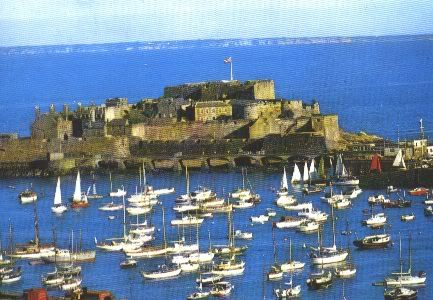 Guernsey is the hottest place in the British Isles during the summer months, although evenings can get much cooler. Guernsey is an island with a long history and has been invaded and conquered many times over the years, by the English, French and more recently by Germany in 1940, although the people of Guernsey have remained fiercely loyal to England for hundreds of years.
Its not surprising that there are many forts and old military based on Guernsey which are well worth exploring. Museums on Guernsey include the Guernsey Museum and Art Gallery, the Castle Cornet and La Valette Underground Military Museum. Restaurants in Guernsey are varied and you will find many British, French and seafood restaurants in Guernsey
EDIT NOTE:
The thread above was Heidi's first entry here at chriscraftcommander.com, and I think you can see it was a special treat for us here in the USA to be able to see how a couple of avid Chris Craft enthusiasts were enjoying their boat in a far away geogrphical location where seafaring is a long-time tradition. Since this initial post, Heidi and Paul have campaiganed SEASPRAY on many adventures, some of which are listed below.
Regards, happy reading!
Paul
forum moderator
31 Commander SEASPRAY, The Official Flagship of the English Channel Commander Fleet
http://www.network54.com/Forum/424840/message/1144961429
Hauled for maintenance April of 2006
http://www.network54.com/Forum/424840/message/1146739103
Buffing the hull
http://www.network54.com/Forum/424840/message/1146737707
New aft platform
http://www.network54.com/Forum/424840/message/1146742934
Bow badge restoration
http://www.network54.com/Forum/424840/message/1146738811
New anodes and split pins, May 4 2006
http://www.network54.com/Forum/424840/message/1154369256
SEASPRAY crosses the English Channel and travels upriver to Dinan, France. This is one great adventure, and a great thread !
http://www.network54.com/Forum/424840/message/1177203340
SEASPRAY hauled for routine maintenance, April of 2007