Bought in '97 from the widow of the original owner, for, yes, $100 dollars... Was hanging in its original shipping frame coverted to a boat lift in a boat house here on Lk Washington in Seattle. The lift broke, the boat fell onto the frame and punched a couple holes in the bottom. We own it with another family, Dick and Kathy Dow. Dick and I spent almost every night and weekend for three years doing a complete restoration with all new systems, paint, stripping, staining, varnishing etc. Been operational for going on six years. Powered by 350"Q" motors, top speed is around 37-40 depending on how brave we are. We cruise 25-2800, 10-12 gallons per hour.
Another shot for you with Mt Baker in the background, in Puget Sound.
Ron
1953 35' #35C340
OK, Can't figure out to get one of my photos to you! Any ideas?
[email protected]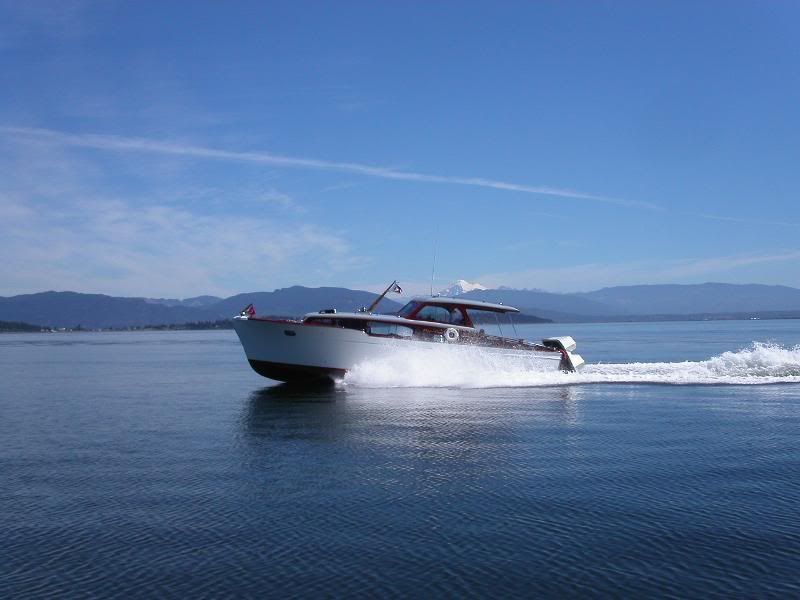 EDIT COMMENT: This is the boat Ron paid $100 for, and then totally restored. It's individual link can be found here
http://www.network54.com/Forum/424840/message/1142497843
For some reason, Ron's attempt to post photos here was compromised due to the fact that I think his photo host (like Geocities will do) has a code that will not let the photos be easily linked to other sites. Therefore, I uploaded the photos and posted them here on the forum, because they're so spectacular and this is a very deserving project to be shared! Regards, Paul, forum moderator.