Editor's note:
I am relaying this message from Heidi, which came with lots of photos. Thank you Heidi, for taking the time to share this with us.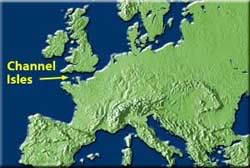 Here is Heidi's intriguing photo sequence of their 31 Yanmar-powered Commander coming out of the salt in the Jersey Isles. If you don't know where the Jersey Isles are, they're halfway between the southern tip of England and France, in the English Channel, and here is a previous thread from Heidi showing their boat, with links to the surrounding islands, etc. <a
http://www.network54.com/Forum/424840/message/1138676924
And now……………on with the show!
Paul
-------------------------------------------------------------