George Klein has emailed the following information about his 1965 38' Commander. It's not too far off from my early model 1966. They may even share a few pieces of wood from the same tree! I think you'll find this one VERY INTERESTING and one for the Master Index !!
Paul
"Bonaventure is hull # FXA 38 2034 built in 1965. I bought her in 1980 from the original owner's estate. I knew the original owner and I took care of the boat for him when I was in college. He re-powered her in 1974 with the 427's.
I had the heads done in 1991. They are still running well. I chartered her out on weekends from 1982-1990 as a sailboat race committee boat which paid her off by 1985. I had only 2 captains over that period (I couldn't do it because I had to work weekends back then) so I know the boat was run properly.
The boat is kept in Rye NY and we cruise the Long Island Sound area from New York Harbor to Nantucket, MA.
The coating is Awlgrip Eggshell White. The plywood is a marine grade plywood with Philippine ribbon stripe mahogany veneer. The forward bulkhead had numerous holes and issues from previous instruments and whatnot. So after West epoxy and wood filling the holes, it got a covering of 1/8 inch ply glued on with thickened west system.The old 3/8" thick side panels were rotted around the doorframe but the thickness of the mahogany was about 1/8 inch. The new 3/8" plywood has a veneer thickness of about a 32nd. Pretty dicey sanding off the screw plugs. All the new wood was coated on the back and edges with 2 coats of Smith's clear penetrating epoxy. The front has Interlux CC Red Mahogany filler stain. I think the number is 573. Then 2 coats of Int. 1026 sealer. A lot of varnishing lay ahead."
Good stuff, George. I love the look in the shop, of the freshly painted hull. Brings back memories of when I was growing up as a kid, and got to visit my Grandfather's Ford dealership. They always had something in the paint shop, and it always looked so perfect after being painted!
Please feel to drop some addl info here, so the readers can understand more of what you've done with your boat. Great project, and stunning looks too. I earlier commented to you in one of my emails, that I thought you went "red" on your finish, but upon reading more closely, you actually went the "brown" route if you used the Interlux 573, that's what I used and it is indeed "brown" when compared to the "red alternative". Good job, by the way, you have by compliments!
Paul
This one made it as the "Photo of the Day", and I think everyone can see why! Nothing like an "in progress photo" next to the finished product. It's stunning, nothing less!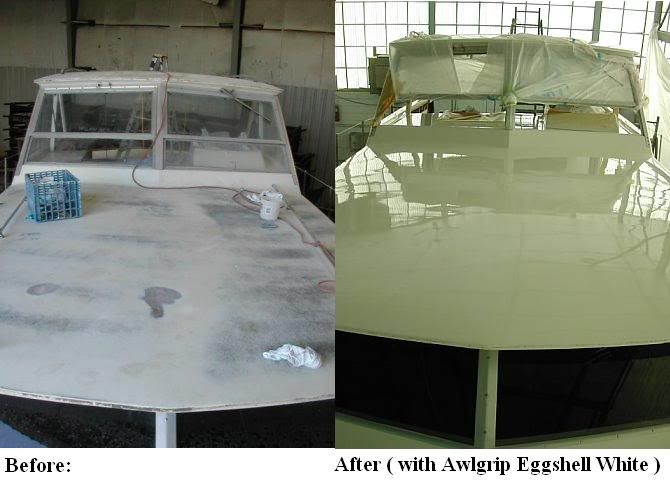 Here's another shot of what the boat looked like earlier. That particular gelcoat application must have been a thin one, or a previous owner really took a buffer to the boat! You sure fixed that problem, George!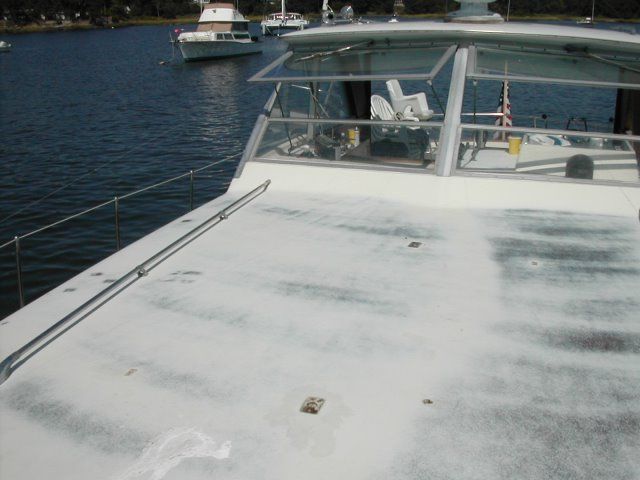 Here's another before/after combo, check out that fore deck!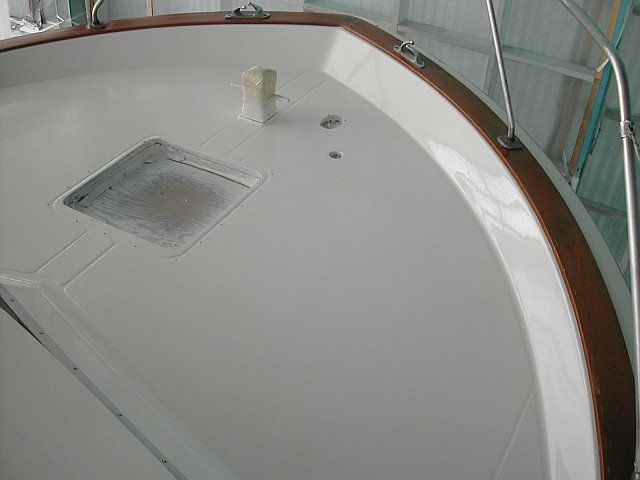 Here are some photos showing the sides of the upper hull, being prepped and painted.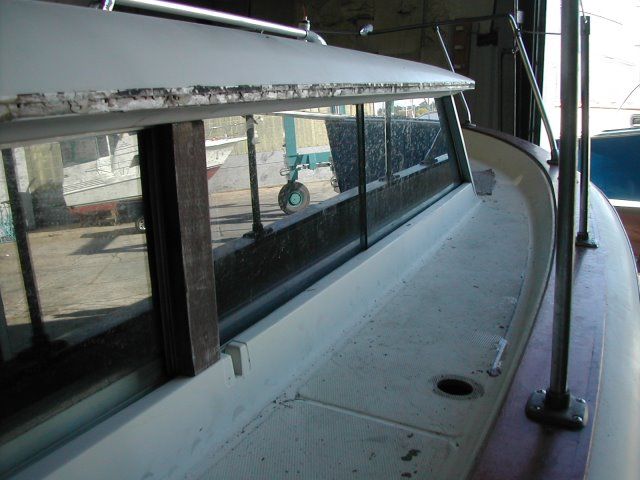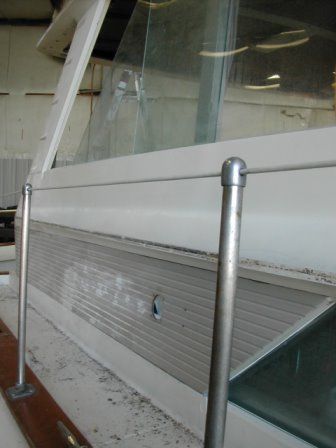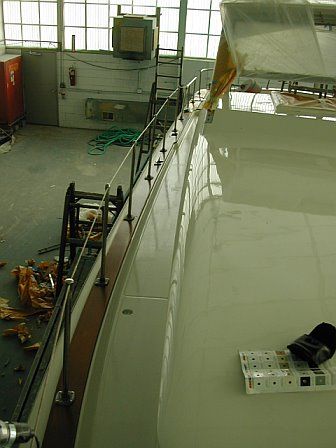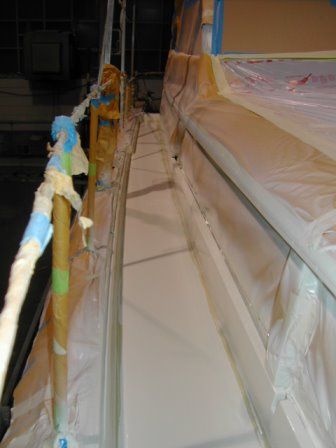 edit comment: This is a Wonderful thread that George has started here on the forum, and it has grown to share a lot more information in the following link, showing photos of the boat back on the water, etc. Thank you once again, George, for sharing all of these images with the forum.
http://www.network54.com/Forum/424840/message/1156169807