EDIT COMMENT:
The Chris Craft Commander Forum, Inc. officially says "DO NOT TRY THIS AT HOME". Opening fuel tanks and using a pump, and general handling of fuel like this is a very dangerous thing to do, and it should be left to professionals. Just because Curt, Jim, and Mercrewser are very capable and safety minded professionals, does not mean this is a project that can be replicated by the average guy. This is a potentially explosive and fire hazzard that should only be done by professionls.
Safety is no accident.
Regards, enjoy this very interesting thread,
Paul
forum moderator
--------------------------------------------------------
We had quite a day today.
We have been having a continuing struggle with fuel problems over the last 6 months. Remember that this boat sat floating for 25 years with old gas in the tanks. Our fuel problems include clogged filters (we have huge Racor filters), dead fuel pumps, carburertor problems, and numerous starvation symptoms. Typically the engines will run OK for a while, then die. We have limped back to port on one engine substantially more times than on two! We can't keep the dead engine running once it dies, but the next time we use the boat, it runs OK again.
I had speculated what is happening is junk in the fuel tank builds up on the suction tube, eventually blocking the tube and starving the engine. After sitting a day or two, I think the junk drops off so the tube is once again open so the engines run OK again. That is my theory after replacing fuel pumps, filters, and one carb.
Today I decided to cut out part of our cockpit floor so we could get at the tops of the fuel tanks. I got out my trusty Skill saw and we did that -- here are some pictures:
Flooring removed (blue vinyl over plywood over original white vinyl and plywood. Some dryrot visible at top of picture. Tanks in my 38 SF are heavy-built steel, with suction tubes and piping at the aft top.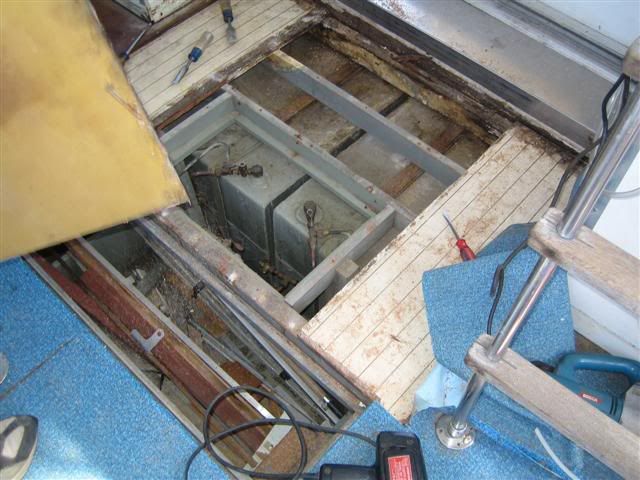 This is the fuel suction tube (dip tube) which I removed from the starboard tank: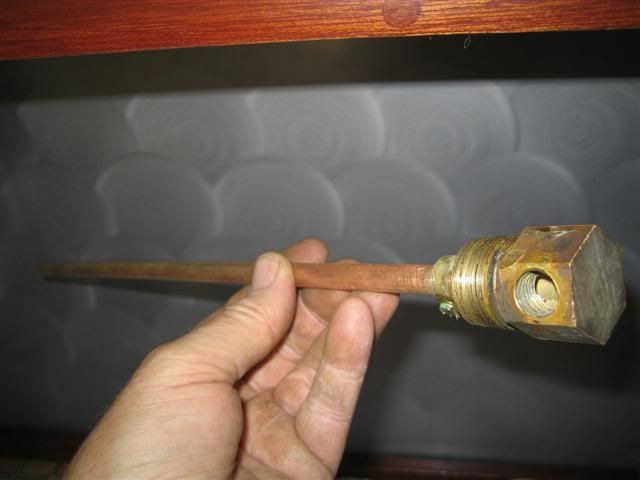 The little orfice you see is a siphon breaker -- then the engine is off, air leaks in breaking any siphon. The orfice is so small that a good-sized fuel pump hardly notices any air sucked in while the engine is running (in theory at least). There is no check=valve siphon breaker device in our boat as was described on this forum: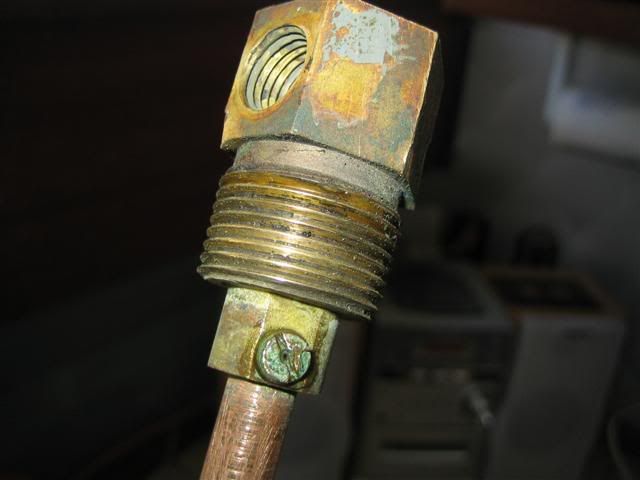 With the dip tube removed from the tank, I got my trusty home-made vacuum pump going to see what kind of junk I could vacuum off the tank floor by dropping a flexible tube down the dip-tube fitting. I described this vacuum pump on this forum last fall, but in a nutshell it is a vacuum pump which sucks liquids into a 5 gallon glass carboy (liquid does not pass through the pump):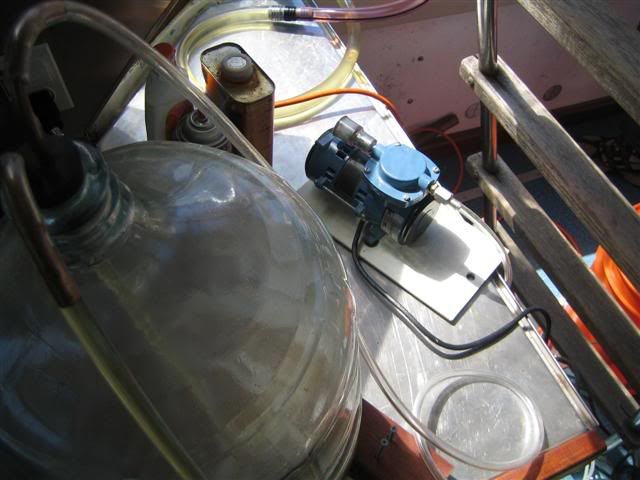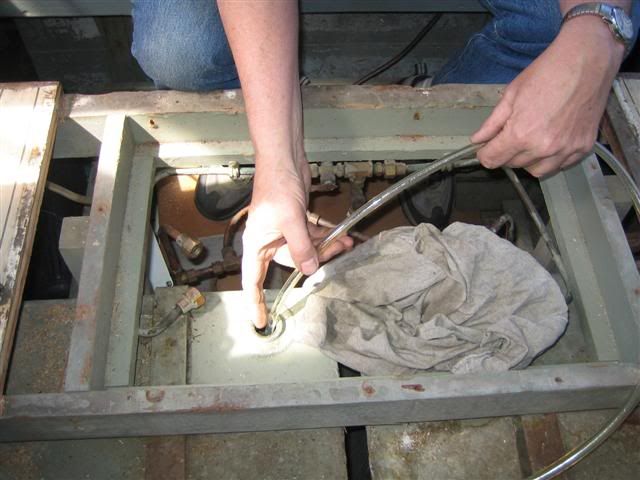 And here is what we got! It looks like a combination of sawdust and dirt. We sucked out about a pint of the junk you see at the bottom of the carboy: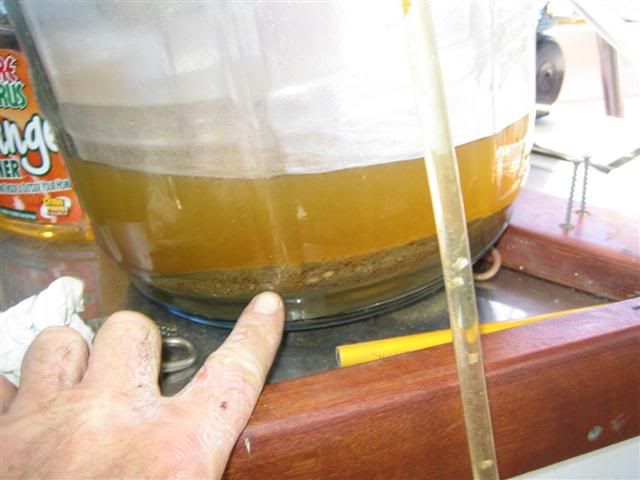 The flakes you see in the clear suction tube are actually zipping by too fast to see by eye, but the camera caught them.
And here is friend Tom and co-owner Jim tooking at that junk in the carboy with amazement: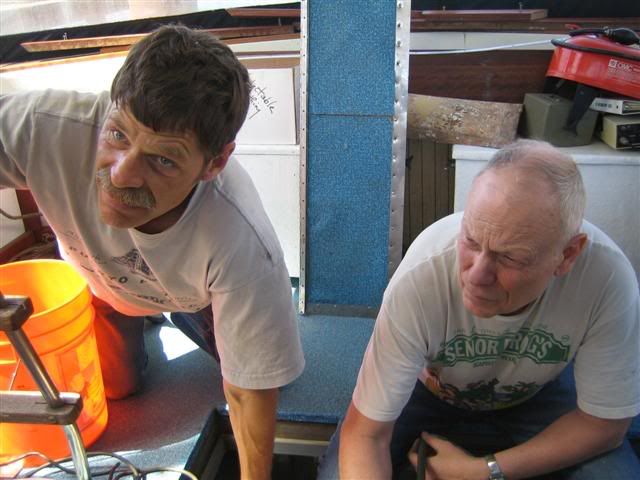 I wish I would have taken an actual 'in-use' picture of an cool and useful device I bought and used today -- it is a 3/4" portable siphon hose with a ball-check at the bottom end. But here is a "Stock Photo" of the thing -- I got it at Harbor Freight (www.harborfreight.com) for five bucks:
[Harbor Freight "Jiggler Siphon Hose"]
You put the ball-check end in liquid, jiggle it vigorously up and down a few times, and (due to the ball-check which only lets liquid move one direction) liquid fills the hose and starts the siphon. Being 3/4" diameter, it siphons REALLY quickly. So after I would vacuum up a 5-gallon carboy full of gasoline from the tank, I would let the junk settle, and then use that ball-check siphon hose to siphon the clear fuel back into the boat tank through the boat's normal fuel fill fitting. It would siphon 5 gallons in less than a minute! By using the vacuum pump and ball-check siphon hose, we probably "processed" about 100 gallons of gasoline.
In the next couple of days I will continue to try to get more junk out of the bottom of that tank -- it is a trial-and-error process since the tank bottom is large, and we are working blind through a small hole with a flexible tube.
How did all that junk get in the fuel tank? It is just in the starboard tank, which has the fuel filler next to the dock. I think the previous owner ticked somebody off (he had that kind of personallity) and someone dumped a bunch of sawdust and shop floor sweepings into his tank. Anyway, what a mess.
On the way home from the boat this evening I stopped at Lowe's and bought a bunch of brass fittings to redo the fuel piping (Lowe's has a really good selection of brass piping and fittings). We will be switching from the old copper fuel lines (which were really cobbled-up and messy on this boat) and going to USCG Type A1 rubber fuel hose -- much easier to work with, and recommended by our surveyor over old copper which can fracture due to years of vibration. I will be replacing old plug shut-off valves with brass and stainless 1/4" lever-handle ball valves, moving our Racor filters up on the aft-bulkhead, and also removing our small electric fuel pumps (which are mounted at the front of the engines) and replacing them with aft-bulkhead mounted HUGE Carter Marine fuel pumps. This work will simplify service and eliminate quite a few feet of fuel lines, give us easier access to tank-selection valving. I will post pictures when I get that work done.
Sorry this post turned out so long, but hopefully the photos and description of our work will be of interest.
Best wishes, Curt....
===
1967 fiberglass 38' Chris Craft Commander Sportfisher with twin 427 CID 300 HP engines.
Edit comment: related link to another thread, showing similar debris pumped out of an old fuel tank.
http://www.network54.com/Forum/424840/message/1158446525
.