John Clemans "spotted in Tennessee !!" (Motor Boating Magazine)
May 26 edit comment: The June, 2006 edition of Motor Boating Magazine can be found at the following link.
http://www.network54.com/Forum/424840/message/1147979180
http://www.motorboating.com/motorboat/features/article/0,12696,1194879,00.html
Photographer and Senior Editor, John Clemans, shown here on the starboard side of the Hatteras photo boat, took the photographs and wrote the article that appears in the June edition noted above.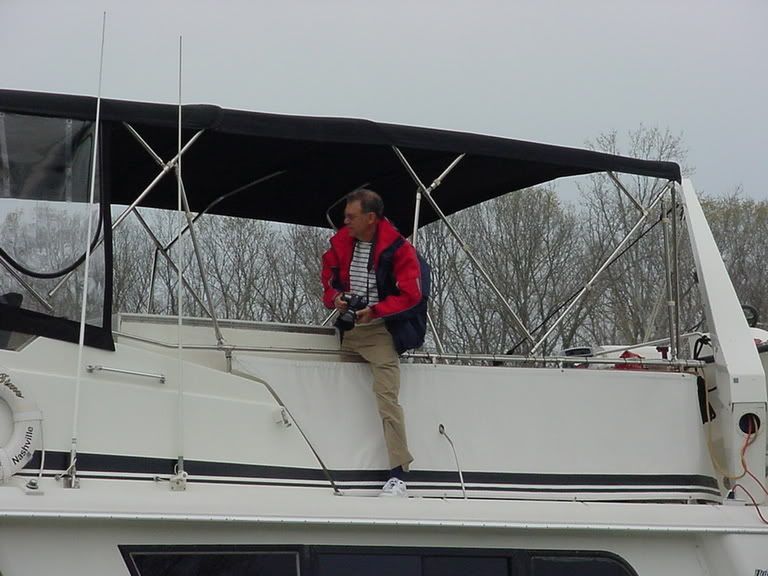 ABOVE: John Clemans, "spotted in Tennessee", camera in hand, during the photo shoot of May 31, 2006.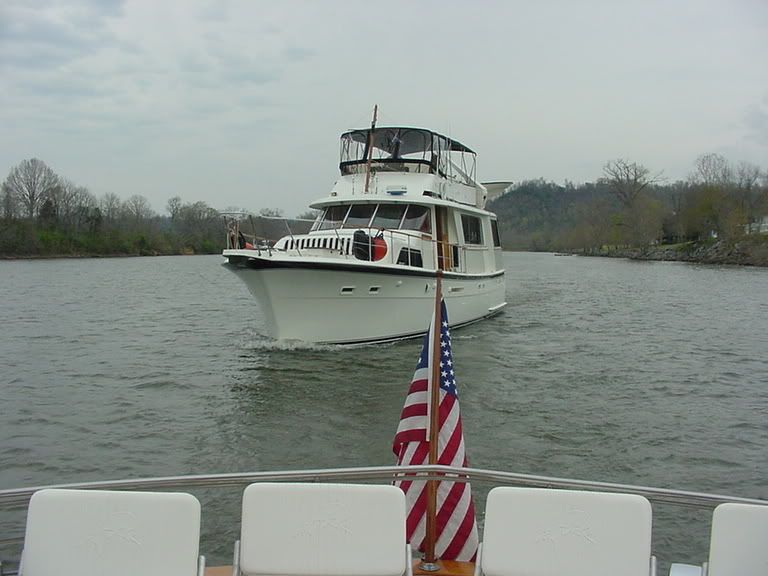 ABOVE: Photo boat closing in, time for Paul to "PUT DOWN THE CAMERA and DRIVE"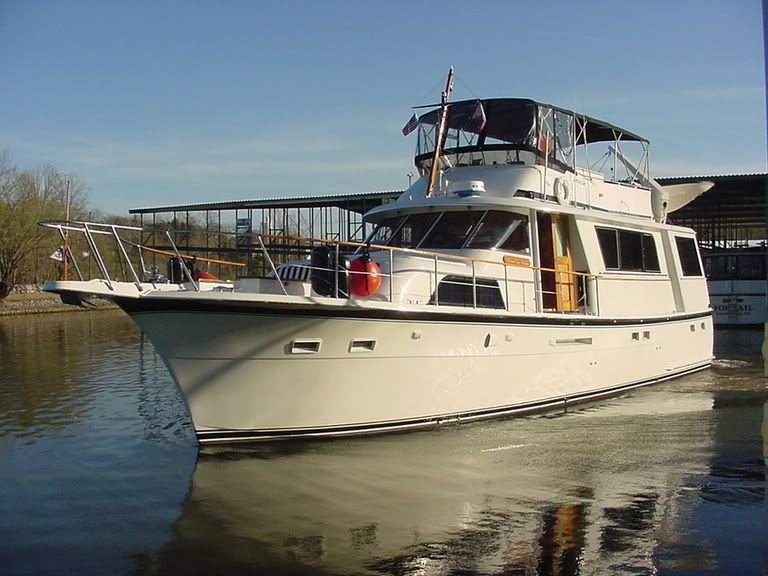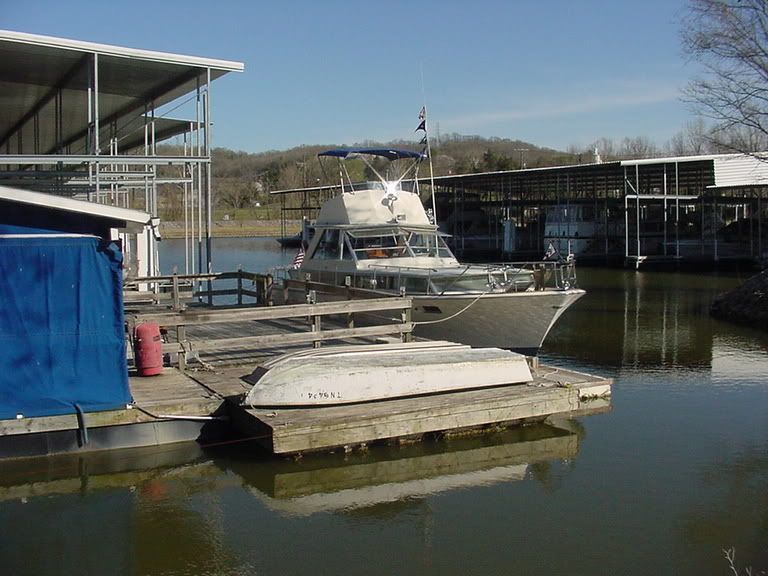 The sun actually came out on Saturday, after most of the photo shoot was done!
John Clemans is the Senior Editor at Motor Boating Magazine, who presently holds the world record (with his son) for landing billfish in a RIB (rigid inflatable boat). This is a big signal that John is a "hands on" boater and fisherman, and certainly not some editor who sits atop an ivory tower and never gets his hands dirty. He's also a Bertram owner, and upon hearing that, I "knew" that he obviously knew boats well, because owners of the Bertram marque generally own them for a reason (it's called fishing in big water!). Check out the May, 2006 issue of Motor Boating Magazine, for a nice article about John and his son, which they co-wrote together. Good stuff.
John Clemans (father and son) fishing article
http://www.motorboating.com/motorboat/features/article/0,12696,1190635,00.html
Being in the architectural business for 30+ years, I have learned to appreciate people like John who can communicate accurately and do what they say they'll do. It's a commodity that is in very short supply these days.
Being able to observe John in action, camera in hand, note pad always near by, was a rare treat for Janet and me. For the last two years I've had the pleasure of assisting Norm and Jim Wangard (editors, publishers, and owners of Classic Boating Magazine) at the Mt. Dora Boat Show as their photo boat driver. That has given me some degree of insight of how professional journalists work. The operative word is "work", because it takes a LOT of energy, persistence, skill, and just plain hard work to get the photographs and generate the story each month. Each has their own style, own mission, and their own particular readership. Janet and I have a tremendous respect for that industry.
We were honored to become part of the extended family at Motor Boating Magazine, under John's direction, for a couple of days of photo shooting and interviews. We basically did what we were asked to do, in order to set up photographs, etc., to the best of our ability. Although I embarrassed myself at the helm a couple of times, stalling an engine on one occasion, John was kind enough to overlook it, but we knew darn well he has seen boat handlers a lot better than yours truly!
We had a narrow window of opportunity in which to coordinate travel, overnight accommodations, obtain the photo boat (THANKYOU again Kent Simpkins, for loaning us your Hatteras, and also many thanks to Bill Winn for his usual expert boat handling), and to also get our Commander reasonably cleaned up on short notice. I had just returned from the 2006 Mt. Dora Boat Show, and had to work until midnight after work every day until the morning of the photo shoot in order to get the Commander ready. One evening at the stroke of midnight, I found myself wrapped in wet canvas up on the flybridge, trying to re-install the bimini top after scrubbing it down on the docks. I thought to myself, "I'm here at the marina, it could be a lot worse", just smiled to myself and kept on wrestling with those big zippers that didn't want to cooperate.
The morning of the photo shoot (Friday, March 31st) John came strolling down the docks with his camera gear 15 minutes early. We shook hands, looked at the boat, and walked over to see if the Hatteras was ready. Bill Winn was already on board and ready to go. It was the start of an exciting day and I'm sure a long lasting friendship. We headed down river from Commodore Yacht Club, and a few fleeting moments in time were frozen on the images that were photographed. The memory of that day is priceless, because everyone was having fun.
Janet and I did the best we could to position the boat where John thought the best photo opportunities were. The only thing we didn't do too well was coordinate with the solar system, because the sun didn't want to come out on Friday. Saturday we did see some sunshine, thankfully.
On Saturday morning (which incidentally, happened to be the morning of the Wheels and Keels Rendezvous at Commodore Yacht Club, which I organized…..yes, it was a very busy week!) the starboard engine didn't want to start. It would click, but the solenoid wouldn't kick in and rotate the motor. John thought it might be poor connections, which was also top on my list. The easiest first thing to do was to pull out my "magic chest of tools" and get something to tap on the solenoid with. I chose a large ChannelLock to reach down and tap with, and then I waved it over the motor as if to threaten it. Motors do NOT like people to work on them with a ChannelLock, so it promptly fired right up and off we went. The problem was later traced to a failing ignition switch, which thankfully worked long enough for us to get our photographs! When I got my tools out, John was interested in what I had in the chest, and he began looking closely at the various items and actually took inventory. I told him it was sort of like baring one's soul, to have someone looking that closely at my tool chest!
To say Janet and I enjoyed meeting John would be a very big understatement. He's a great guy, much more capable boater than I am, and we were really pleased to be able to associate with him for the short time he was in Nashville. I have actually not seen the article that has been generated for Motor Boating Magazine, but several people have emailed me with very positive feedback, and I'm sure it's a good one. I look forward to seeing it as soon as my subscription comes in, or if I can find one on the news stands. Regardless of what the article may say, it won't show all the real fun we had out on the river playing around with a Hatteras chasing a Commander 38 Express!
Being able to get a little inside peek at the industry, we have a huge respect for boating journalists, publications like Motor Boating Magazine, and the people on the front lines and behind the scenes who make it happen each month. We salute John for being on the front lines, and we also salute Gayle Van Wely, Art Director, and Jeanne Craig, Executive Editor, for what must be an extensive ongoing involvement for each monthly publication.
Sincerely, and with kind personal regards to my friends at Motor Boating Magazine,
Paul and Janet Pletcher
Nashville, TN
1966 Chris Craft Commander Express
FXA 38 3004 R
Original 427 power
Here is a 15-second video (for those with video settings on their computer) showing our 38 Commander running away from the Hatteras after the photo shoot. The 427s were given a little throttle, and we were gone!
http://www.network54.com/Forum/424840/thread/1144340041
>