This is the "Rosetta Stone" of the boat history, as I believe this was the original owner. I believe Mr. Goodman is deceased, from information obtained from another "Goodman" I found on the internet and called by phone this eve. He was very considerate and cordial, and said he knew of Alfred L. Goodman, but he was deceased. He did name his son, however, who I am trying to get in contact with now, hopefully tomorrow as his tele is unlisted.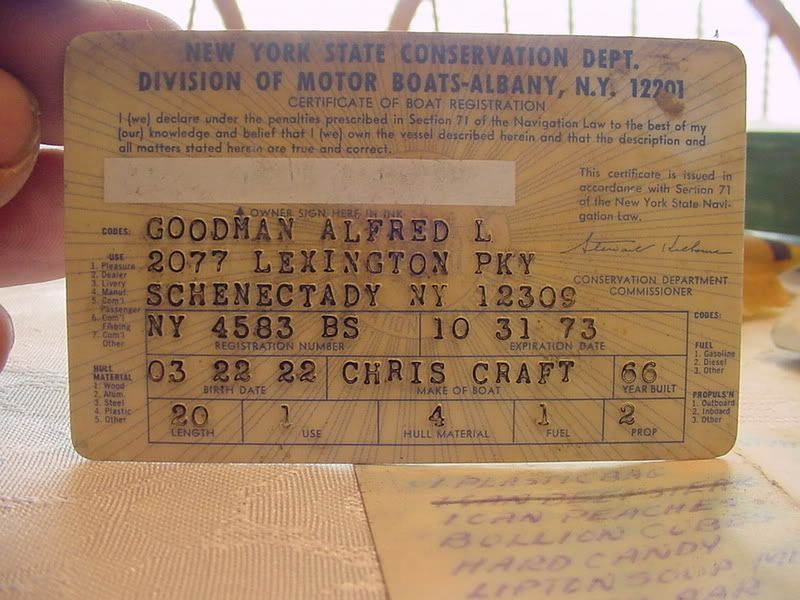 The son would be roughly my age, and I suspect he would have been water skiing behind "that green boat". So I am wondering how to open the subject. Perhaps I'll say, "did you ever water ski behind a green boat?"
In honor of Mr. Alfred L Goodman, I went out to the boat, put my hand on it, and proposed a toast to him today. May he rest in peace. What this does, is it reinforces my notion that we are all custodians of the boats (cars, houses, land, etc.) that we own at the moment, and someday there will be another owner. Mr. Goodman may be gone, but in 1966 when the boat was new, he was 44 years old, and I suspect he had a young boy who spent a lot of time aboard the boat.
Here are some of the other things found aboard. This is a first aid kit, which I found wedged waaay forward of a side pocket. It may have been there through several owners, and the only way they would have found it would be to disassemble the boat like I did.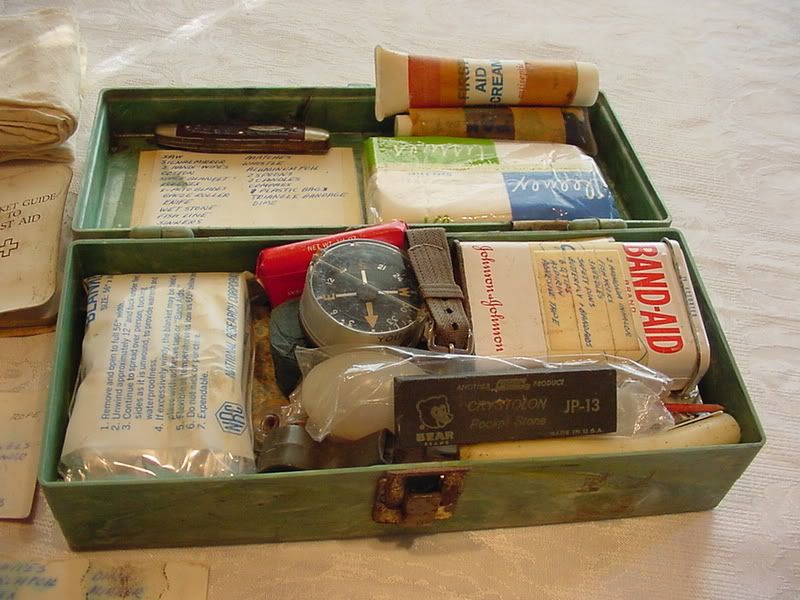 Whomever assembled this kit, was VERY methodical about it. Everything is in it's place. Everything is itemized, and ready if needed.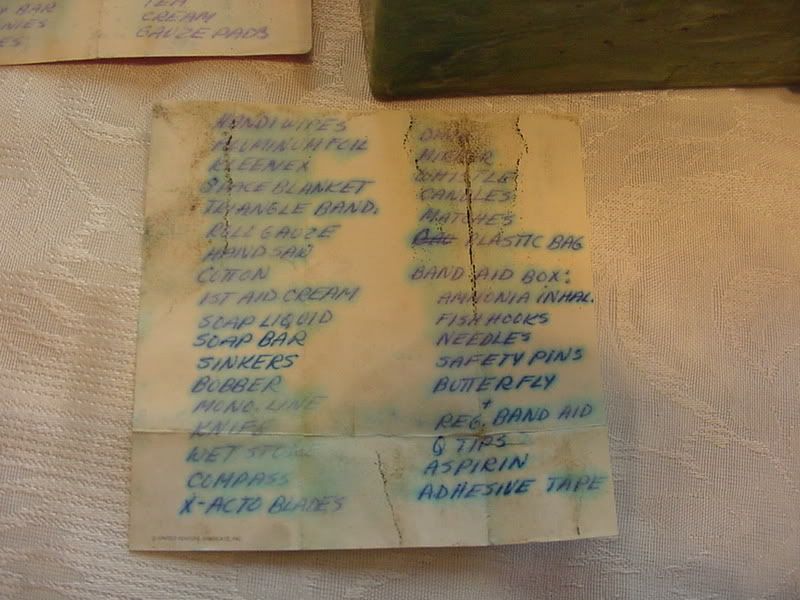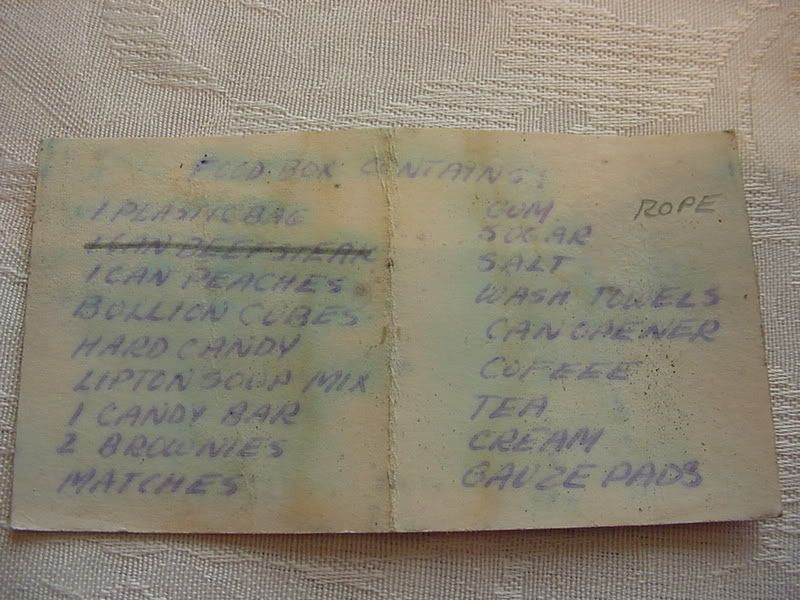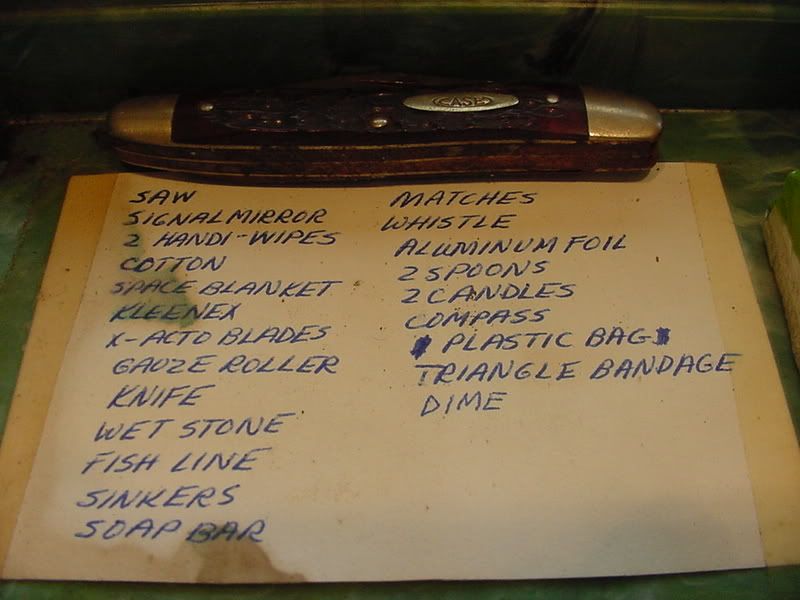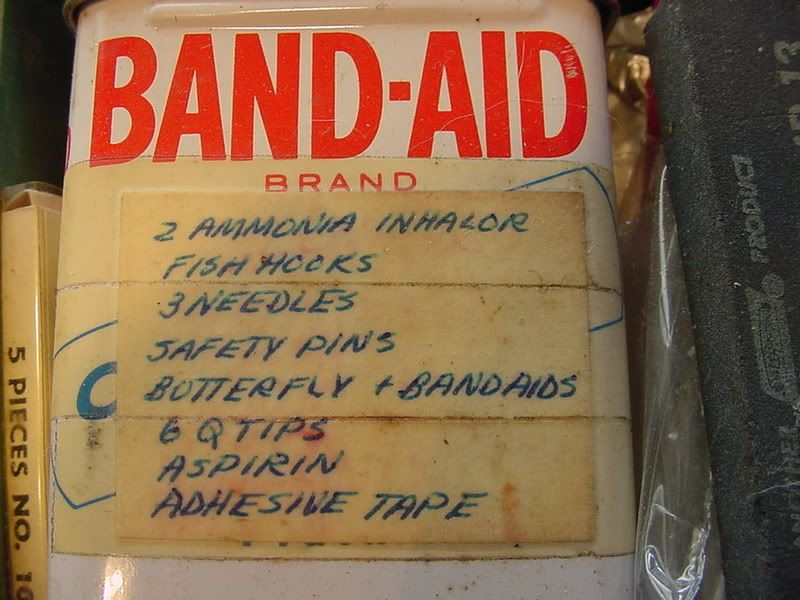 Interesting how you can learn more about a boat during a restoration process ! Part of the fun and appreciation factor.
Regards, Paul
July 2012 Edit Comment: I don't know if it is apparent from subsequent postings or not, but I did reach Mr. Goodmans's son, who is a retired surgeon, who remembers the boat, water skiing, etc., and who said he would talk with his mother who is still alive about the boat. I asked him if he had any photos, which I would love to get, but he did not seem interested in searching his family photos for some guy who was goober about the old family boat. He said it was used on Lake George for 25 years, bung in a boat house each winter, and that explains the stress deformation I found on the rear boat lift hooks, which I had to replace, due to perhaps hanging the boat with a full fuel tank. I asked the son if he would want the contents I found but he was not interested in having that stuff around the house either. Oh well, it was an interesting find, and it sure rings home the notion that these boats have seen a lot of history during their life so far. In that sense they do have soul !
Regards,
Paul