History is what I really love about vintage boats! They all have a history, and without the history they're mere good looking objects, but with the history, they retain their soul and character. Without knowing about the builders, previous owners, where the boat was run, etc., there are too many missing links.
I've often thought "what if boats could talk". What interesting tales they would tell about their outings, their previous owners, and all of the people who were aboard. This is one reason I love to research Chris Craft history, leaning about the people at the helm, corporate expansion, engineering R&D, styling issues, etc.
Knowing the history of an old boat, sure makes it a lot more fun, and I would encourage everyone to track down as much history as possible about each of their boats.
Today Dr. Steve Goodman called, who is a retired surgeon, and his dad, Alfred, is the gentleman who left the registration card in the boat I am presently working on.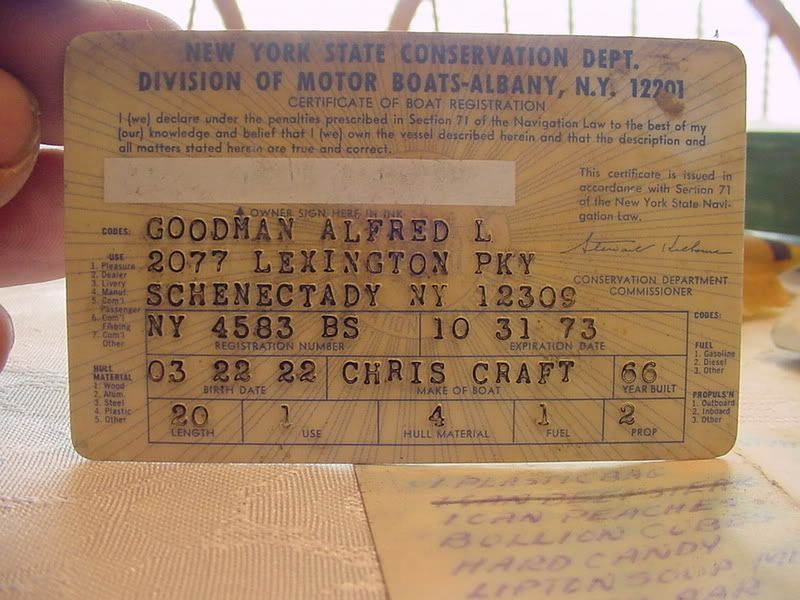 Alfred Goodman passed away in 1995 and was not the original owner of this boat. His son, Steven, is looking for any information he can find right now, and will be asking his mother about the history of the boat, and any photos they may have, etc. The conversation was really good stuff, Steven was very interested in where his dad's boat had gone after they sold it, and of course I was very interested too.
Information to date, the boat was purchased by the Goodman family from Bill Morgan, Morgan Marine, and present owner of Hacker Boat Company, building replicas of HackerCraft boats on Lake George. The boat stayed at a cottage on Lake George, in a boat house, lifted out of the water during the winter, and apparently got good care under the ownership of the Goodman family.
Steve kept the boat for a year after his dad passed away, and sold it for something like $7000, not sure.
Since then the boat was owned by Messer' Sikorski, Maynard, and Flower, ending up in Medina, NY and being sold by a yacht broker in Buffalo. It's now in Nashville getting ready for the next 40 years, with a total restoration down to the fiberglass on the inside.
Here is the history of the boat as I understand it today:
Year of manufacture 1966
1966-1970 ?? Original owner, held it perhaps 4 years.
1970?? Guess as to when Alfred Goodman bought the boat.
1970-1996 Boat remained in the Goodman family on Lake George for 26 years.
1996 Boat was sold to unknown person (presently being researched). Here is where the trail gets cold. Not sure where the boat went from Lake George, but I think it went to a location where it ran the Mowhawk River area.
Mr. Sikorsky owned the boat at one time near Albany, and intended to restore it, and kept it at a local yacht club.
Mr. Maynard (who was a member of the same yacht club) bought it from Sikorsky when Sikorsky moved to Florida. Mr. Maynard listed the boat with serial number in the 2004 ACBS directory.
Mr. Maynard sold the boat to Mr. Flower, of Medina, NY, who intended to restore it.
Mr. Pletcher bought the boat from Tom Frauenheim, yacht brokers, located in Buffalo, NY, and transported the boat to Nashville, TN where it is undergoing complete restoration (after said boat was listed on Yachtworld and Steve mentioned it on the Chris Craft Commander Forum!).
Thanks again, Steve, I owe you one!
We continue to be thrilled with the boat.
As I obtain more info, and hopefully some family photos of the boat on Lake George, I'll post them here.
Regards, Paul