This was a seperate thread last week, and I am moving it over here onto my 20' Skiff restoration thread
Paul
-----------------------------
Well, I had a real blast with working with epoxy this holiday week-end. Very impressive products and results too. On my 20' fiberglass Sea Skiff project, I had what looked like a crack in my fiberglass box beam construction, minor in nature, and not really sure about it.
I decided to HEAVILY reinforce the entire area, and discovered polyester would not grip as well as epoxy would. Therefore I used the MAS FLAG epoxy product. "FLAG" in this instance stands for Filleting, Laminating, and Gluing, thus the "FLAG" nomenclature.
The hardness, yeild strength, and tensil strength of the epoxy proeuct looked superior to the lower cost polyester, so that's what I decided to use.
First I ground down the entire surface of the box beam to be sure I got rid of all grease, oil and paint. I then drilled many holes into the beam so I could get a very positive grip. 27 ounces of epoxy were mixed, 18 ounces of epoxy and 9 ounces of FAST hardener. I painted on the base coat, and placed a layer of heavy fiberglass woven cloth. Then I painted more epoxy on top of the heavy cloth. This went on for many layers, for at least a half inch of heavy cover all around the box beam in question, which holds the entire front weight of the motor by the way, with added emphaisis on the point of connection to the longitudinal box beams.
The cut edges of the heavy fiberglass cloth don't want to lie down when they are saturated with epoxy, not initially and not even when the epoxy is almost cured. Therefore it's a real nice finish job if you add a covering of fine fiberglass cloth on top to finish everything off nicely. Wow, it worked like a charm.
Here's a real tip. Wear three layers of disposable vinyl gloves. You can do so much more work with your hands right on the work, and when you get mired down in epoxy, you can just pull off a layer and be able to reach for a screwdriver, etc., without getting epoxy everywhere. When I had my work almost done, with all the laminations in place, I then painted a final layer of epoxy onto the surface and just pressed the fine glass cloth on top. It immediately grabbed, I smoothed everything out, and it cured really nice and smooth.
I went through 4 27-ounce mixes of the epoxy, so you can see I have a very stout reinforcing of the fiberglass structure. This will be painted the stock gray bilge color and it will look stock. It will be painted after it is kissed with a sander to get some of those wild hairs and dimples smoothed out.
I recommend the MAS product line. It is easy to work with, and if you cut strips of glass cloth, you can layer it on just like you are making a paper mache piece of artwork. Cross hatching strips across a joint will make it VERY strong too. This stuff is exothermic, which means it will generate heat. At the final curing point you don't want to have much left in the container, or it will literally start smoking! If you lay it up to thick and too fast, it will also get hot.
I'll post a photo of the work once I can get in there and clean things up and get a good shot. Right now it's a mess, but at least I was working on a Chris Craft !
----------------------------------------------------
Why not polyester?
April 12 2007 at 10:40 AM
Howard (Login HowardEchols38)
Response to EPOXY, not just a breakfast drink anymore !
Hi Paul,Interesting writeup on the epoxy. With so many polyester products on the market, I'm curious why you elected to go the epoxy route instead of the polyester and fiberglass route for your reinforcing. I'm interested in seeing your photos.Howard
-------------------------------------------------
Re: Why not polyester?
April 12 2007 at 11:46 AM
Paul (no login)
Response to Why not polyester?
Hi Howard,Hope all is well "down there" on the Tennessee !I actually bought polyester to do this job, but as I began learning more about epoxy, and discovering it had better adhesion, higher yeild strength, etc., I decided this was too important a structural issue to use polyester. Looking at the finished job, it looks WAY stronger than it came out of the plant in Cortland, NY.I'll look up the strength and hardness ratings on the containers and post them here for the record. The adhesion was the main concern. The flexibility of epoxy is very good.Regards, Paul(let me know when you are going to be in Nashville !)
Regards, Paul
-----------------------------------------------------
I don't want you guys to think I'm slaving away with this project, lol.
I have some reinforcing high grade aluminum pieces being fabricated today, and I decided to enjoy the clean up phase of the epoxy frame strengthening phase of the project this evening. Nothing like a good cigar and a glass of La Crema Pinot to take the edge off the day. After all, we have to take time to ENJOY working on boats. It's not slave labor, it's an elective thing we do for fun!
During the cleanup, I was pretty impressed with the voracity of adhesion that epoxy had on uncleaned pieces of the hull! Even places that looked like they had oil film had some epoxy droppings that I had to use a chisel to remove. Having seen that, I know the parts I roughed up and drilled for good adhesion are now bonded beyond any structural loading they'll see under my ownership, unless this boat gets a 427 sometime in the future, heh heh. We'll see how it runs with the small block this season, and I'm quite sure it will be just fine.
You can see part of my epoxy saturated fiberglass cloth in the background, and my evening reward for having taken on this job. I cleaned up most of the debris left over from the job, all those wasted vinyl gloves I peeled off one at a time, fiberglass cloth debris, etc. and got it out of the way. I'll do a touch up with the sander and paint this to match the rest of the bilge prior to buttoning everything up. Nobody will see it, but I'll feel better knowing it was done right. More photos on the way, but first, another glass of La Crema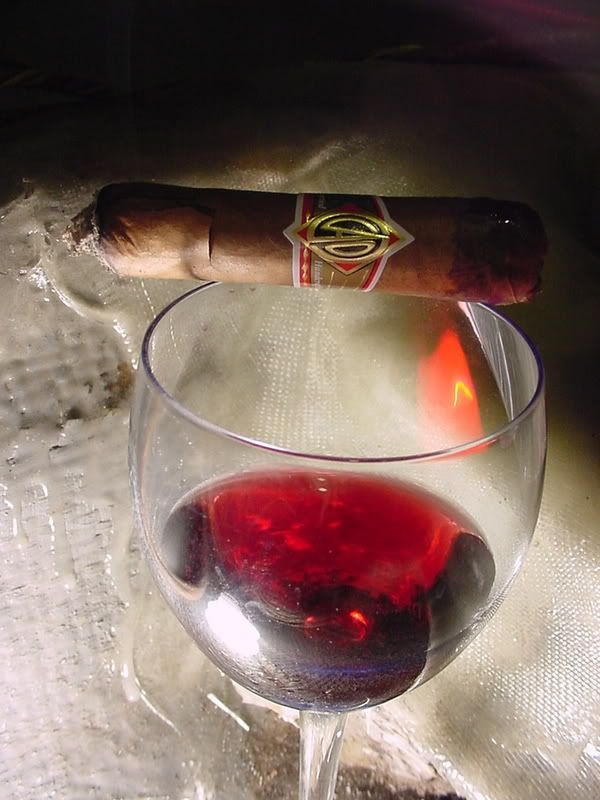 Here's what the crime scene looked like during the clean up. Everything the epoxy went down on was ground rough to enhance the grip. The cross beam was actually increased by abut ½" in size and overlapped onto the longitudinal beams. The actual joint was lapped, filled, and lapped again with straight and cross hatched strips. I'll have to compensate with an adjustment in the engine mounts.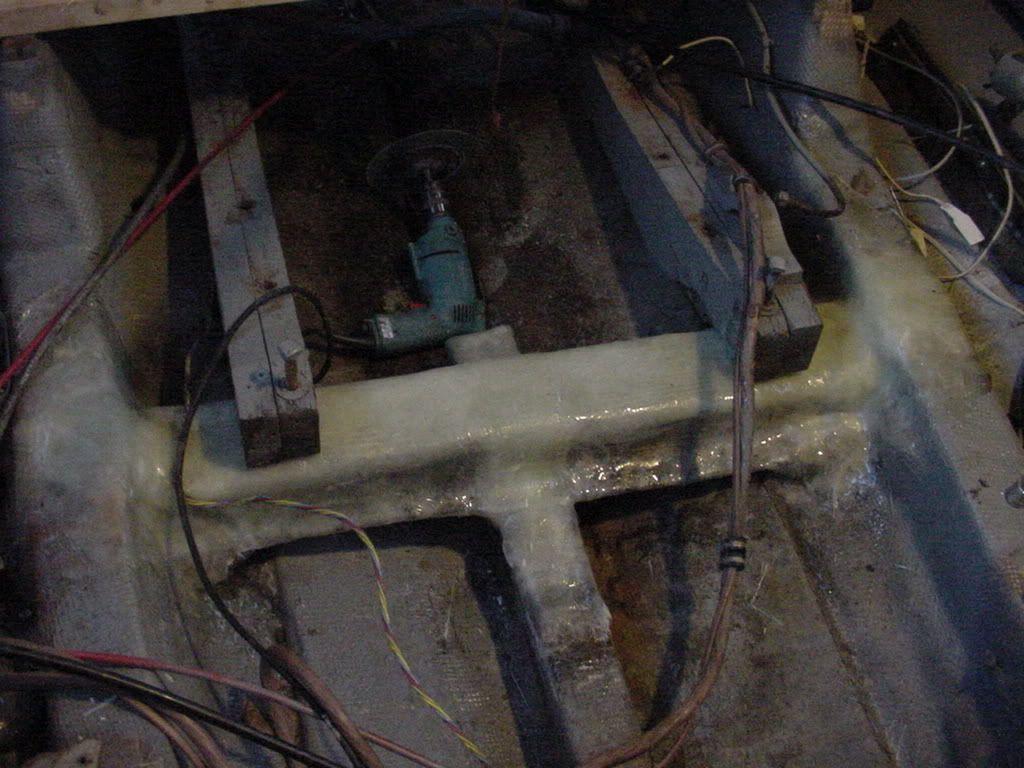 Those wood stringers are actually in good shape except for the crack. I've traced a pattern for both stringers, in order to put an exact replica of the shape on each side of the stringers in 1/8" high grade aluminum plate, through bolted with stainless steel. When done, the stringers and cross beam assembly will probably be stronger by quite a margin over what they were when new. Curt, I liked your idea about the flitch beam technique, as I think it will work just fine.
I never planned on having to do this work, but once into it, you just have to do what is necessary, and I couldn't overlook the structural issues. All of this will be covered up with flooring.
Regards from Nashville,
Paul