Fortunately for the Chris Craft Commander family, blisters are far and few between. When I purchased my 38' Commander many years ago, we found one or two blisters, which were ground out, allowed to dry, filled with JB Weld, sanded and painted, never to be seen again during subsequent haul-out and painting. However, I've recently been reading of some real horror stories from other brands, ***liner being one brand, and of course my own experience with a ***Ray I sold a few years back.
Blister repair on some of these boats, and we're talking runabouts and small cruisers, is running half the cost of the boat! Some of the boats under discussion are less than ten years old. In that sense, they're true consumables with a limited life span. It's a shame, because Chris Craft knew how to avoid blisters in the early 1960s with quality resin and glass, and good manufacturing techniques. Our vintage Chris Craft boats are almost "inert" if well cared for. They will outlast our ownership, and will probably still be around in servicable condition in another 40 years if their future owners give them reasonable care.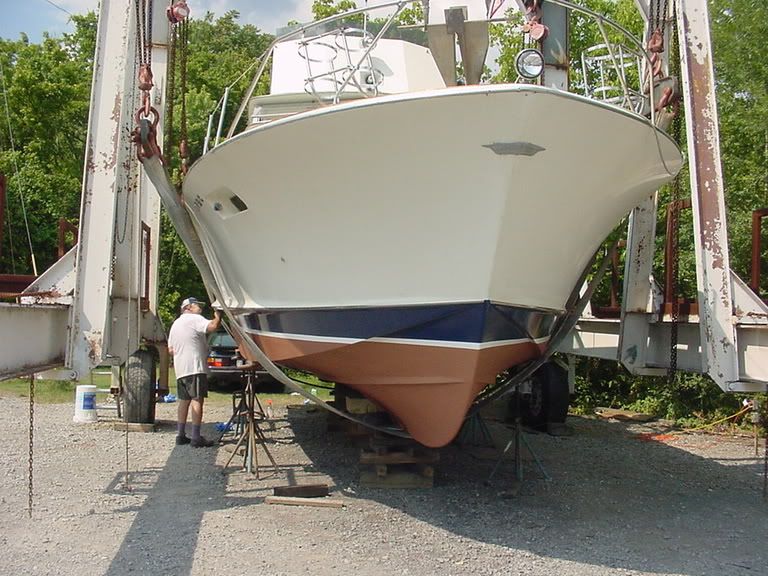 ABOVE: TRADITION, a 41-year old Chris Craft Commander hull with no blisters
Avoiding blisters in fiberglass boat construction is NOT rocket science. In order to avoid blisters, you must buy from a manufacturer who will spend the money on high quality resin and glass, and who will also avoid using a chop gun. TRADITION is a 41-year old Chris Craft (38' Commander) with no blisters, and it stays in the water all the time. I have gone several years between bottom paint jobs, and this is the reason why (Chris Craft did their homework well)
http://www.network54.com/Forum/424840/message/1179534360
Note the part that says (even back in the 1960's) that their standards call for laminates with less than 1/10th of 1% of their weight in water absorption and not more than a 5% loss of strength.
People back in the 1960s may have thought that was a line of bull
, but it was no bull; there are many such boats out there today without blisters, due to the cost, quality, and techniques used.
More on the old style quality can be found in this thread
http://www.network54.com/Forum/424840/message/1170987919/
David Pascoe (notable marine surveyor) has written numerous articles about blisters, delamination, and the actual quality (or lack thereof) of fiberglass construction these days.
I recently sold a 1984 ***Ray, and it developed the same "hundreds of blisters" I recently read about on another web site. The potential buyer was concerned, called a friend, they talked for a while and the guy was told by his friend "they all have them". I was glad to get rid of the boat, the new buyer was excited, and hopefully he is still having a wonderful time with that boat. It ran great, looked good, but had lots of blisters.
By contrast, last October I purchased another 1966 Chris Craft (thanks again for the tip, Steve!), this one is a 20' fiberglass Sea Skiff. The boat arrived with the original gelcoat bottom (never been painted at all) with
NO BLISTERS
. Not one blister. No bottom paint. I researched the boat and discovered it ran 25 years on Lake George. The rest of the history is not as well defined. Here are some photos of the hull as it arrived shrink wrapped in Tennessee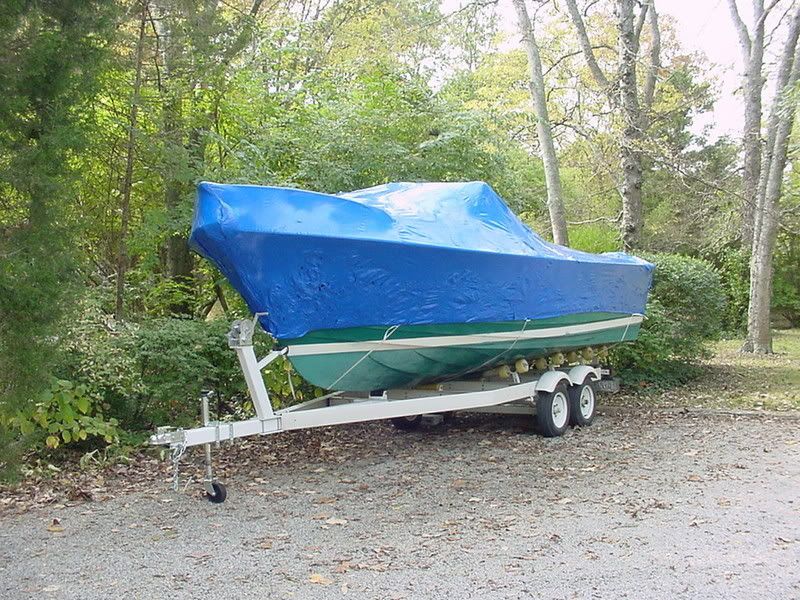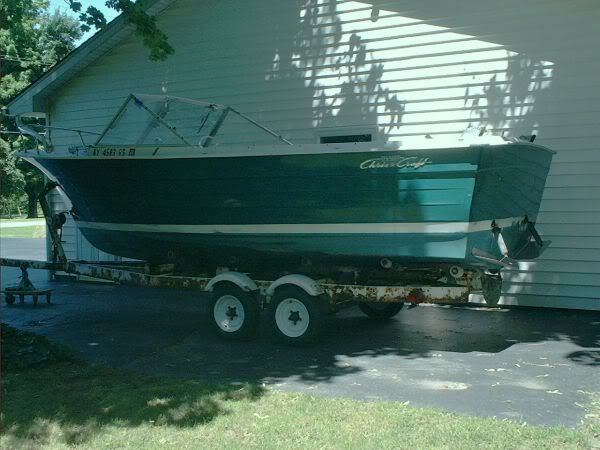 I hate to hear people having problems with blisters, and I also hate to hear people saying "it's a fact of life with a fiberglass boat". It is not a fact of life if the manufacturer took precautions to avoid blisters. I don't know for sure, but I would sure think the new Chris Craft boats would be built to the same standards as they did back in the 1960s. I sure hope so! In 1962 Chris Craft was sold to NAFI (National Automotive Fibers, Inc.) who did a lot of the research that went into the building of the first CC Cruiser, the 38' Commander of 1964. As a result of this research, and the commitment to "do it right", all the early CC boats are known for being about as blister-free as it can be. Yes, we'll probably all find an occasional blister now and then on a Commander, but not the "hundreds of blisters" I have been reading about recently! They are all great candidates for restoration and continued use. Thank you Chris Craft !
Regards,
Paul