Hey guys, what a fabulous forum you guys have here! Im surprised that these old boats still have such a great and loyal following..
Anyway, I thought id take a second to show you guys what I have. I have a mostly original Commander 23, Im pretty sure its a '68, I remember the HIN ending in 64 but i know that was before the last 2 digits of boats was the MY.
. Has the 327.. The only things we've done to it is normal maintenance, restored the interior, installed a stereo, and installed a hinge on the rear deck (so we can install a hydraulic lift to access the motor comparment easy). Hopefully that isnt anything that hurts value, because the motor is still original...
Please excuse the crappy buff job and the overall scummyness of the boat, it has been in storage and havent been motivated to tidy it up if its not sitting at the pier.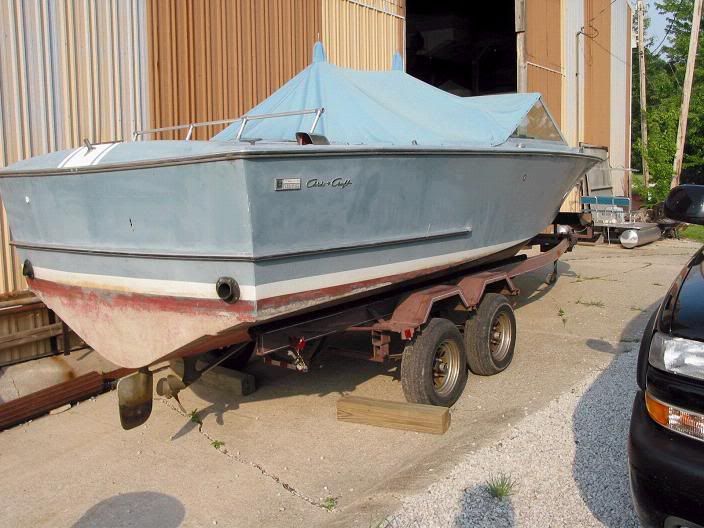 Ill get more pics later, namely of the interior and motor... This is actually the first June it has not been in the water probably in 30 years because it really needs a valve job and a few other nitpicky items that keep getting put off year after year. I decided this year if its not going to run perfect its not going in the water. My grandpa used to trailer it back and forth from Indiana to Florida and use it down there.
So if you guys have any comments im all ears. I have no idea what kind of boat that I have, and if its something that I need to leave in all original form I need to know before I start doing stuff I might regret. I thought id post this up because ive done a decent amount of reading and I havent seen anyone else that had a commander 23.
Thanks for reading!
- Wes
---
PHOTO OF THE DAY AWARD
Edit Comment: "The photo above was awarded the "Photo of the Day" during the first week of June, 2007.
The following comments were noted at that time:
(ABOVE:) Here is Wes Stinsonís 23í Commander that his Grandfather used to trailer from Indiana to Florida many years ago. The boat has not been in the water for 30 years, and it is a great candidate for restoration. We want to thank Wes for sending in the photo, and encourage him to do his restoration work faithfully, in order to protect the value of this rare collectable boat.
These boats are great lookers and they can back it up with the race honed performance of a Jim Wynne designed hull. The boats were only built during 1968 and 1969, with only 115 ever coming out the doors of the Chris Craft plant in Cortland, New York. Due to the preliminary information we have about the identification numbers, this one could be the next to last one built. A rare find by any standard, more information can be found at the following link.
Paul,
forum moderator
---
Since Wes posted this initial thread about his 23' Commander, he has posted numerous other threads about the boat, his motor, etc., and here is a link to a lot of these great postings
http://www.network54.com/Forum/424840/message/1182911238
edit: (photo resized)
edit number 2: link added to Wes's main thread.