Hi Rickard,
Years ago I didn't have very good results with Nautolex, and I actually used their own glue at the time. I think it was a case of "operator error".
This time I went to my local hardware superstore to see what they had on the shelf, and they had a vinyl floor glue for indoor use, and an outdoor carpet glue. You can guess which one I used.
(Okay, it was the outdoor carpet glue). I was going to use the old plywood flooring because it was there, and because it was still sound for the most part. After looking carefully, I determined it would take as long to clean those up, fill them, patch some spots, etc., as it would to just cut new ones. Since I had a spare sheet of 1/" marine plywood, it was a no brainer for me.
The new pieces got a quick sanding and wipe down, because ANY DEBRIS left will translate into a bump in the final finish, and it's important to wipe the back of the Nautolex too.
I pasted on the glue, and then wiped it back with a glue screed, which is a toothed trowl intended to leave ridges of glue at about 1/8" apart. Then while the glue was still wet (some of it flashes over quickly) I placed the Nautolex down, and pressed it out with a flat piece of wood, pressing all the way down the length of the piece to get the bubbles out and to be sure I didn't have any pockets of glue. After it was nice and tight, I turned the pieces over and ran a line of monel staples down one entire side, and then I pulled the opposite side tight, starting at the center and working out each direction, and stapled those while pulling them tight, just like you would if you were stretching a canvas for an oil painting.
Once everything was stapled up, I put the final pieces on a nice flat floor, Nautolex to Nautolex, so they would press themselves flat while they cured. I put a spare battery on top, and my 30-pound exercise dumbells, etc. to add some weight. The pieces came out looking just fine.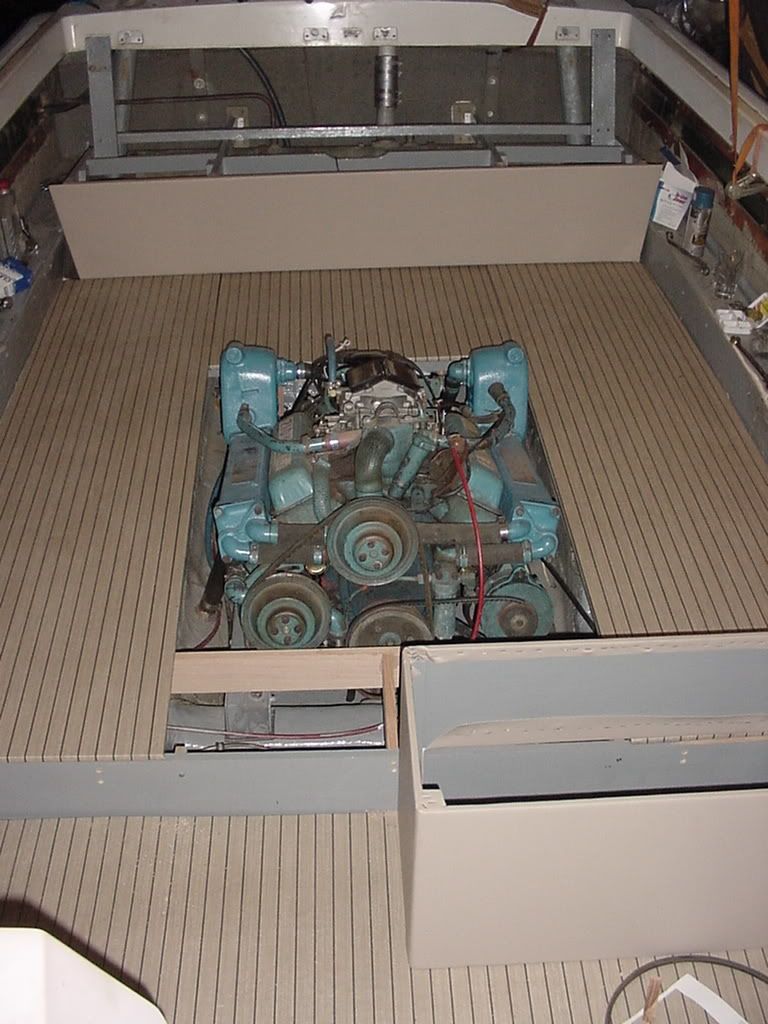 The port and starboard and aft pieces you see in the photo have been removed (they are loose fitted here in the photo) and I am doing the final hook up to the rudder right now, and some final wiring on the aft blower, etc. I plan to have it all buttoned up by the end of the weekend. and it looks like I'll be able to do a water test within the next 14 days.
I'll be working on the remaining two side panels this eve at our lake house, probably have to take time to grill something for dinner, and we'll probably spend a little time on the water too. Otherwise I'll be working on the wiring all weekend long in a final push to get things operational. I am also hooking up a new three way fuel valve, in the anticipation I may experience some of the debris related issues noted by others. This will allow me to immediately switch to another (small) limp-home fuel tank.
Regards, all the best, come see us !
Paul (and Janet)