Today I traced all the wires at the engine and I'm ready to launch. I have a couple of new circuits I need to run back to a new bilge pump, sniffer, and blower, but that's a piece of cake.
I've been scrubbing down the topsides with "Softscrub" and it's doing a very nice job. I could have (and should have) already varnished up the dashboard but I waited until I knew what other instruments would be installed below that dashboard so I could stain both pieces together under the same conditions.
Here is a photo of the final dash and new (matching) under-dash being stained. These were ever so carefully contoured and sanded to perfection. The underdash contains a depth sounder gauge, the trim tab controls, switches, an accessory outlet, and the Ivalite spotlight control. The stain is Interlux Chris Craft Mahogany Stain #573, which has a beautiful reddish color. I've used this on speedboats in the past and I really like the color a lot better than the "walnut" coloration some people use. For interior use I'd go with the "walnut" but for a speedboat, heck, go with the red !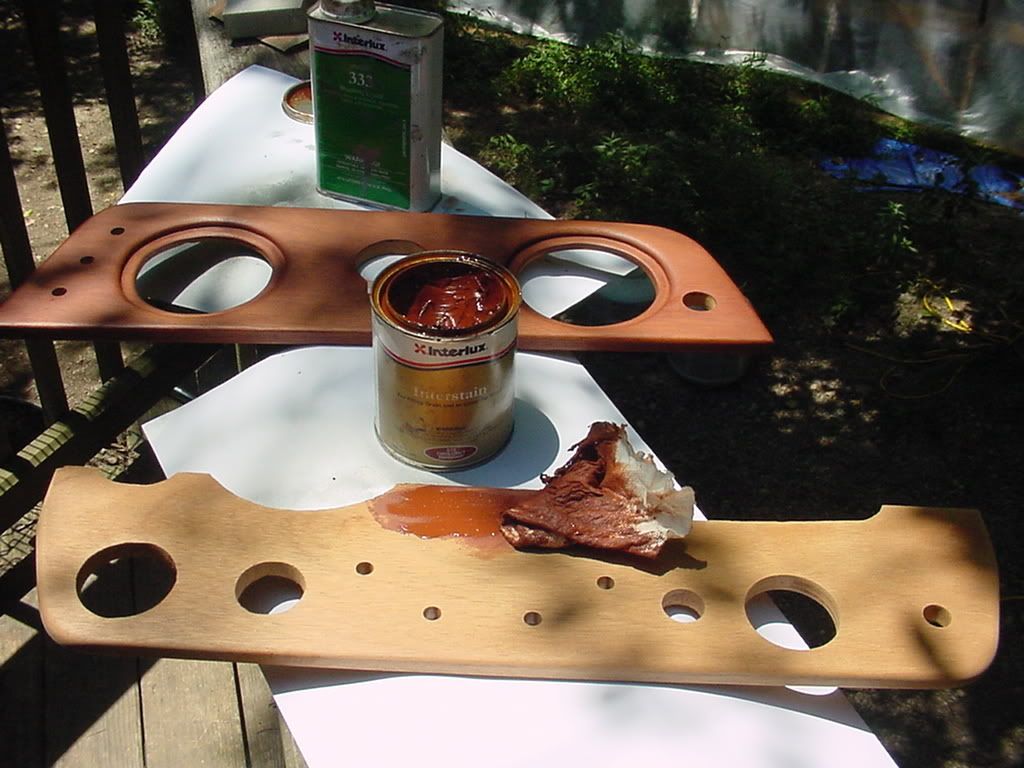 I applied this until it started to dry over. Then I used a rag with Interlux Bushing Thinner #333 to wipe everything down. What this does, is allow the staining of the wood and the filling of pores, but it wipes off the pigmented film off the wood. The result is a jewelry like final finish (I'm giving up some of my secrets here!)
It doesn't really matter if you have some specks of debris during the staining process, as these can be wiped off before the application of that first coat of varnish. Here is a freshly stained piece of mahogany.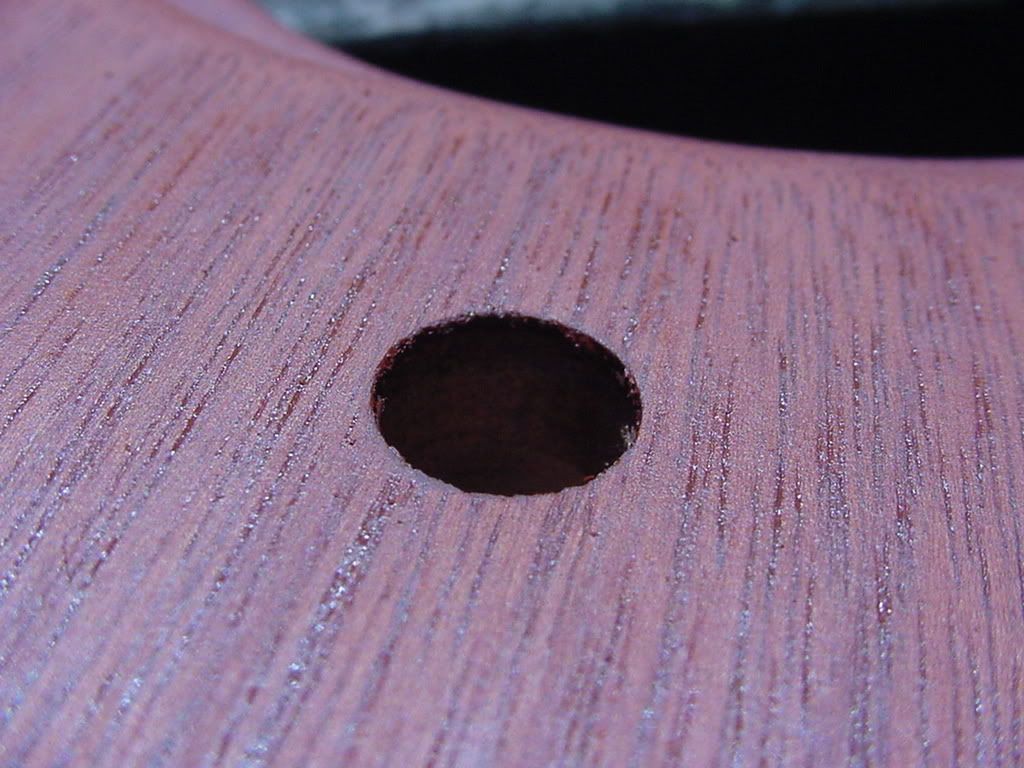 Here is a comparison between my new (Honduran) mahogany from my shop stock, and the original 41-year old piece of what probably is Philippine mahogany from Chris Craft. The stain is the same, and the final finish will look almost identical. This is acceptable because none of the old and new pieces are abutted. Trust me on this one, lol.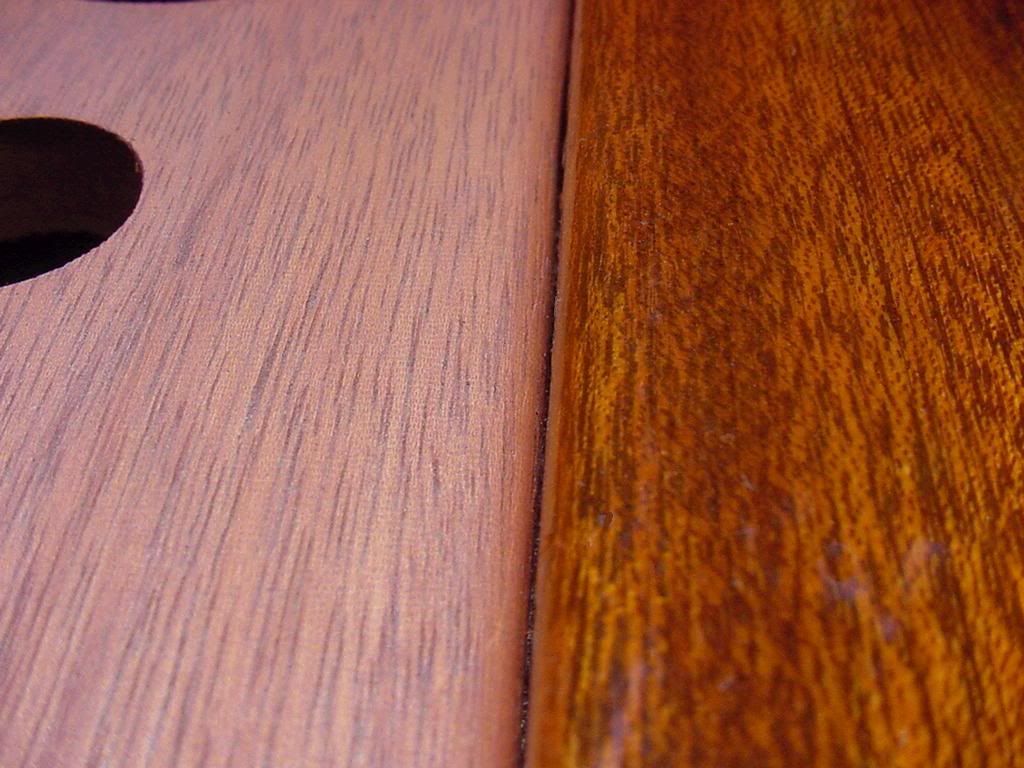 Later today as the stain cures out, I'll put a first "dry coat" of varnish on to seal everything. Later in the week I'll reapply additional thin coats of full strength varnish and will probably be ready for the dashboard installation next week-end. I have found it's far better to apply several thin coats (which dry almost instantly) than to float that heavy gloss build coat, because it takes forever to dry, it is exposed wet to dust longer, it will potentially soften any varnish underneath that isn't fully cured and it will cause a wrinkle, and it takes FOREVER to fully cure out and get hard. Therefore, several dry coats are best! The dashboard will look like a museum piece when done, or it won't be installed until it does.
While this work is curing out, I'm going after the windshield and other metal pieces. This requires a sanding, a prep wash with degreaser, the application of a self-etching primer, potentially some high-build additional primer coats to fill corrosion pit marks, and a final coating of highly polished chrome industrial coating. At this time I am not sure if I'll do the final clear coat or not. This decision will be made after I view another test piece.
Hope everyone is on the water today, I'll be on the water later this evening, but right now it's back to work!!!
Regards, Paul
UPDATE: I applied a coating of Pettit #2018 Clear Sealer, which is essentially a thinned down lightweight varnish intended for sealing plywood to keep it from checking, and also to be used as the first coat over stained wood. I have used a thinned down varnish in the past, but I hate to add thinner because it alters the chemistry of the varnish. This way it's right out of the can, engineered by Pettit to dry in 4 hours for sanding. It's already dry. I'll be heading out to Old Hickory Lake later this afternoon, so I'll probably go ahead and apply the first dry build coat of varnish and place these pieces in the basement where they can cure out for another 12 to 18 hours. I like the Pettit, good stuff. They also make one heck of a varnish, called "High Build" but you can NOT rush that stuff. I've used it on top decks of wood speedboats in the past, you can lay it down thick, and it finishes out glass smooth. You can literally shave in it. Only problem with High Build, you have to let it dry for a week before you dare add another coat! I have a stock of Epifanes, Schooner 96 and High Build, and I may use a light dry-brush coating of the High Build at such time when I know I won't be rushing another coat.
I've tried Lightning Spar in the past, it dries with lightning speed. I also have a couple cans of water based varnish, but I've always been too chicken to use it on anything of value, lol. Oh well..........time for a beer!
Regards, Paul