Oh boy, fun on the ranch today.
I swapped out the old carb (which I got off a 1959 CC 283) that I was using for testing. The Edelbrock came with a nice DVD that covers all the issues and I reviewed it last night. Today the new carb popped right on with nooo problems, and seemed to run perfectly right out of the box.
I decided to move the electric choke to the full open position for initial testing. It fired up and sounds quite awesome when all 4 barrels open. I ran it awhile on the garden hose again this afternoon and did a little tuning.
Engine sounds strong, real strong!
I'll probably do another in-the-water test tomorrow. Might even install that speed prop, but I'm interested in seeing the pure difference between carbs right now, so I'll most likely leave the 13x13 in place for now.
Regards,
Paul
PS: In case anyone was thinking I was too anxious to spend money on a new carb, this is what the old one looked like. I could have taken a lot of time to rebuild this one, risking the chance that something may still go wrong, like a hogged out central shaft or internal corrosion I couldn't see, or I could just toss this one aside and save myself the time and potential drifting on the water under the hot sun with a few uncomfortable passengers aboard. I decided to toss the old carb. Photo below shows why.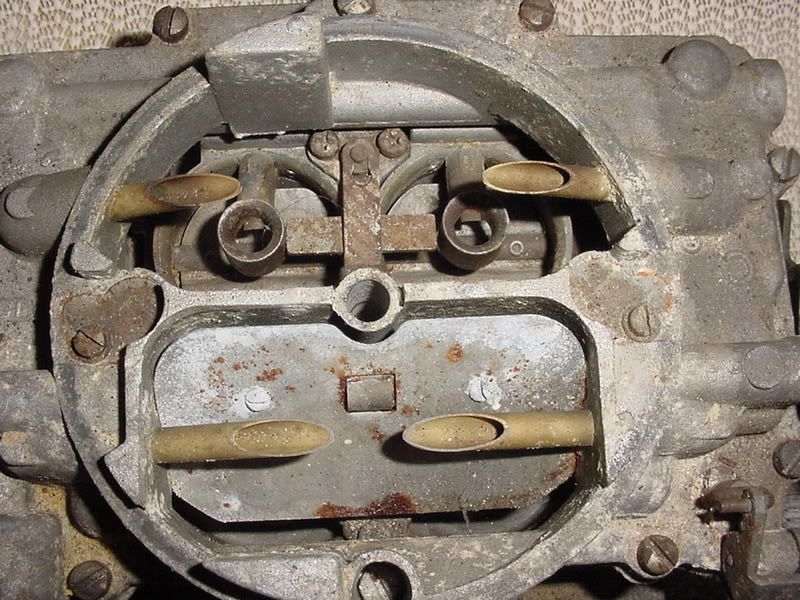 In addition to the appearance, the thing was frozen up and nothing would work, butterfly was stuck, "why waste the time on this one" I thought.
Here is a follow up, about some linkage issues I discovered on later runs
http://www.network54.com/Forum/424840/message/1218335678
Here are more photos of the carb swap
http://www.network54.com/Forum/424840/message/1218648101