Ford engine designers, like many others (including International Harvester trucks) used a nested main bearing cap design. This uses the side walls of the nest, to stabilize the bearing cap, and it is more able to resist any force applied from the crankshaft.
If a crankshaft is spinning at 6000 rpm or more, and the vehicle abruptly changes direction (as in road racing, or boat racing in rough water) then the crankshaft is actually like a gyroscope and it wants to remain in position as it is moved out of position. That puts a LOT of force on the bearing caps, thus the nested design. Without the nested design, the bolts that extend through the caps would take ALL the force, and if that had been tried in the past, I'm sure they learned the hard way that it wasn't too good an idea.
Here is how the 1950's vintage Lincoln (MEL, Mercury, Lincoln, Edsel) big block motor resisted all that crankshaft force. Note the two-bolt main bearing caps, that are well nested into a channel cut into the block to receive them. That's my buddy Theo, by the way, in Germany!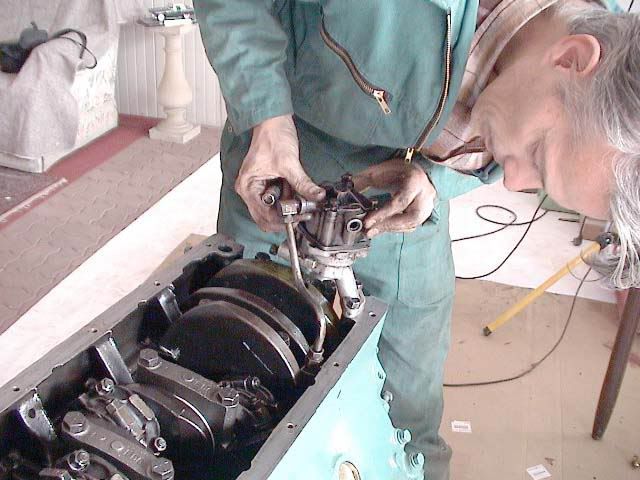 Here (below) is another engine of the period, and it is the FE series design, which was designed during the same time frame, by the same engine designers. It is a good design for trucks, big cars, and fast cars.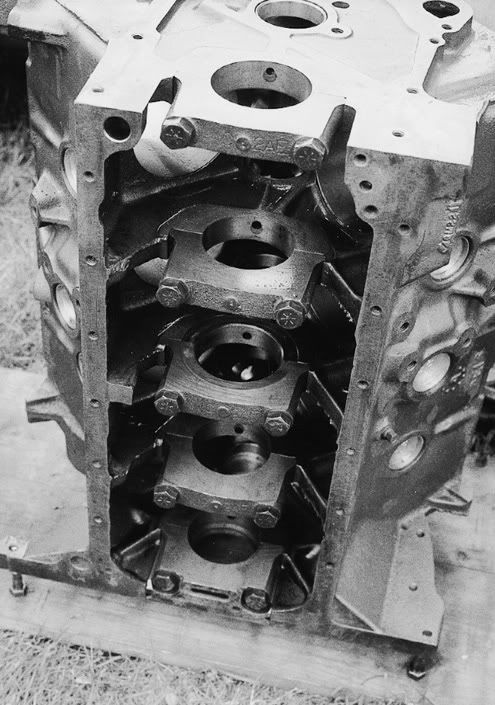 It is not the best design if you are on the race track running between 6000 and 7000 rpm for 500 miles at wide open throttle.
Now, just to demonstrate (once again) how brutally strong our 427 marine motors are, just take a look at this monster block below. It's a stock 427 block, and you will note, those main bearing caps are not only nested with the two bolts on the bottom side, they are also nested and supported by buttresses on each side, and they are cross bolted on each side of the main bearing cap. Sheesh, talk about over engineered for a boat.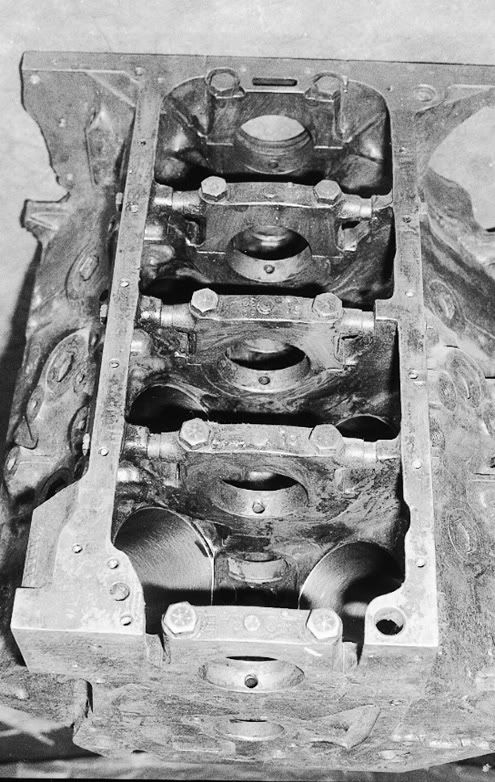 That is about as strong a bottom end design that was ever built. I have seen some other awesome designs, where there are no bearing caps per se, and the design includes an entire girdle that serves as all the bearing caps, etc.. This is a DIRECT design feature coming from FoMoCo's NASCAR racing efforts. Untold millions of dollars were poured into this racing effort, and this is one right here, that we get with our 427 Chris Craft engines. This bottom end was considered bulletproof in NASCAR, and it sure is in the relatively easy life aboard a boat.
The thing I find fascinating about design and engineering, are the alternative designs that were created to do the same job, only differently. Which one is better? Who knows?? If they last "forever" and withstand the forces they encounter, they're all good.
Since we're on the subject, here are a couple other ways differnt manufacturers solved the same problem of crankshaft rigidity.
I love machinery, and especially love good machinery. Here is a bottom end of a 928 Porsche (1983 vintage, 1977 engine design). Note there are no bearing caps in the traditional sense of the word. This design uses a girdle to totally encompass the crank, and it becomes an extensiion of the block. This is also a bulletproof design, by the way.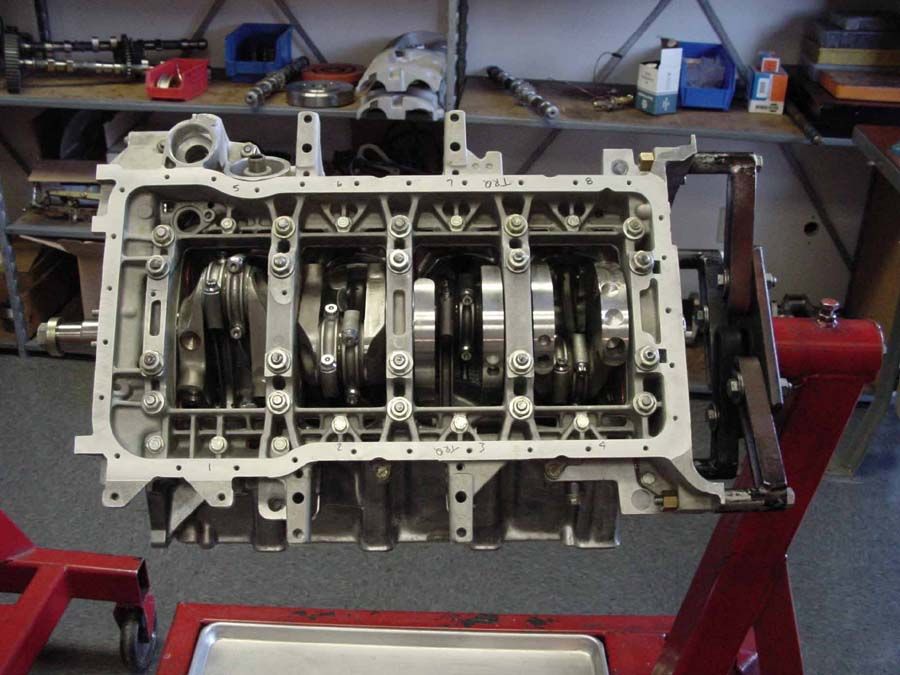 Here's how it goes together. No bearing caps at all, just two large pieces of the block that come together and hold the crankshaft.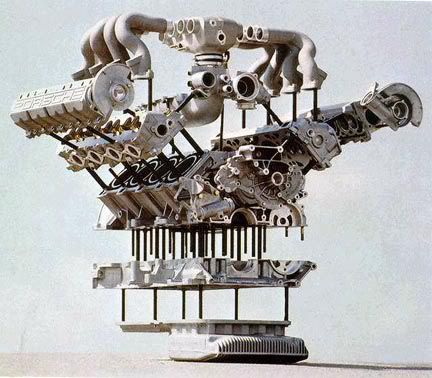 This design is more expensive to build, tolerances are high, and working on these motors is more time consuming and therefore more expensive than the Ford designs. Since the Ford designs were able to handle power levels way up into the near 1000-hp range with the SOHC 427, I'd say they pretty well solved the problem in the manner they chose.
Since there are few engines out there today in the marine aftermaket that actually have to be able to go onto a NASCAR track and run wide open throttle for 500 miles, the engines today are simply NOT built with the same consideration for ultimate strength. What you get today in a new motor like a big block anything, is a good motor for sure, but it simply was not engineered as it's prime mission to withstand racing stresses in NASCAR. There were a lot of big blocks that were put on the NASCAR tracks in the 50's and 60's, and some were fast, and many exploded. Our Chris Craft engines have the same blocks Ford used to dominate the NASCAR racing circuit. It's one reason these engines deserve to be rebuilt. They're worth bragging rights, of course, but this cross bolted main concept is one of many reasons these motors last so long. In this case, they simply do NOT build em like they used to.
Paul