I hear what youre saying loud and clear, but I am not (yet) in agreement. The steps you mention are perpendicular to the centerline and keel of the boat. They are intended to create turbulence under the hull, and in some cases air bubbles, and even get the entire hull up on the step (out of the water as far as possible) for reduced friction.
Longitudinal lapstrakes run the entire length of the hull and it looks to me that they just create one long additional surface where friction is added logarithmically to the overall speed of the boat in a linear manner. A lapstrake hull has quite a bit more exposed surface area than a smooth hull would, and I've seen a heck of a lot of smooth hull race boats and very few (only the Jersey Speed Skiff) lapstrake racing hulls.
I can easily see how the step promotes speed, but dont see how the lapstrake does UNLESS it is turned in a manner that also creates lift, as Jim Wynne did (and patented). The whole deal with his lifting strakes was to help get the hull farther out of the water, again to reduce friction and thereby increase speed. The Lancers and small Commanders use this to great advantage, but virtually never see what I think is a useless lapstrake on a fast boat hull bottom, unless it may be for stability reasons. Most of them are lifting strakes to do double duty.
As for a cushion ride, yes indeed. Thats my opinion, sure am interested in the subject. I wonder what the Lyman guys think, theyre bigtime lapstrakers.
First of all, we must first recognize that people will race ANYTHING, from lawnmowers, motor homes, cruisers, cars, trucks, boats, virtually any kind of machinery that is self propelled and some that isn't. Naturally boats have been raced for eons.
There is a category of hull called the "fast planing hull". Here is an example below, virtually "the" formula for all smooth water runabouts since the onset of the motor boat. Naturally this hull is not good in rough water, but for speed it's hard to beat. When a step is added to break friction under the hull, these hulls became faster but more difficult to control too, therefore the step had some stability issues (and features added) to help.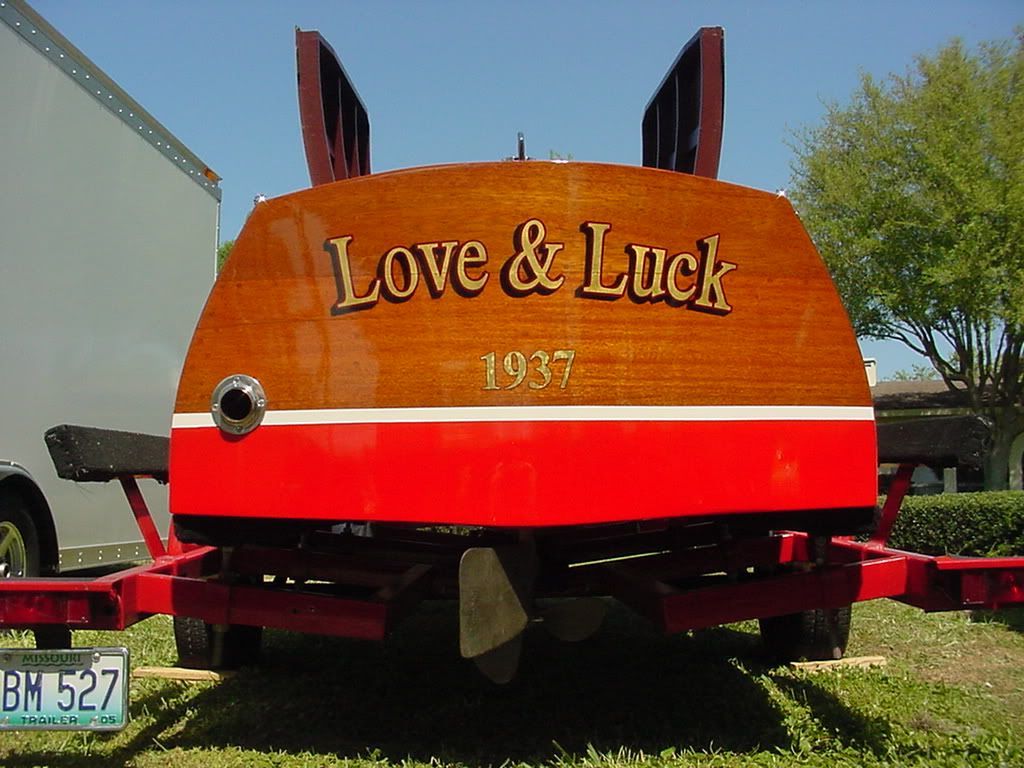 When the "gentlemans racer" category or "limo" style boats came on the scene, including the big Hacker Crafts and Gar Woods, and some big Chris Craft models, the hulls started conforming to the very sharp entry and somewhat deeper v sections, because these wealthy customers wanted a smooth ride. I have been absolutely ASTOUNDED at how a Hacker Craft can approach a big swell and it looks like you're about to bury the nose or pound hard, and the hull just SLICES the wave in half. Those John Hacker designs are superb, and of course everyone else picked up on the idea and used it too. Those boats, including the entire "gentlemans racer" category used a deeper v simply because if you were racing, the water would be choppy due to the other boats, and if you were going to win you had to maintain speed in the chop. Here are a couple nice sharp hulls doing the slice thing. These boats would be faster on smooth water with flat bottoms, but there is a lot of satisfaction being able to go fast in the chop (as the Lancer and small Commander owners know!)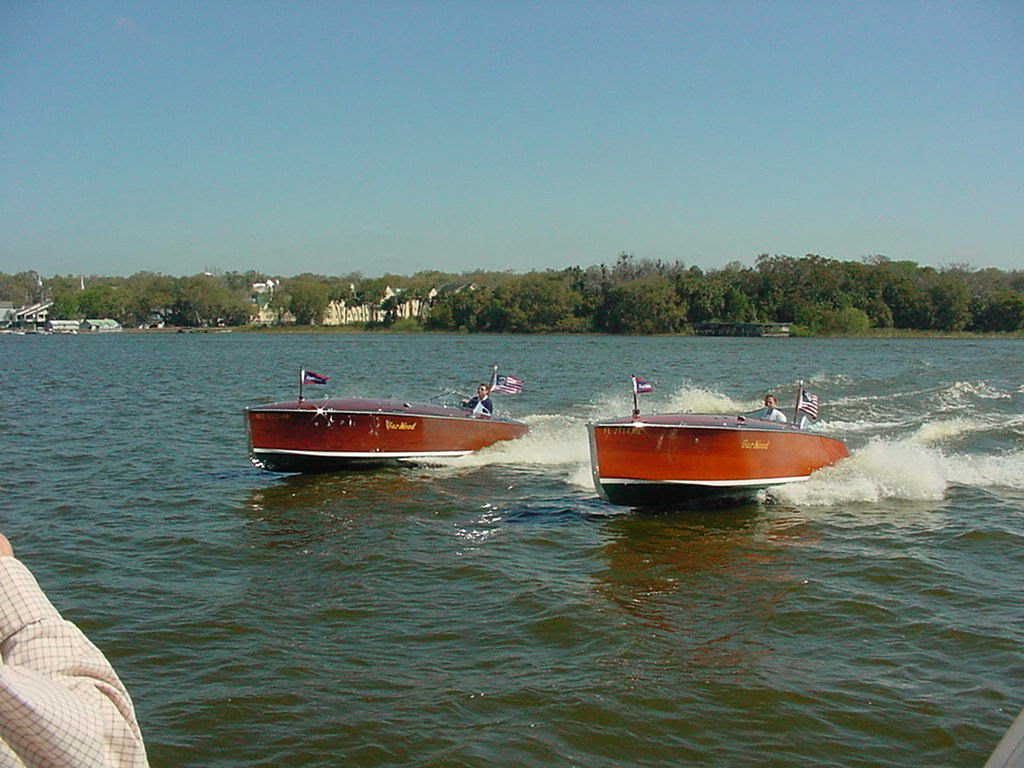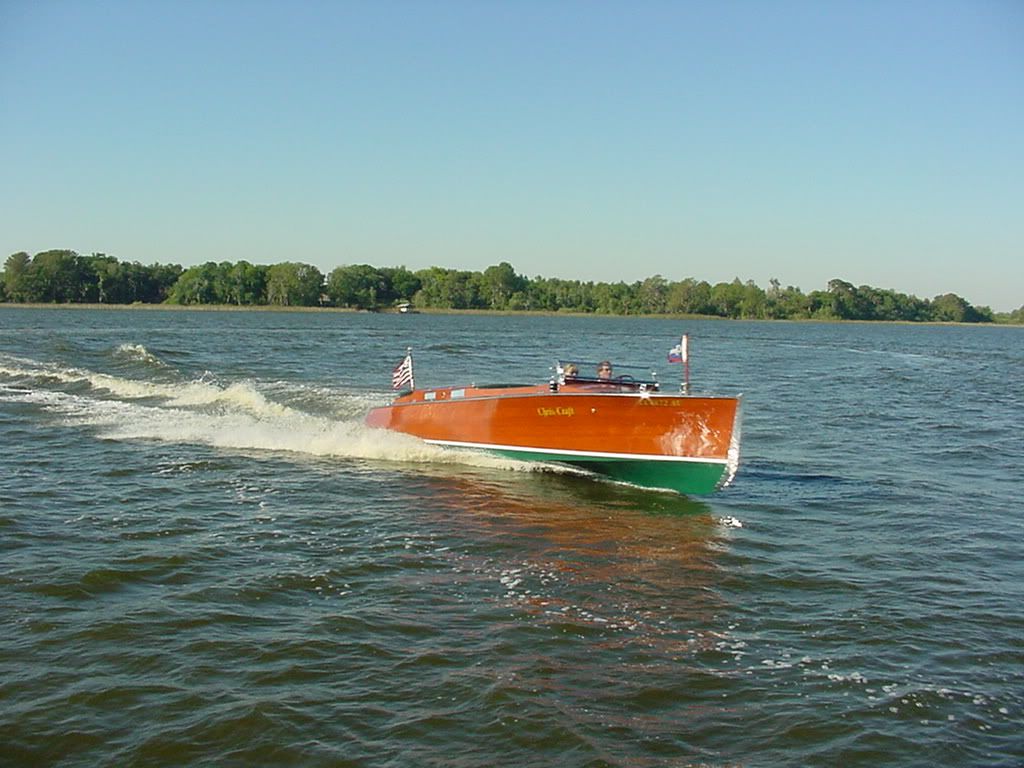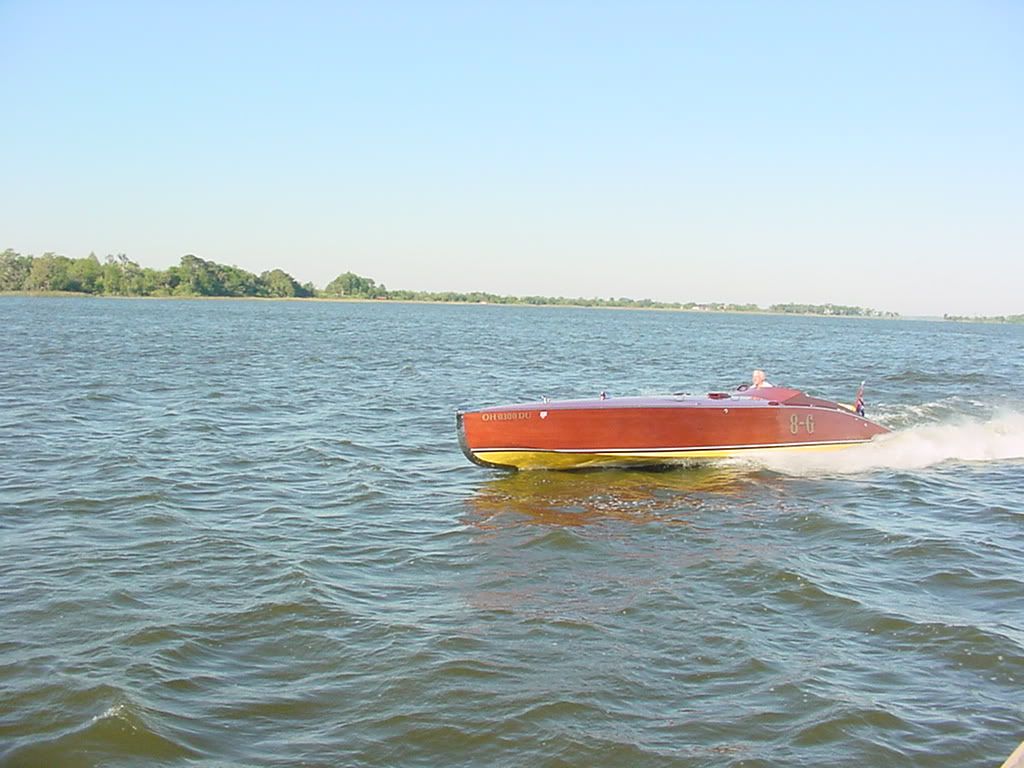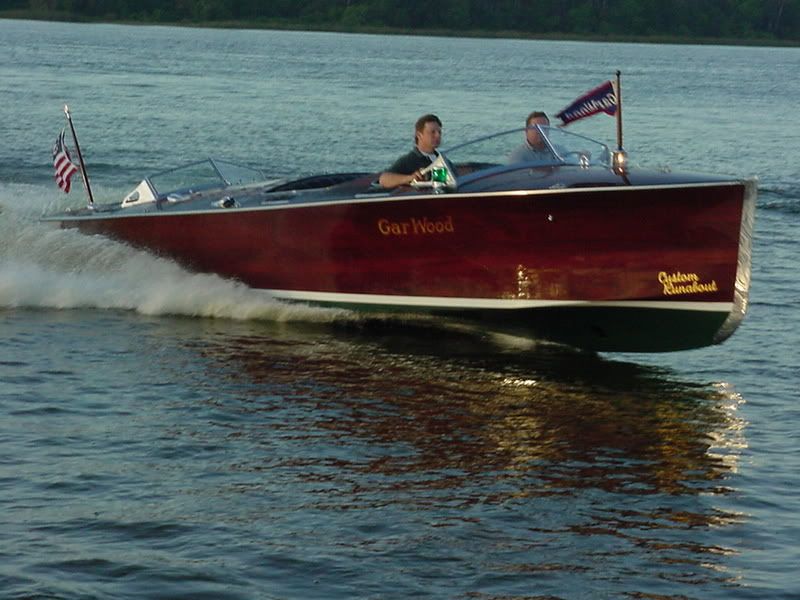 Believe it or not the one below has an Italian V-12 motor and the hull also has a step. It was "very fast" for being an "in the water hull", naturally it could have gone faster if it had sponsons, but the step and power on this thing pushed it over 60-mph. Thsi thing was also swinging a surface drive prop, ha, looks vintage, but is new and state of the art interpretation.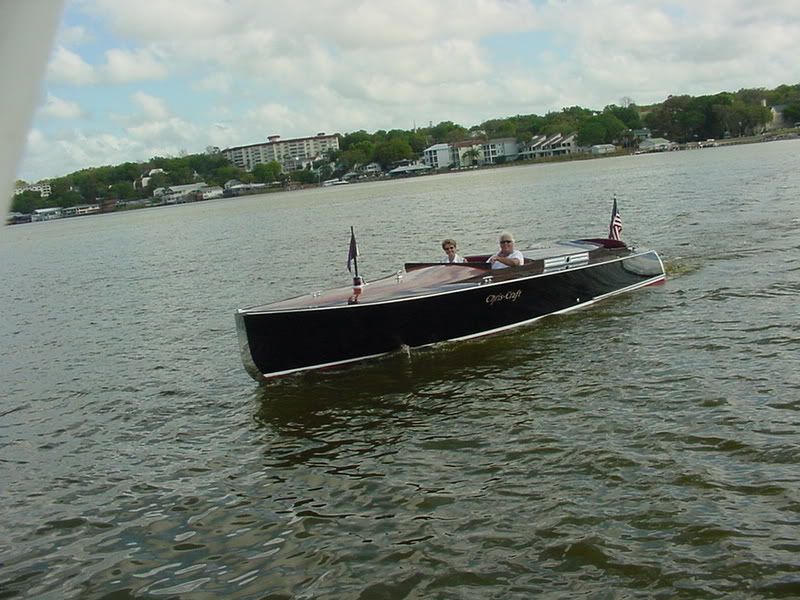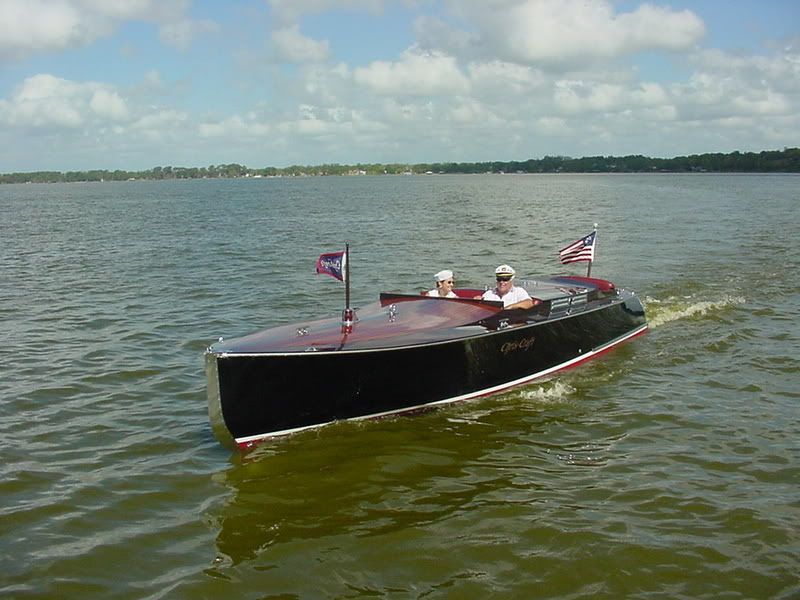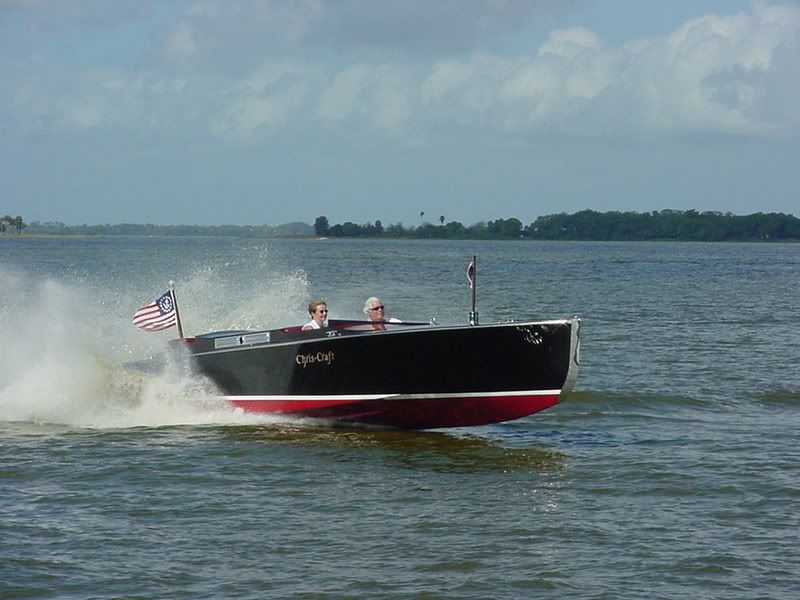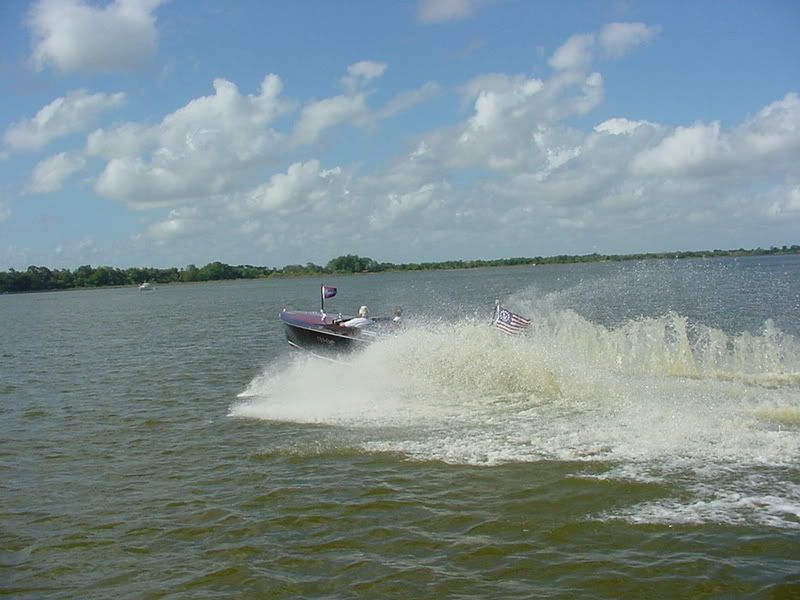 This one is a true Gold Cup design, also with a stepped hull. That's Mark Mason at the wheel with collector vintage racer Peter Kreissle as the passenger (Peter owns JUNO, the 3-point Ventnor tail dragger of 1937 design). See JUNO below!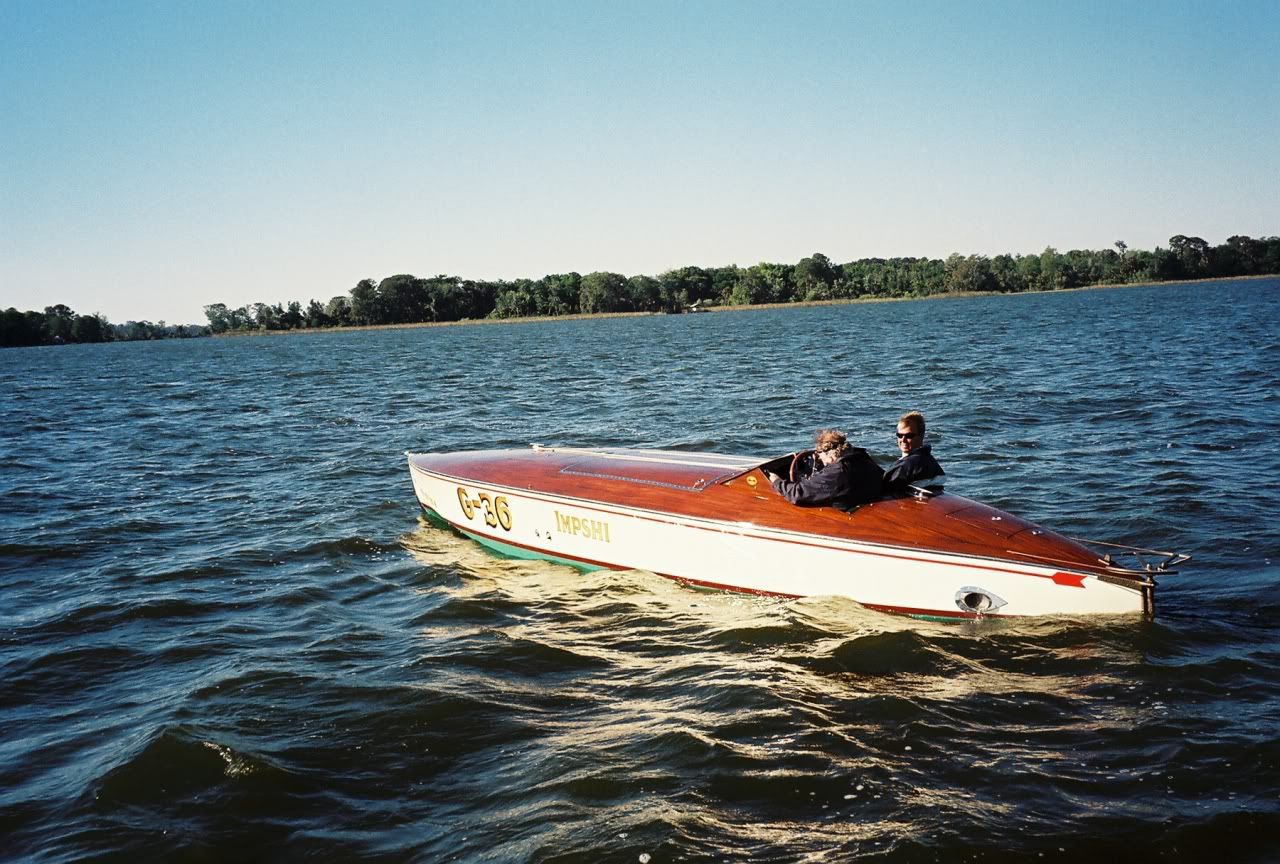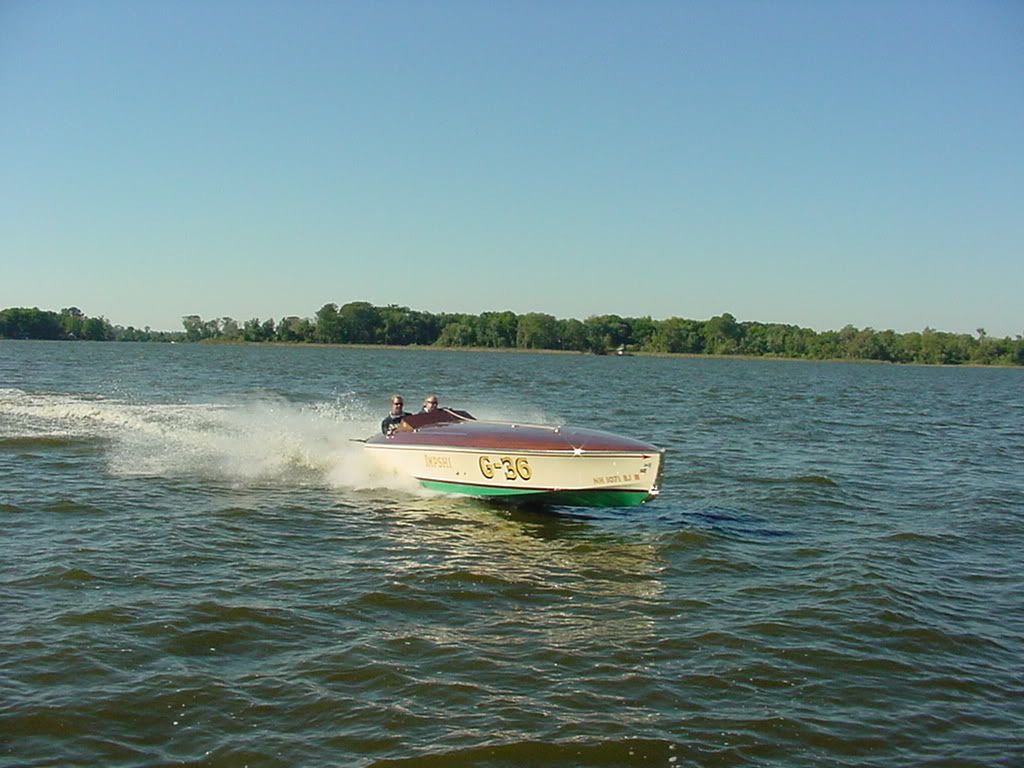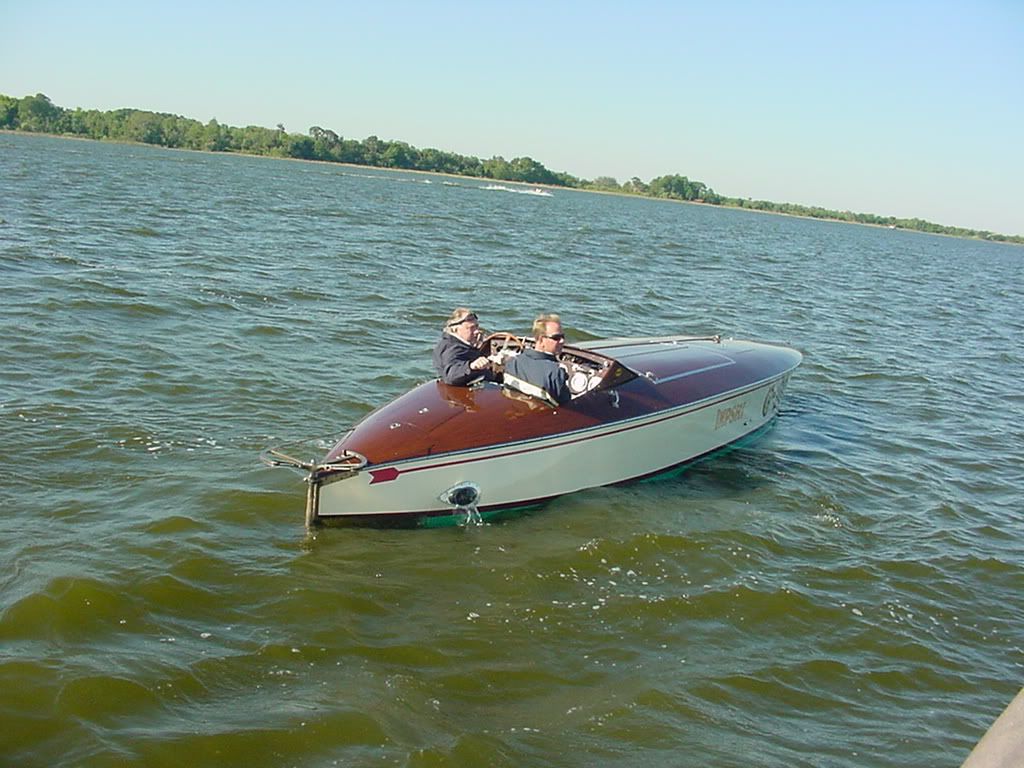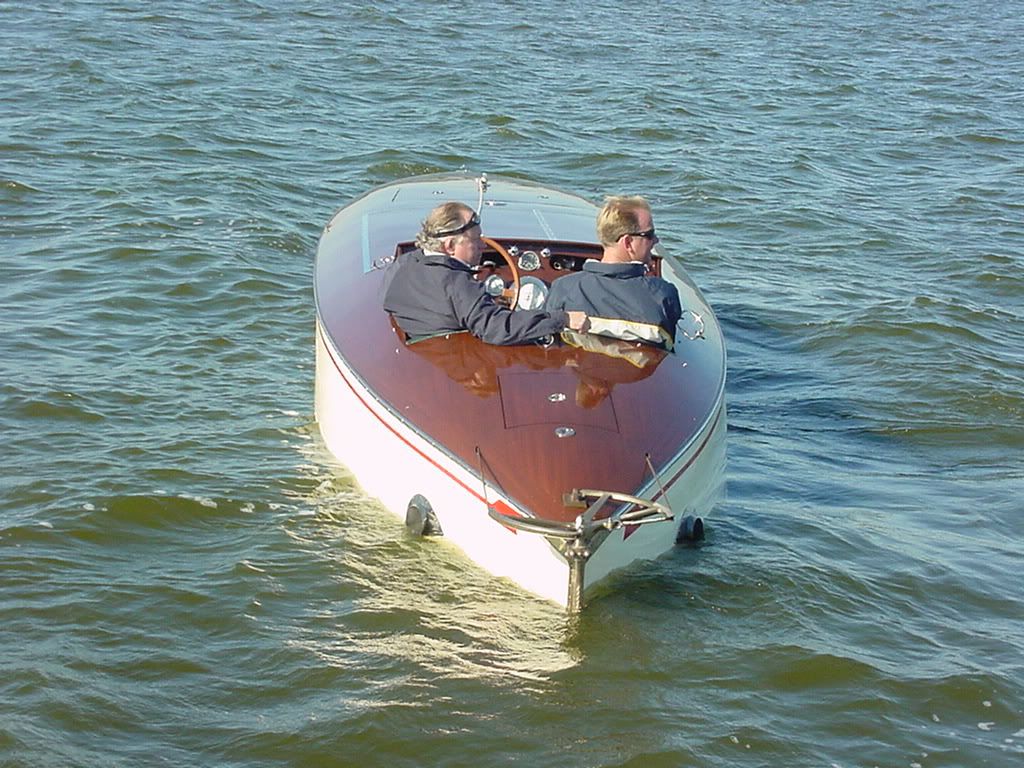 Here is Peters JUNO, sponsons in the water and filled with water too. They drain out as the boat gains speed. I really want to build one of these 80-mph boats. All it takes with one of these to get to 80 is 175 hp, so little friction skipping across the water.
And now, the lapstrake hulls, these are Jersey Speed Skiffs, and yes, they race them too! These light weight but strong hulls have so much power they're often out of the water. Great fun to watch. Fun to drive, but terrifying to be a passenger.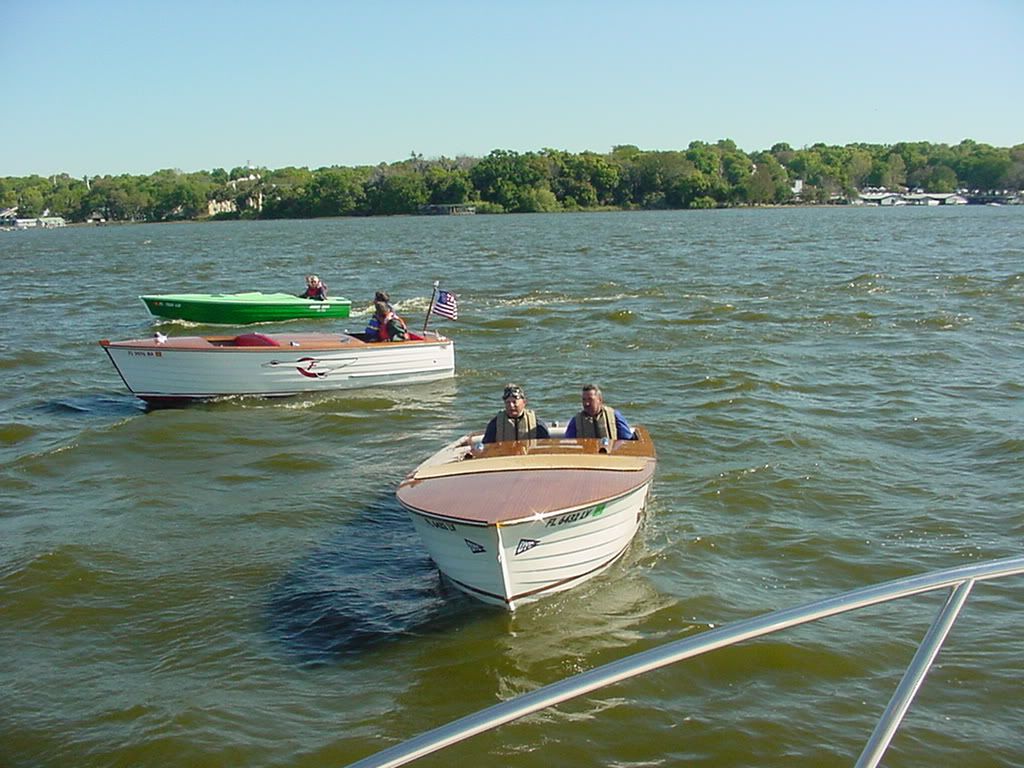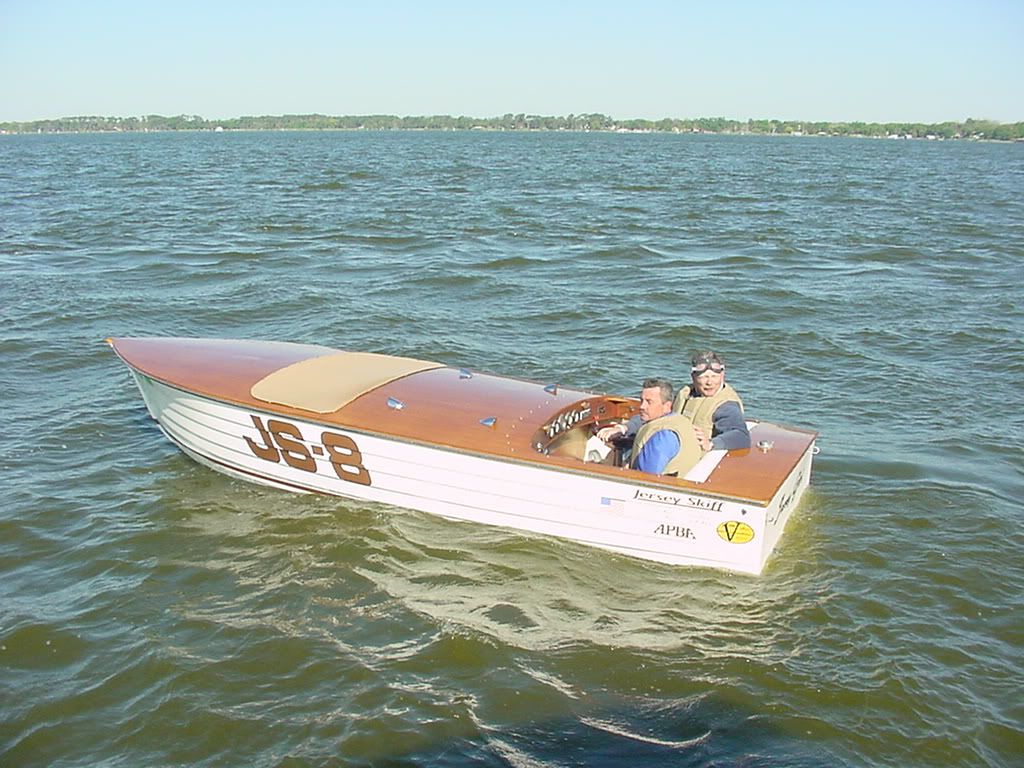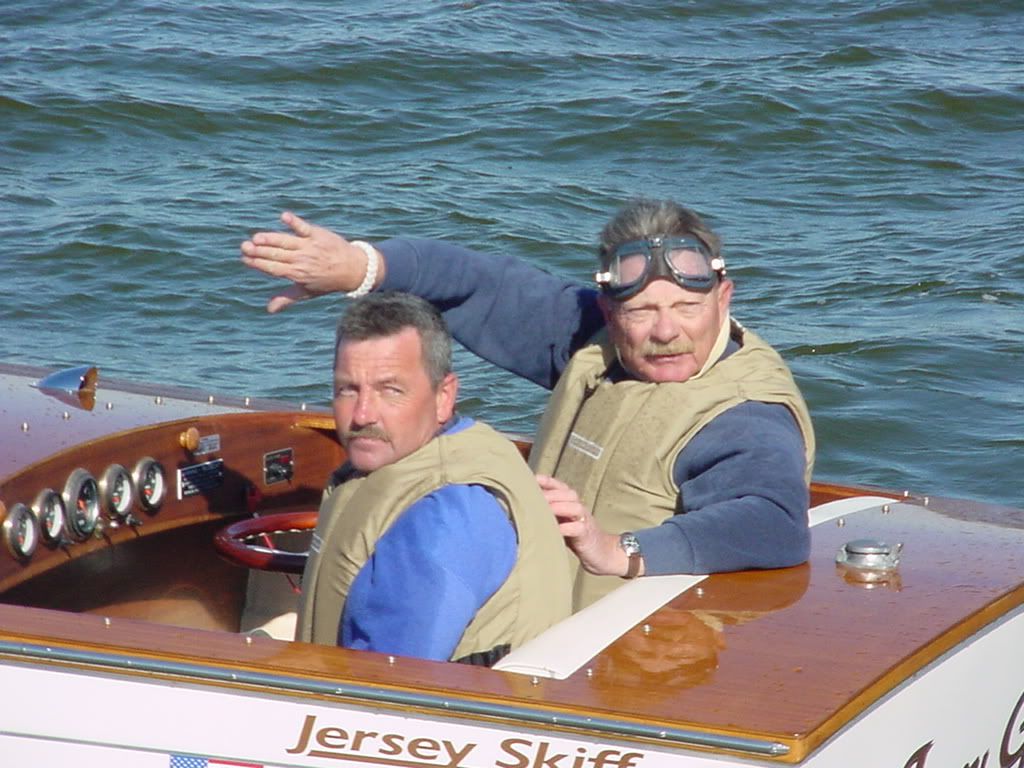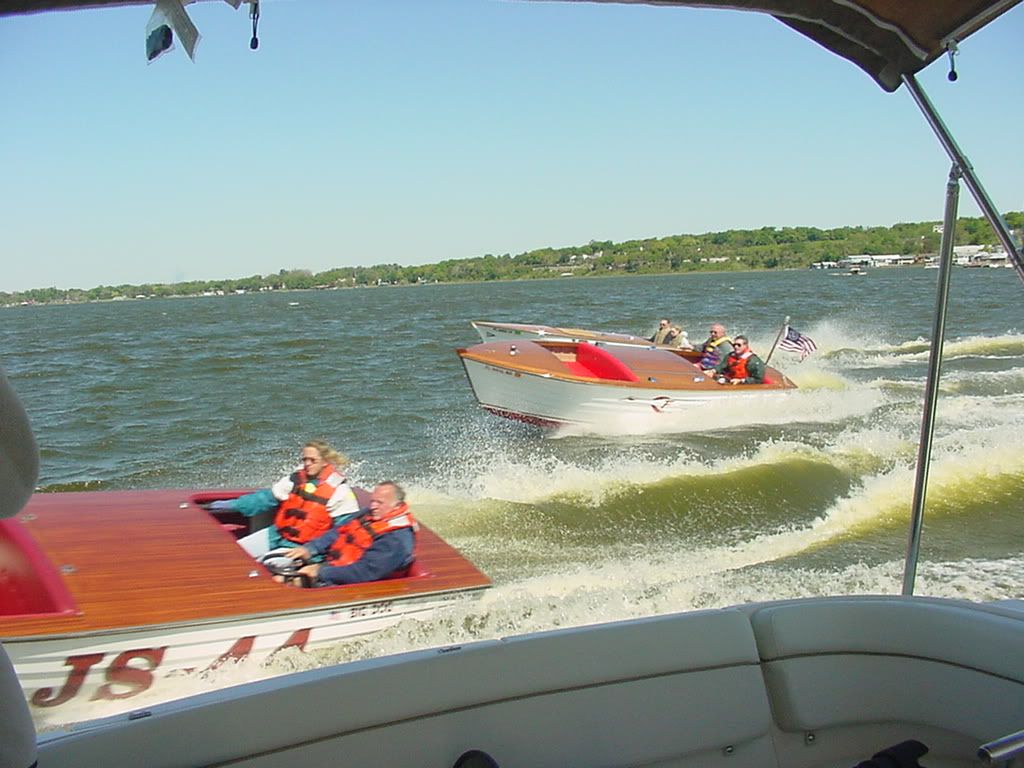 The true wood lapstrakes naturally have the strakes all the way, because they're real.
But as you can see with the newer adaptation of the Skiff hull, the fiberglass versions are going with flat bottoms.
Here is the fastest boat I've ever been on, DANCING BEAR, owned, built, and driven by Curt Brayer, APBA 2-time World Record Holder, and high point man for SEVEN (7) years in a row with this full race hemi powered boat. His records will never be broken because the F-Service Runabout class has been discontinued. What a wonderful man, generous to give Janet and me both rides, and I'll never forget hearing the Casale V-drive singing and that big hemi bellowing as he gave it the gas straight down the center of the St. Lawrence river. ha! What a thrill. I have it on video, will have to transfer it to digital.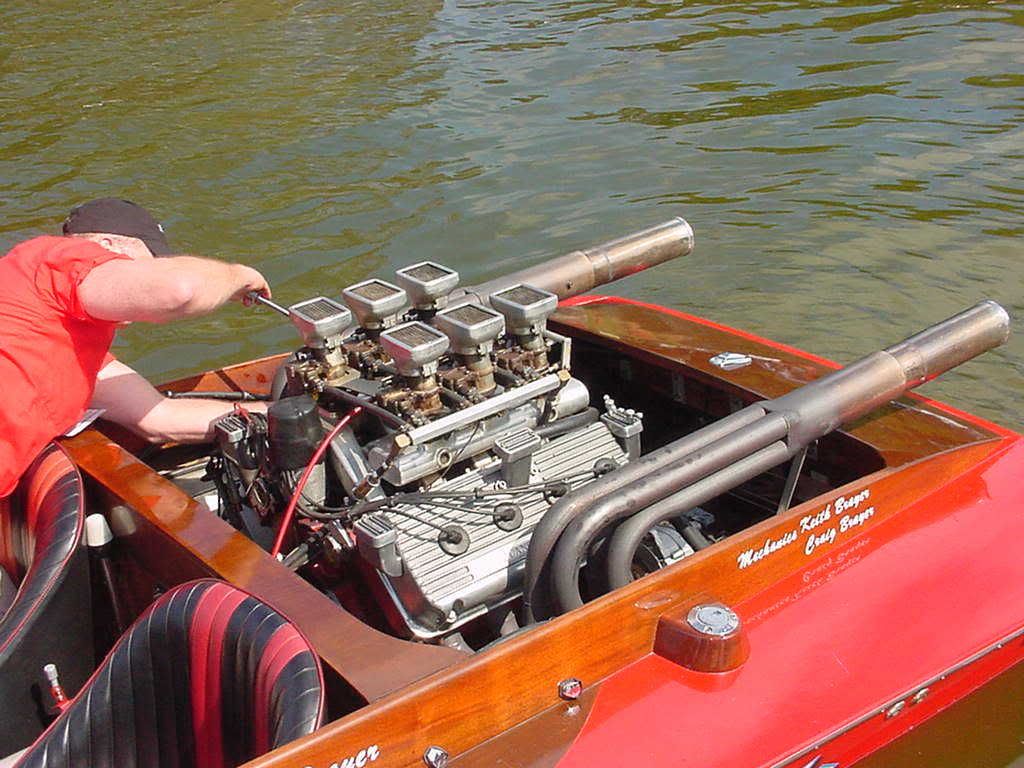 In any case, it's not my intention to argue or start an argument, I'm just sharing photos I have and trying to promote more good discussion!
You are right, indeed, warm weather is on the way and I'm going to be running my cheap little Skiff and having a ball. I'll be increasing my carbon footprint too, in that big 427 powered 38 every chance I get too
Regards, all the best,
Paul