As the moderator of this forum I get to see all the data, drill down into various areas, and it is always a treat to see the map of the world unfold like this one. With one day to go, I doubt if the world map will change much, since there is almost every country represented already, that we would normally expect to see. In the past I've seen readership from Afghanistan and Iraq, undoubtedly from US Servicemen, perhaps some of those were from Jerry? Those countries have yet to log in this month.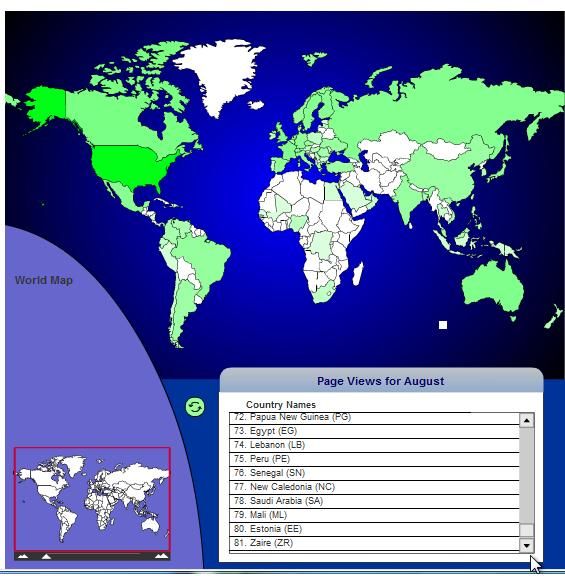 In the pages read category I have deleted this into as it is confidential, but there are many tens of thousands of pages read each month,this one setting the alltime record. I left the last few countries on the chart to show the more obscure locations coming in, and they change ranking up and down as readership for each country is reported in automatically on the net. I dare say, there is more technology doing all this than it took to put a man on the moon. The 4 Gigabyte chip in my digital camera for instance, a 16 G was available, and that IPhone, sheesh, technogoly is amazing.
It is interesting how we are using technology to further our love of a classic boat, designed long before any of the engineers had a HP calculator, and they were using slide rules doing all this.
They were also lofting and drawing by hand, none of this CADD stuff, computer drafting, autocorrect, ha, these days an autocorrect program would make the boat look like a bleach bottle.
Regards,
Paul