UPDATE: SOLD OUT, no longer available. As things shuffle out I may be able to pick up one or two depending on the overall mix, so if you are a contributor and didn't get your order in, email me at chriscraftcommander@hotmail.com and I'll see what I can do.

As of this evening I have received electronic payment and checks that essentially deplete the available stock of books, before they have arrived in Nashville. I received a confirmation that they were shipped today from the printer, December 18, and they will be forwarded to anyone who paid for one immediately upon receipt. I want to honor delivery to anyone who contributed a photo or other info for the book, and I have very few options left at this time. The good news is those of you who receive one will have something pretty exclusive, and the other good news is more books will be printed sometime during the next few months.

Sincerely,

Paul, December 18, 2009
~~~~~~~ The remainder of this post is left as it was originally posted ~~~~~~~
Hello all,
ADVANCE NOTICE !!
(Update Number II) Just got off the phone with the publisher, the final bound proof will be here in two (2) days!! Holding my breath!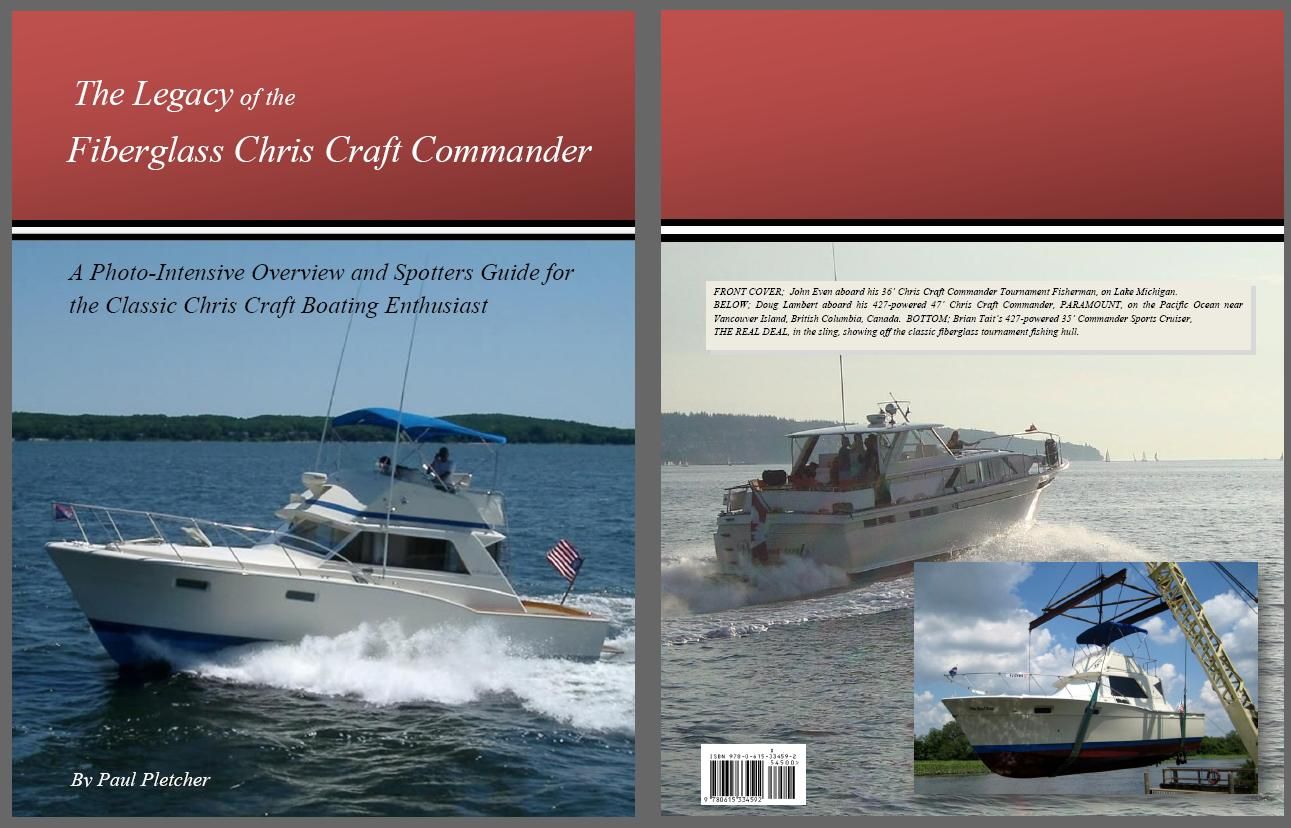 I've been busy the last month and a half, have not posted too much here but I have been busy contacting contributors one by one, asking for permission to include your photos, getting nice contributions along the way from friends, and in a matter of days the initial printing of
The Legacy of the Chris Craft Commander,
A Photo-Intensive Overview and Spotters Guide for the Classic Chris Craft Boating Enthusiast"
will be available. It is presently at the publisher, out of the country, scheduled to be available first of the month give or take a week.
The chapters shown below are done, being printed in 4-color as I type this note.
The book encompasses all models from 19 through 60 feet, gives impressions, features, some specifications, but most importantly it gives documentation photos. Many of you will recognize yourselves in this book. This is not a large production,
only 100 books are being printed at this time,
and once we see how they go then the main order will be placed with a "reprint price" that is easier to handle. This is 4-color offset press material, it is not as good as National Geographic, but it is better than than a comic book!
I saw the need for a book like this within classic fiberglass Commander circles, I think many of you would want one on board or in your office.
I won't be selling the book here on The Forum, I may link to it, but it will be sold from a dedicated web site that has already been set up for action. Once actual books are in hand, I'll publish some actual photos.
This note is an advance notice of the works, it's about 165 pages, and literally has "hundreds of photos" of Commanders and Commander people!
Anyone who wants one please contact me, Forum members will always get first priority on the available stock (and from the looks of things so far, the first 100 may be gone fast).
Here's a look at the entire book, it may not look like much, but it's 164 pages and "hundreds" of color photos!
The book will be about a half inch thick.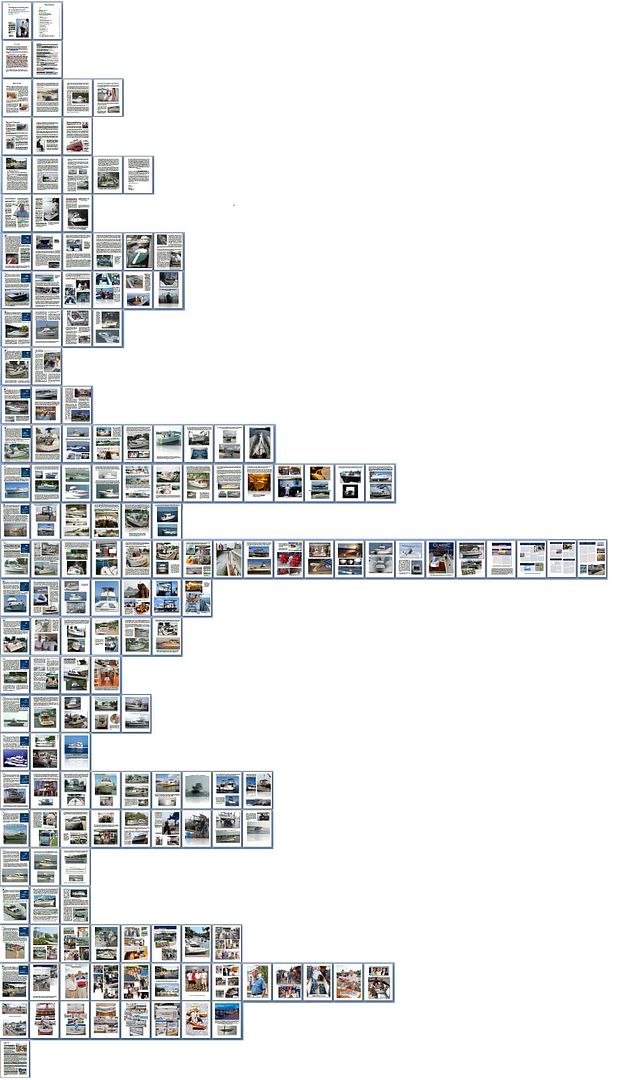 Here's a look at the 36' Commander Tournament Fisherman section.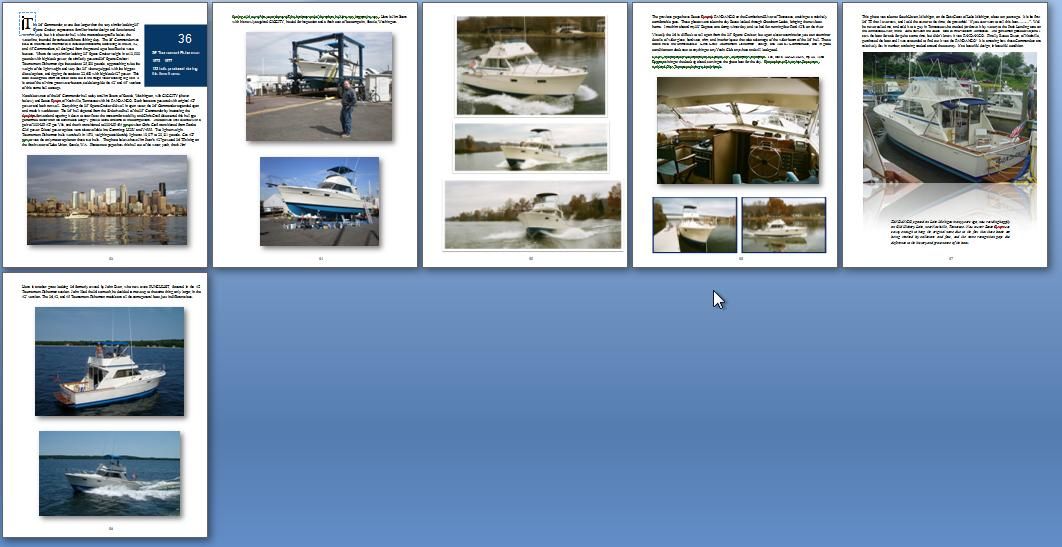 Here's a look at the first page of the 36' Commander TF sectiion.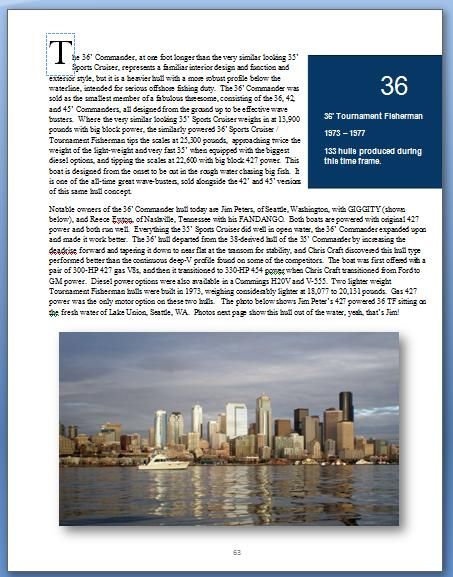 Until books actually arrive in Nashville, I will not know the exact cost. I will tell you they're going to cost more than a comic book due to the low production number and excessive number of 4-color printed images. The intent of this initial run is to break even, have fun, and share information!
Regrds,
Paul