Hi guys,
I spoke with Bill Basler on the phone this morning telling him
what a fabulous job he did on this latest production, and how much I admire
his design layout and exacting eye for incredible printing quality. We had
a couple laughs about some issues, and he said he would send me some high
quality PDF copy of the article so I could post it. Knowing he is on the
road now, I scanned my copy of the Brass Bell for interim use here, and you
will notice the rather compromised quality of the images, etc. due to the
scanner.
And by the way, Bill is restoring a fiberglass Corsair, also featured in this
edition of the BRASS BELL (also featured here on The Forum).
So many boats.....so little time.....but what a way to go!
"Thanks Bill", GREAT JOB !
Regards, best,
Paul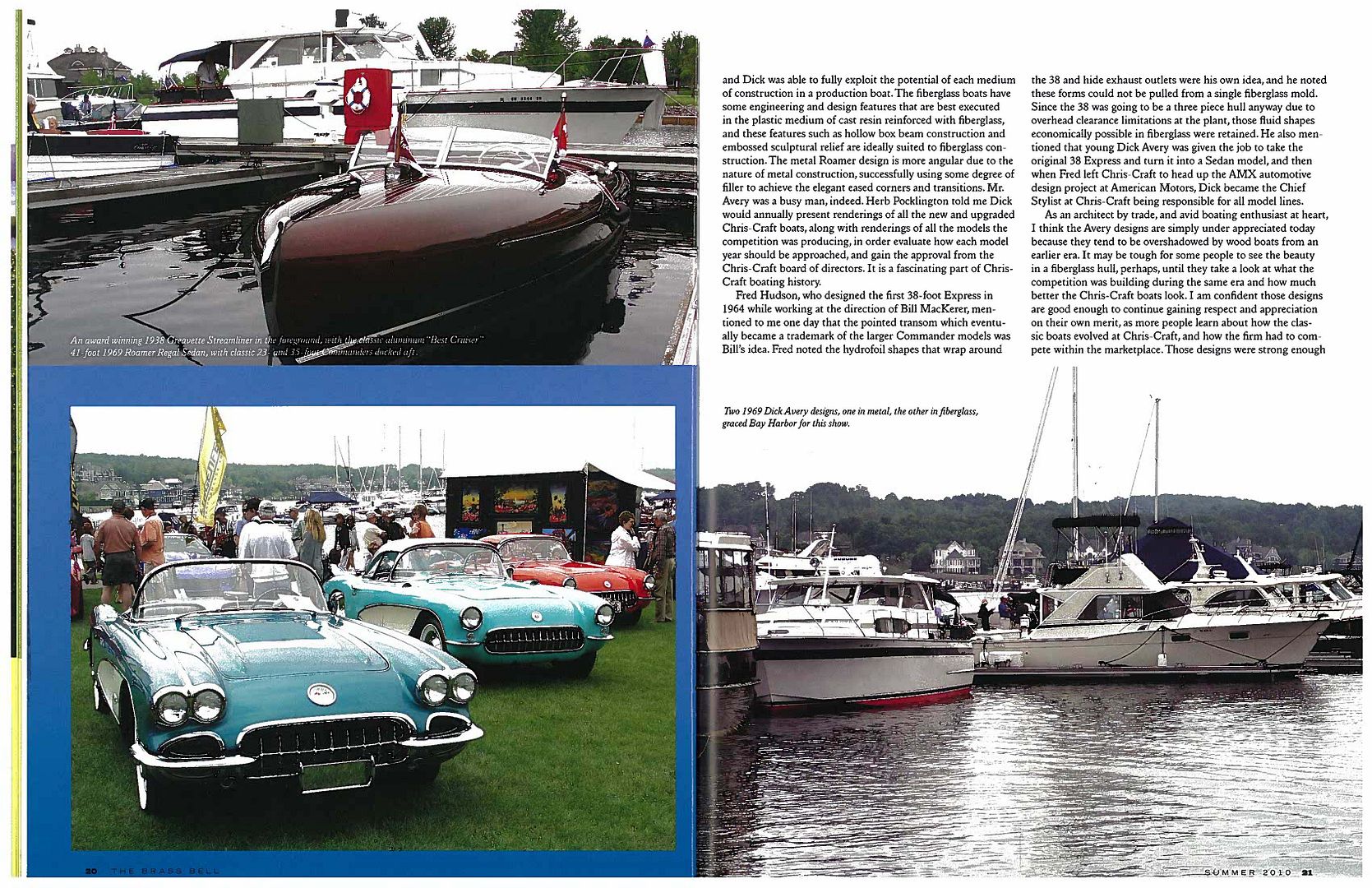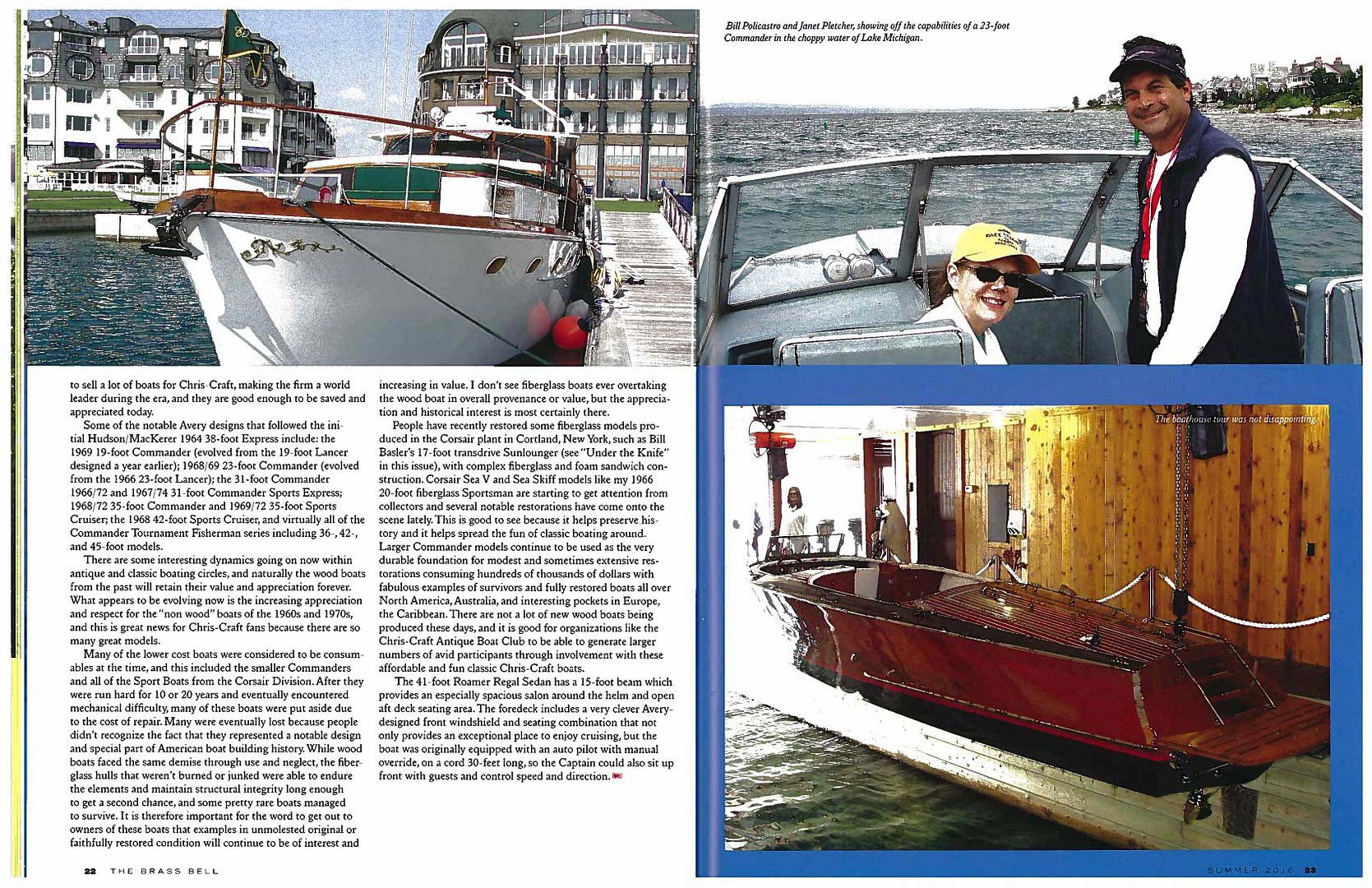 I posted the original photo I took here, right below the printed copy in the Brass Bell.
Yes I know the scanned version is poor by comparison, but if you have an original copy of the
BRASS BELL to compare to this original digital photograph, you will be amazed they could
actually put ink down on paper that well. Bill went into detail as to how this is done
and where, and said they use the best Heidelberg press from Germany, and the results sure
speak for themselves. The magazine is dripping with quality design, layout, and printing
(and the content isn't too bad either, lol).
More on the Chris Craft Antique Boat Club publication, "THE BRASS BELL" can be found here
http://www.chris-craft.org/brassbell.php
If you have not already seen all the photos of the Bay Harbor event, a single click of the mouse here will take you there. Beware, there are a lot of images to load but you'll see it all ! This was our first venture into Northern Michigan like this, yes we've been to Hessel, but this area around Traverse City is very special.
http://www.network54.com/Forum/424840/thread/1276893358
Edit comment........Oh one other thing!
You will note the Chris Craft Antique Boat Club has been proudly presented on our front page with The Antique and Classic Boat Society, Inc., along with the following proclimation:
"The Chris Craft Commander Forum, Inc., proudly supports the stated missions, and high standards of the not-for-profit organizations noted below;
and recognizes their collaborative management style, allowing cross linking of posts and a free exchange of information between forums and web sites,
which we believe is good for the Chris Craft Commander and classic boating community at large. Anyone interested in antique and/or classic boating should check them out!
This statement has a lot to do about why I am a boating enthusiast to the extent I am. In life there are plenty of opportunities to sink into the world of petty back-biting, politics, negative childish bickering, paranoia, undertow and foolishness that is only too prevalent in this world if you chose to go there. In business we all run into these situations on occasions, sometimes more than we want, and we have to deal with it in business. For our boating hobby, however, it is an opportunity to leave all that baggage behind and I love boating for the goodness and the relief, because of the people I get to associate with. Yes the boats have something to do with it, but it's really the people who make the world go around. If you are reading this, you may be a participant here on the forum who shares information or you may be a silent guest, either way you are part of the goodness that is being spread around because of boating and I thank you."
Paul