First of all,
"WELCOME ABOARD"
, we like the Corsair boats around here because they are close limb on the Commander family tree, and these boats whether Corsair, Lancer, Commander, XK, or Sea Skiff, all make great companion boats to the larger Commander cruisers.
Yes Indeed, you have a 20' Sea V Transdrive !
Since you have already found the "mother lode" of info available for this series of boat, you have probably already looked at a lot of the scans like the one below, many of which show a light pole and none of which show anything like that pole you have. Therefore I would say there is a very high probability it is not a Thompson By Chris Craft pole.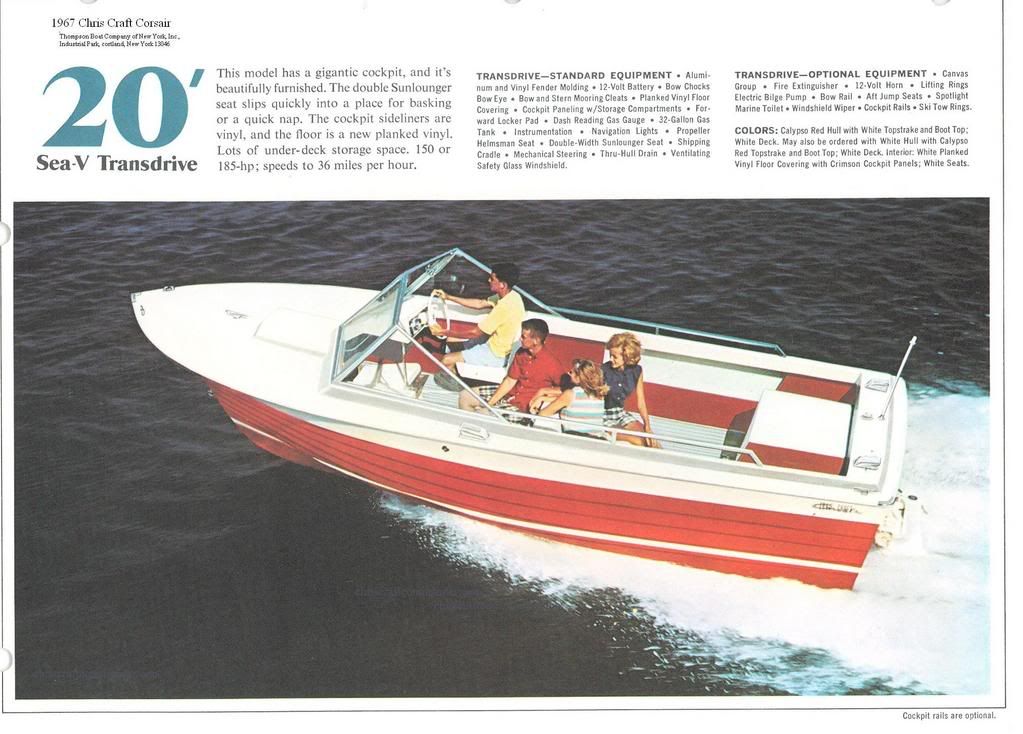 My new (about to be published) book delves deeply into the Thompson /Chris Craft culture, as it was the start of the Chris Craft Corsair Sport Boat Dynasty. Your model is very sporting and was quite advanced for its era.
It makes little sense to me to convert an inboard model to transdrive, when just getting a transdrive fully engineered for the job would be light years ahead of the curve. The exhaust pipe cutouts could well have been put there to obtain a sporting exhaust note. They don't appear to be in the proper location for an inboard V8 anyway ( oo high, these were just above the waterline ).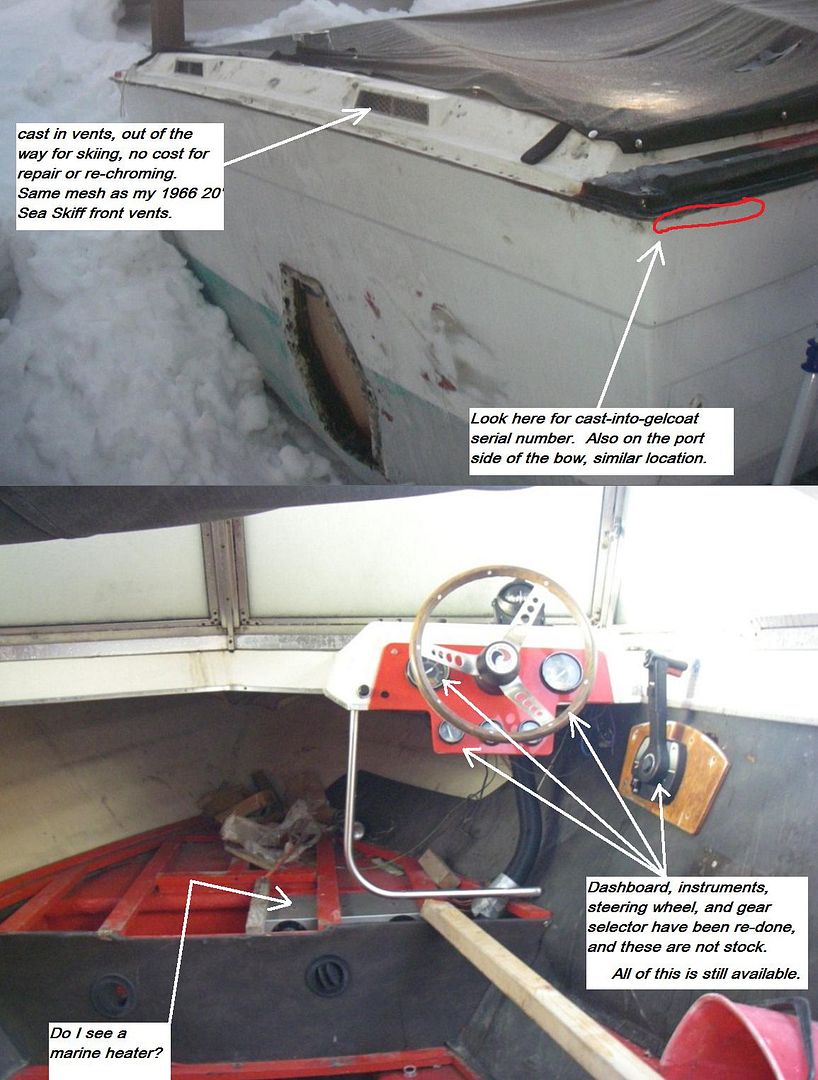 The early SeaV and early Sea Skiff (inboard models) that used the same hull, had wood stringers for the V8 motor applications, and some cast-in forms that your boat does not have. This looks like an authentic Transdrive boat. Later, the Skiff went out of production and the 20' Sea V inboard continued without the wood stringers, with an improved design out of Commander-like hollow box beams motor supports.
It is really good to see another one of these boats get into the hands of a person who knows what it is, and is willing to bring it back. There are precious few left, and they have a great look. They also have a 16-degree deadrise and beautiful flair in the bow, and along with that big windshield they are dry boats intended for being out in big water. We love our similar hull Skiff, even though I have yet to fully restore the windshield. I vow it will never go back in the water without it, however.
Dave Krugler and I have the same Sea Skiff model, his is #12 and mine is #39, out of a two-season production run of 80 boats.
Here is a link to my restoration process that shows just about everything inside the boat you will be seeing, followed by Eric Jensen's restoration thread on his 23' Lancer Transdrive, which may also have some similarities.
http://www.network54.com/Forum/424840/message/1166307789
http://www.network54.com/Forum/424840/message/1262235140
This boat is ideal for keeping all original, but with a more modern repowering. The "look" and general performance would be the same, and the boat would still give just about every appearance of being original. Keeping the seats and interior original or very similar would also lend more emphaisis to the fact that this is a classic boat.
Some of these had potmetal clamshell intake vents, most are pitted badly now and would be very costly to flame solder repair for rechroming. Some of thes (like my Skiff) had rear clamshells but cast-in fiberglass intakes. Some had cast-in intakes and rear vents. Some had potmetal intake AND exhaust vents. The main hull below the rub rail stayed essentially the same externally, modified for Transdrive or Inboard at the plant. The topsides, however, were a seperate piece that was easy to change, and there are minor variations from one model to another depending on the year of manufacture. The early Corsair had a pretty high raised nose rail, and I think I see that on your boat. Also, some of the Corsair boats did not have the fully operable windshields, but had an individual lower piece that would open up. Your boat has the fully operable glass and that would suggest it is a 1965, 66, or 67 model to me.
Very cool, let us help you in any way we can.
Regards,
Paul