Ever notice how darn similar the original Forumula 233 looks to the 23' Lancer?
No wonder..........they are both designed by Jim Wynne.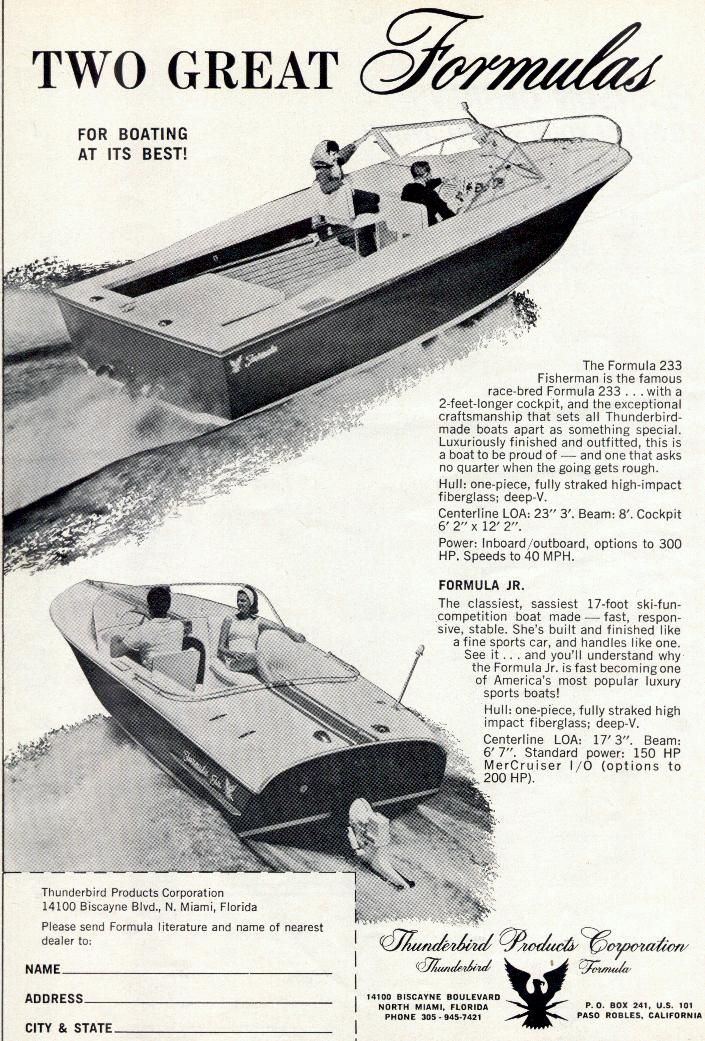 "The 233 was Aronow's first boat under the Formula name. It was designed by Jim Wynne. This was Aronow's first race boat and in collaboration with Jim Wynne and Walt Walters they founded the Formula Boat Company. This was in 1962. I think they Aronow won the Miami Nassau race in the 233. The 233 went on to win a number of offshore races while Aronow went on to found Cigarette, Magnum, Donzi and USA Racing. Aronow was murdered in 1987 by a rival boat builder.
The formula 233 is a race proven offshore hull that was manufactured under the guidance of Don Aronow starting in the 60's. Jim Wynn, a legendary designer, told me once that the 233 bred a lot of hulls and had influence on a lot more like Robalo and Intrepid."
"Many folks used the 233 as a starting point for their "new" designs, popping a mold off the old girl and slightly modifying the product.
They still make the 233 in Australia today"
http://www.edencraft.com.au/formula.html
The first 7 images are of the Formula design, you sure could mistake one of these for a Lancer!

Here's the Chris Craft version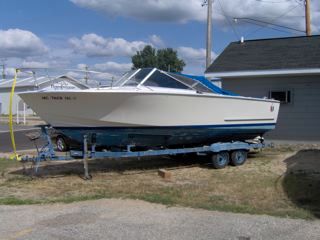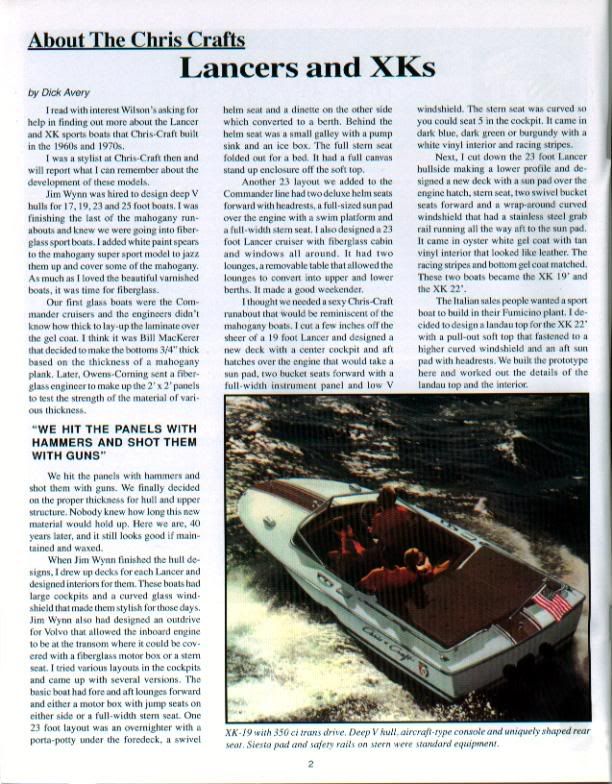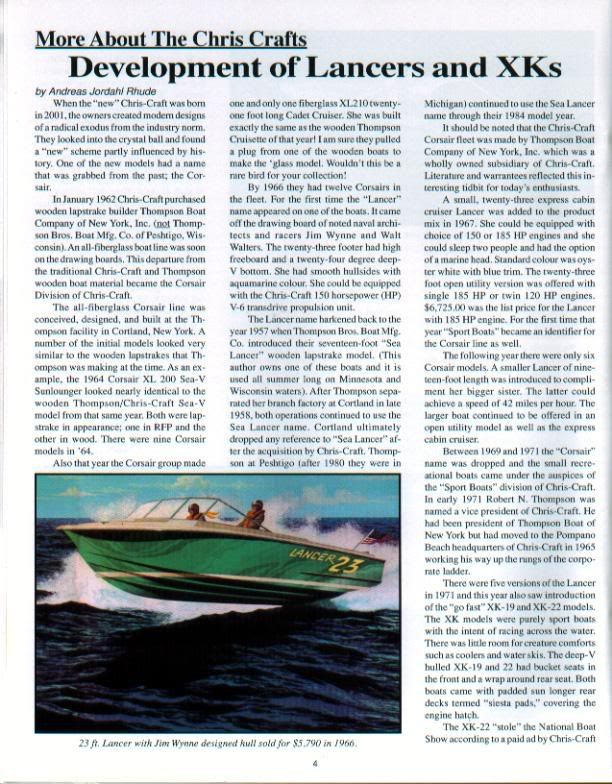 It is becoming more evident that Chris Craft was "reacting" to fiberglass boat building rather than being a pioneer. They watched Hatteras build a glass crusier, and Don Aronow build the Formula and Thunderbird boats first, and then came up with their own "mass produced" XL-175 and 23' Lancer versions. Interesting that they hired Jim Wynne to do the design work.
In my recent telephone conversation with Chris Smith a few days ago, he mentioned he was with Jim Wynne when they water tested the first 36' (wood) Corvette, which was a V-drive boat with twin 427 motors, in the typical fashion Jim loved, deep V and lots of outdrive power. Chris said he was impressed with Jim because he had predicted everything they found during the test. However, on some of the Chris Craft adventures before getting the real world experience from Mr. Wynne, Chris Said they tested a few of their own deep v designs, and the boat would get going and then flop over on one side, frightening. They actually built a model that had a 28 degree deadrise, it was a "total failure" and would not get up on a plane. They tried twin rudders on it. They could not power it up onto a plane, it would not go in a straight line either.
They built something like 5 of these for simultaneous shows around the country, however at the time engineering was saying "wait, we have problems with this one". They were shown at shows anyway and sold something like 50. CC put trim tabs on them so they could be more controlled, but CC dropped the model rather quickly due to fears of litigation from dangerous handling. I don't know the model, but I'll do some research. It appears that the 24 degree deadrise on the Lancer, and the Wynne designed Forumula 233, is about as steep a cut as you can do while still getting the handling and planing needed. Chris Smith contends you just can't steer a deep v boat very well. He said on some of the testing, you "could see a coconut in the water up ahead and you just didn't know what side the boat was going to pass it by".
Chris Craft got the Wynne design, started in with their own high performance hull designs and whittled away at the competition with a vast dealer network, good warranty, reliable power that had been used in many other models, and most likely a resin and fiberglass construction that was pretty darn good by comparison with any other manufacturer of the day.
This is not to take anything away from the 233, I hear they're great boats (too).
Regards,
Paul