As you may know, the Edelbrock carbs require a banjo fitting to adapt the rubber fuel lines, and I for one like to have a final fuel filter before the carb to pick up any crap that may be coming off the fuel pump itself. I had a small fuel injection type inline filter for awhile and one day I saw a drop of gas right at the filter and that was the writing on the wall for me. I removed it immediately, relying on the other two filters on board to do their job. I installed a big RACOR at the fuel tank itself, and then we have those "last resort" filters that are the small aluminum cannister type bolted directly to the 327F and the 427 as well. I noticed the internal filter, however, is vastly better on the 1969 427 than it was on the 1966 327F, even though the cannister looked the same on the outside.
Now there appears to be a more safe way to hook up that final filter, and I'll let the photos to the talking here. I don't know what the USCG would say about this, but if it was hooked to a marine carb I would hope it gets a passing grade. It would appear to provide a very good final filtration right at the carb, when used in conjunction with other filters intended to catch a LOT of crap from the tank. This is on instance where Summit is not the low price? Hmmmm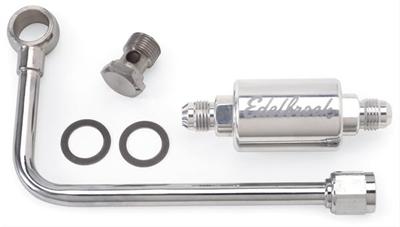 http://www.atlanticspeed.com/productcart/pc/viewPrd.asp?idproduct=4474&idcategory=153#details
http://www.summitracing.com/parts/EDL-8131/?rtype=10
Last thing needed, of course, is a nipple for the fuel line to be double clamped.
Regards,
Paul