On the subject of Cutlasses (we'll get back to Corsairs soon!) I wanted to remind everyone that a 26' CC Cutlass made a cameo appearance in "Jaws." The protagonist used it as his harbor patrol boat. It didn't last long, and was quickly consumed by the great white shark.
My Corsair is currently packed away at the rear of a marina's jammed inside storage area, so I can't get to it yet. They're going to do some gell-coat work for me later this winter and will move it to a workshop where I have access. Meanwhile, here's a couple pictures of her -- a 1968 20' Corsair Sea V with original CC 283 (829 hours) which some on the list will recall I bought in June of this year in Minneapolis. She is so far unrestored and has been well maintained in orginal condition. Recent fixes prior to my purchase are a new Carter AFB, new throttle cable and new steering cable. Appears to have a new engine water pump, too. I've sent the gauges off for rebuilding and will soon send some of the chrome for re-plating.
The original upholstery is incredibly good, except for a couple tears in the helm seat near the hinge. The red vinyl interior side covering is almost perfect, but the Nautilex (sp) needs replacing as does at least one of the floor boards.
My big project will be to replace the side windows, which are plexiglass due to a curved profile on the side-window frames. I plan to remove the whole windshield assembly so that all the decking can be cleaned up and new gell-coat where necessary. [[Do I dare do that, Paul? Actually REMOVE the windshield?!]] The primary windshield glass is good.
One final point: Have you noticed how -- despite the sensuous beauty of the 22' Dory -- the 20' Corsairs and Skiffs have gobs more cockpit space?
Corsair pix, below. My handy excuse for poor quality photos is that they were all taken with a BlackBerry, one of the poorer in photo quality among the now available IPod stuff.
Trusty 2002 Ford Ranger towing Corsair in June. Note geeky yard-type trailer -- which towed beautifully at 60 mph!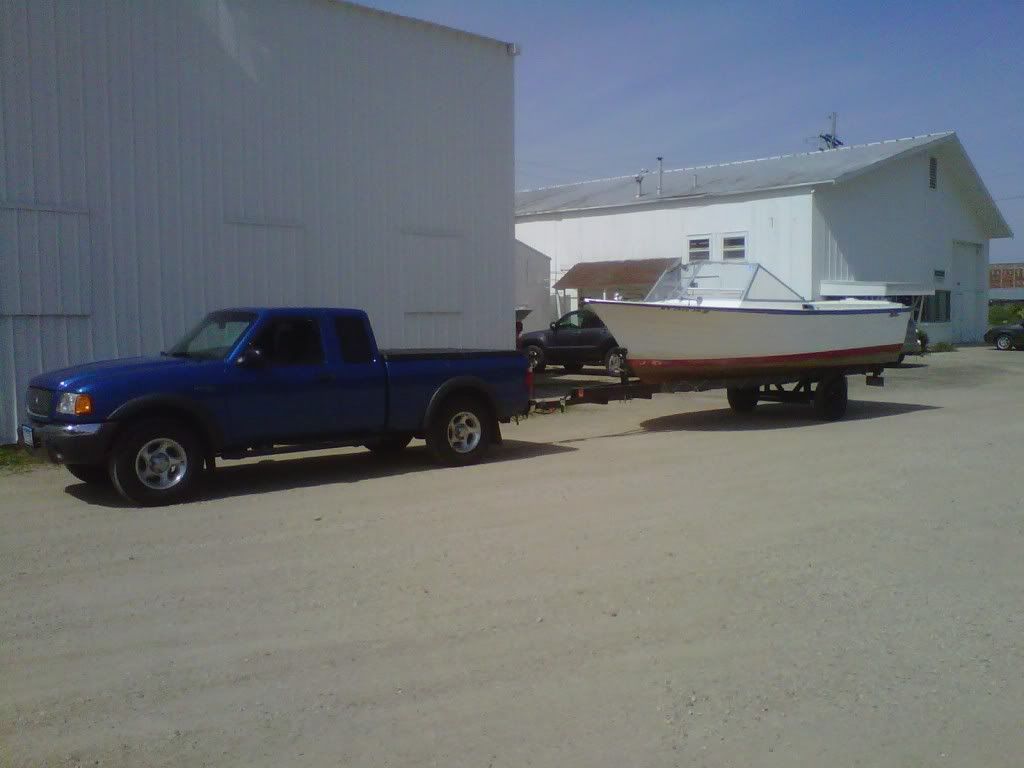 Excitement of first day after launch. Engine box open, gear strewn about. I'm a happy Corsair guy.
Single-handing on the Mississippi south of Winona, MN Sunset late August. (I fixed the lifting ring the following day. Dave has sagely advised -- and I accept his advice -- never to lift one of these boats with the "lifting rings").)
Same solo outing, thus the landlubber job on shipping my stern fender. Quicker deployment when I dock alone!