I am enjoyig working on this motor in the evenings, sometimes I only work for ten
minutes but it is moving forward. On two occasions yesterday I made special trips
out for various things I needed, as I discovered the need. I replaced the old corroded
intake bolts with stainless steel. As you can see the intake is now mounted nicely
and torqued down to 25 pounds against Felpro gaskets and the gray high torque RTV at
end seals. The cork end seals were not used based upon the advice from Edelbrock and
numerous other sources I've heard over the years. Many people just use the RTV as it is
a more reliable seal and it won't slide out of alignment during the placement of the
intake. Thank God this intake was aluminum, because 25 pounds was fine but 80 pounds
would have been a real chore. George Klein and Eric Jensen, guys you have my respect
for tossing those iron intakes around. This one has the EGR blocked off abd the gasket
was specific for blocked off EGR too, just compressed up against the port.
Oil cooler and rear motor mounts are in, and the exhaust log and riser are fitted up
finger tight without gaskets just to check clearances, etc. Today I drilled the riser
and screwed in the studs into the back of the exhaust log, easier said than done by the
way. The gasket that came with the exhaust system is crap so I will be making up a pair
of them myself out of gasket material.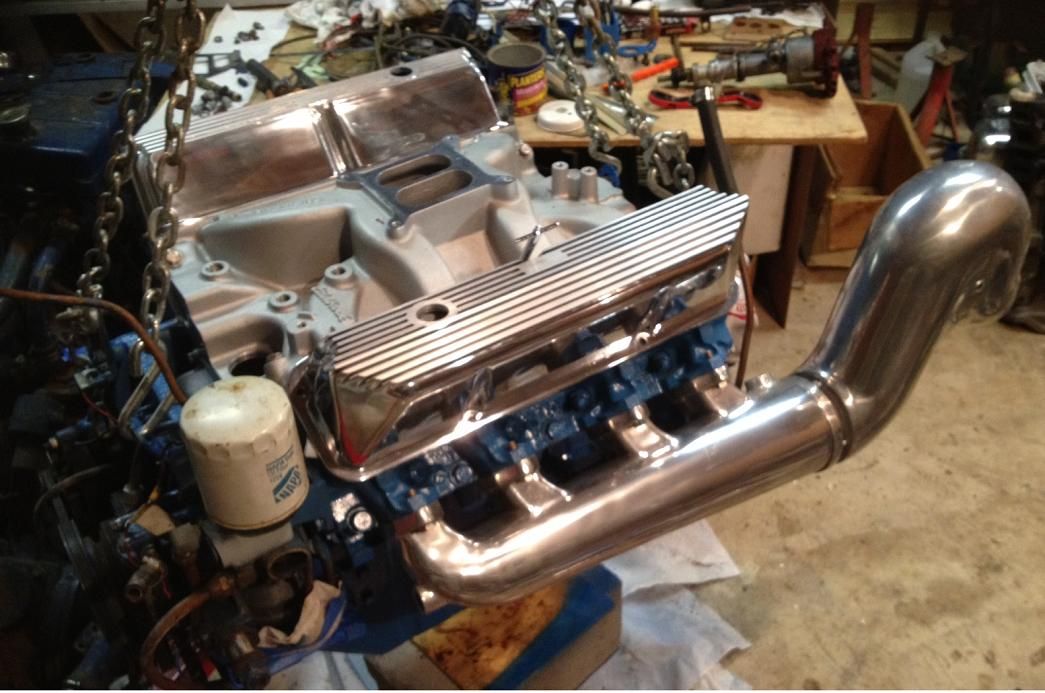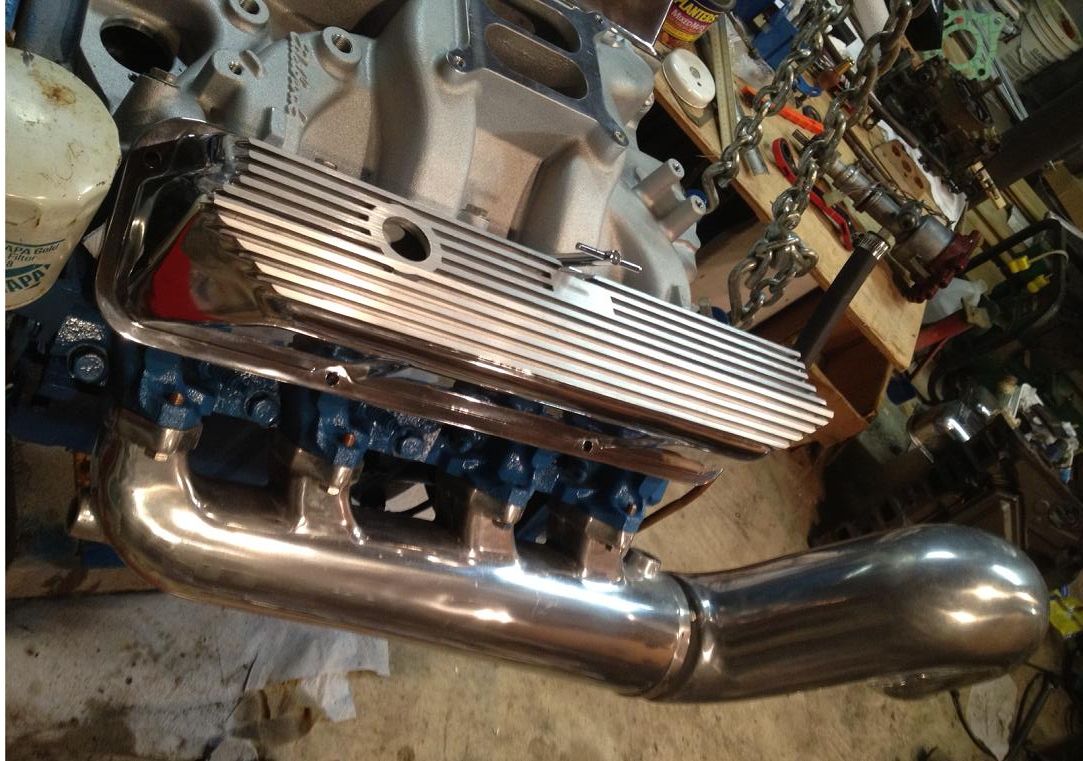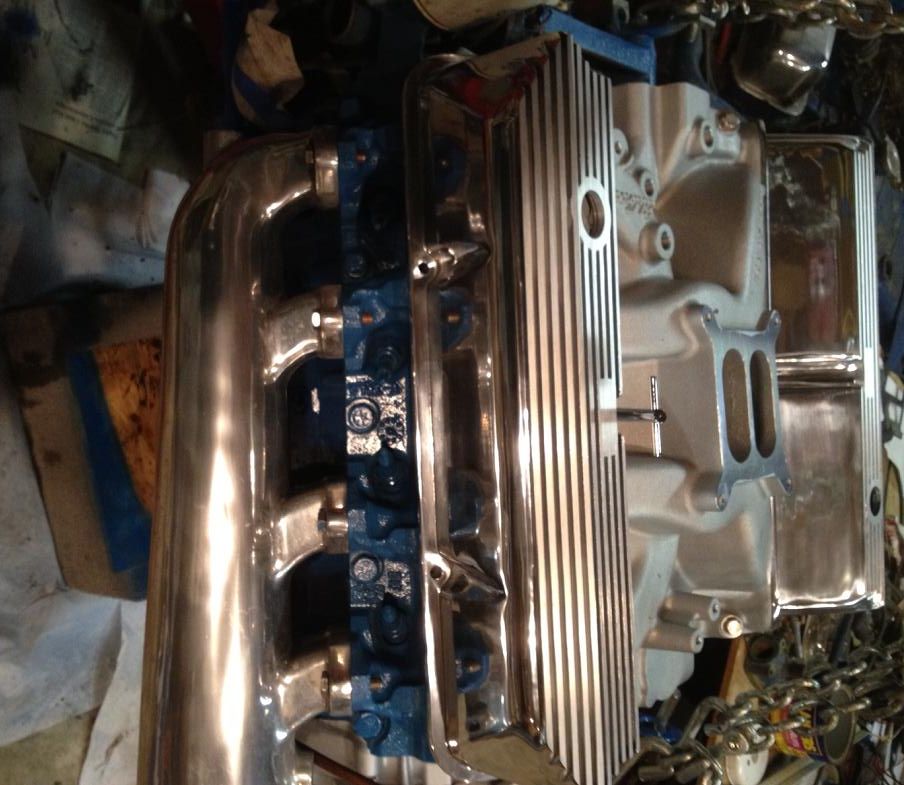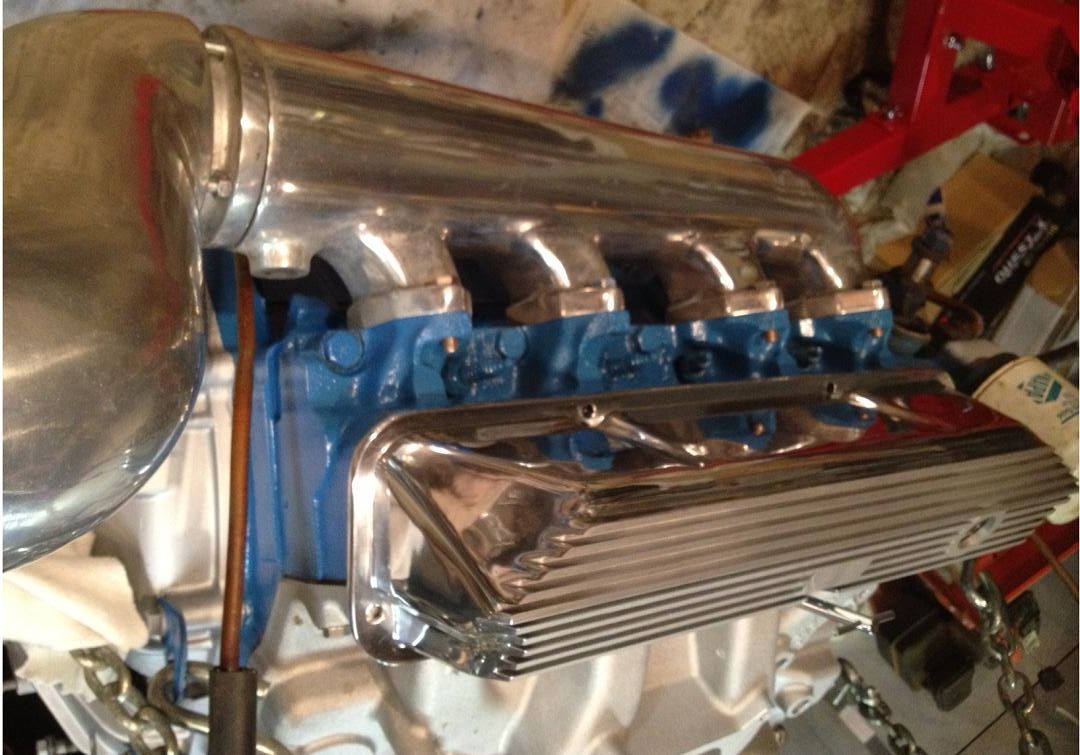 Back in the early days many inline motors had the intake and exhaust on the same side of
the cylinder head. Then inline motors got "crossflow heads". All V8 motors have a nice
crossflow design, fuel just drops into the cylinders and the exhaust just blows out the
other side.....very efficient.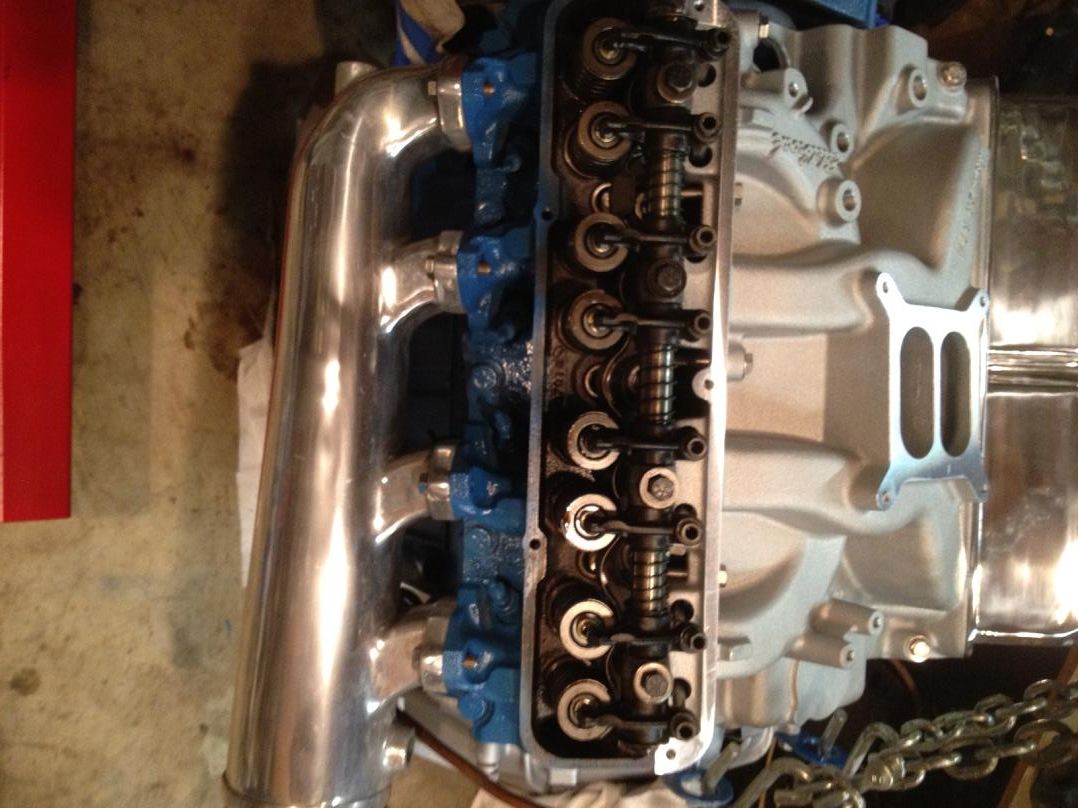 I'll do another valve clearance check, install the distributor and coil.
I have another riser to drill this afternoon. Then I'll turn to assembling the cooling
system, and that reminds me I need to install a new impeller in that sea water pump. I
need some more gasket material, as it is easier to make my own and the material is thicker
too. I also have to pick up some threaded brass water fittings, most of these are necked
down and reduce flow but there is a "full flow" version available and those are what I will
be using.
I'll be doing a test fit for the transmission in a few days, I'll be traveling tomorrow
but maybe later in the week. I finally broke down and installed foam rubber on the
underside of my engine hoist.....I have a very hard head I guess, as it took several
hits until I finally got the message. Ouch!
I'm using a 8-degree phenolic wedge for heat isolation and to compensate for the fact
that the motor is in a runabout and my previous experience with a setup like this discovered
the weighted llinks on an Edelbrock carb need a little help in the form of a wedge to make
the throttles open cleanly. I have a complete posting on this issue if anyone is intrested
which I did back when I converted my 327 Skiff to an Edelbrock 1409.
Springtime is just around the corner!
Regards,
Paul