First order of business after surveying the mess I now had on my hands was to get the engine out. My Chris Craft idol/expert/mentor and neighbor (Mike Caleo) came over to help me get it out with the use of a friend's tow truck. This made for a pretty easy and straightforward engine removal. Once all the hoses, wires, bolts and other items were disconnected, we got the truck and boat into position, strapped the engine to the boom winch and lifted it right out with the press of a button!
I took and posted a short YouTube video of the event which you can view via this link:
http://www.youtube.com/watch?v=-Ap8DKaFDK4
Once the engine was out, I eventually got it in the garage and on a stand to clean it up and see if it would actually run or not!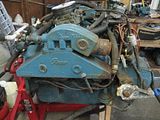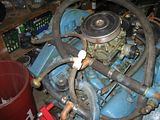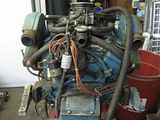 More to come...