Here is an interesting comparison, the 23 Commander has much more torque (438 footpounds at 2900 rpm) and 50 more horses so it is an unfair comparison from the start, but the 23 Commander is somewhat hampered (not much, but a little) by the steeper shaft angle of the V-drive. I would not put too much stock in the latter, but it does make a difference. In addition the 23 Commander has no prop pocket, it is deep V all the way with the prop hanging waaaay down there, using what I believe is a direct drive system too and what I believe is a 13" prop spinning much faster than your 15x16 cupped nibral.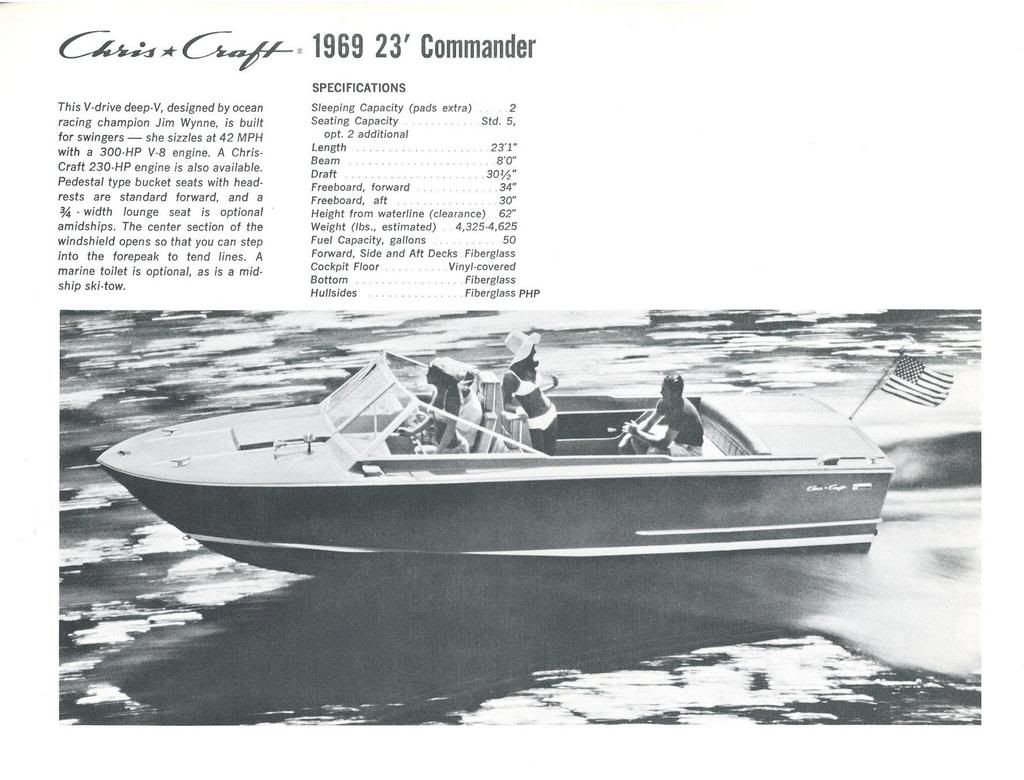 So we can assume Chris Craft was possibly bragging a bit on the speed, maybe this is really a 40 mph boat? If that is the case you are (only) 7 miles per hour from what CC got out of a 427 installation.
In any case, the speed numbers you have provided are some great data. The stock 350Q that all these boats came with initially was rated at 235 horsepower and a limit of 4200 rpm. The G motor is rated at 250 horsepower at 4400 rpm, but I have no info on torque or compression ratio so it is tough to compare the two. The 15 horse difference in the two will not make much difference, as it takes considerably more than that to show improved speed numbers on a boat, and it is even more difficult when you get into a deep v with this much hull in the water.
The 23 hull is not necessarily a speed hull in the first place. The deep v design has a lot of wetted area and friction in the water, but the lifting strakes help get the hull out of the water the faster it goes. Nevertheless this boat is never going to be as fast as something with a flat hull profile at the transom. However, these boats BECOME the faster boat as the water turns from dead flat to a light chop, and then when it turns to more than a light chop they are the only ones out there. My 17' Sportsman (1956, 327/300) is a perfect example, it is very fast on flat water but once the swells start to build or heaven forbid, a chop, it becomes pointless and potentially damaging to the hull to press on. In that water my 95 horse Hercules powered 1957 17 Sportsman is just as fast as the 327/300, because the hull profile is the limiting factor.
For my own use here in Tennessee, we do encounter water on Old Hickory Lake that will allow the Lancer Hull to shine. On the Cumberland River where I run my Skiff and TRADITION mostly, the water is almost always dead level flat. I have been out on the big lake many times when it was not wise to run full power due to the hull pounding, the skiff takes the water nicely but it is NO Lancer. I've been aboard a 23 in the past where we approached a significant swell and I put my hand on something to brace myself from the usual pounding I would expect, but it never happened
Regards,
Paul