Some would say, that with 12 450-horsepower radial engines it had enough power to "fly".
About 130 flights with this power, the engines were replaced with American V12 Curtis power, which gave this plane a transatlantic capability. Photo below shows the upgraded power, with 12 engines in 6 pods, arranged in the "tractor" and "pusher" configuration.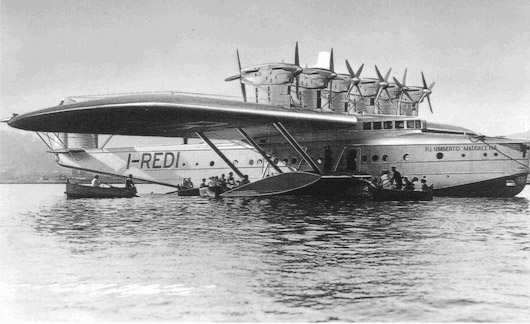 Three of these were built by Dornier. First one was built on a lake that bordered Switzerland (on the Swiss side) to get around the post WW-I regulations placed on Germany. The second two went to Italy where they served as passenger and freight haulers. Not sure just what power the other two got, but the first one could only attain 1400 feet with the 12 450-horse radials. The radials were replaced with 640-horse engines that gave the plane a transatlantic capability, and it appears from the photos that there were other power options added later, or perhaps onto the other two boats.
Yes of course I saw the attending boats, one of which is a Chris-Craft
http://www.youtube.com/embed/7h1beFHjHno?rel=0
http://www.youtube.com/embed/CAS8-Njj_3Y?rel=0
In German, but wow, these are some great images.
http://www.youtube.com/embed/CAS8-Njj_3Y?rel=0
Regards,
Paul