Ladies and gentlemen,
I seriously doubt if there is a 20-foot fiberglass Chris-Craft Sea Skiff in better condition than this one
anywhere on the planet, Earth.
I know the person who sold the boat to Dave, Larry Sullivan, becuause it was being tracked here on THE FORUM
before Dave acquired it. The sale price quoted is correct.
The boat was in considerably better condition than mine, as it was running and in "user" conditon.
Mine was a derelict needing "everything" including a transmission.
Dave's boat just kept on getting better; his attention to detail is remarkable, and so are his mechanical skills.
This classic boat deserves to be docked in a private slip at Bay Harbor, Lake Geneva, the Muskokas, or some
exclusive location nearby where it was manufactured in the Finger Lakes of New York.
It would be best to keep it in the USA.
We sure love ours, and any boater with an eye to quality and style will love this boat.
With the documentation of all the work done to this boat, down to the minute details of pressing in another
carbon bearing on the water pump, the price should be established with very little wiggle room. Period.
Regards,
Paul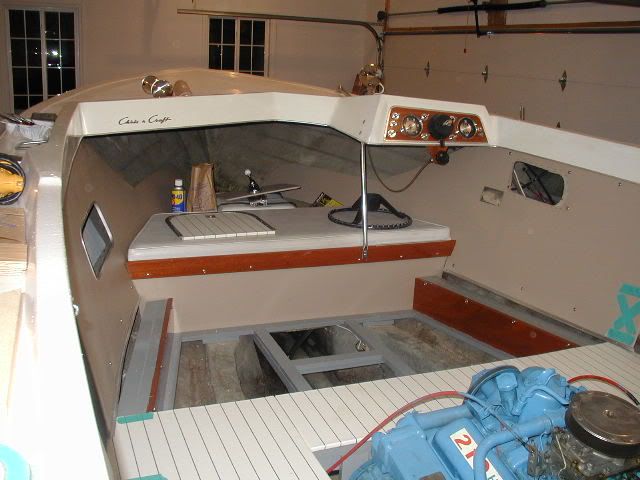 Here is a fabulous documentary thread, showing "some" of the work Dave has done to bring this one back.
Had this work been done at Macatawa or Norton, the price would be higher and the work would most likely
be of similar quality, as Dave is a master who could easily work at any of the boat restoration shops.
This is a two step link, hop to the first one below and see the note, then hop to the MEGA THREAD as noted.
Enjoy the show !!!!
http://www.network54.com/Forum/424840/message/1321973337/The+Mother+of+all+fiberglass+Sea+Skiff+threads+%21%21
Regards,
Paul