Note the tall oil filler tube to the right of the thermostat, it also doubles as a vent to allow make-up air into the sump that is drawn out the other end by the PCV system.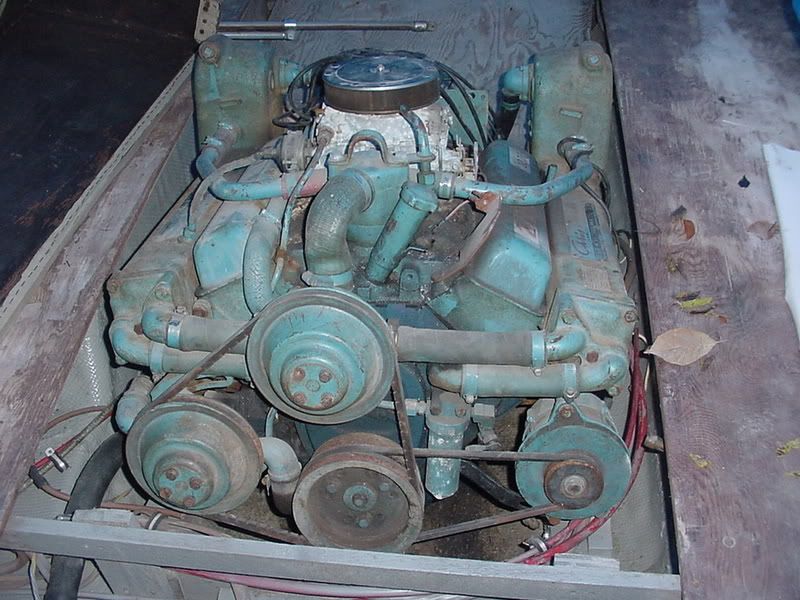 Edelbrock makes three nice aluminum intakes that will fit the small block GM motor and work in our marine context.
1). Performer EPS
2). Performer RPM
3). Performer RPM Air Gap
Items 2 and 3 offer basically the same performance, with the Air Gap being a teeny bit better. Item 1 works better than a stock iron intake but not as well as items 2 and 3, which both offer better higher rpm power and a little bit better rating all up and down the rpm range.
The Performer EPS can be ordered with or without the filler tube, here is the #2703 with filler tube millina and tube ready to insert.
The Edelbrock Performer RPM intake manifold has a flat piece of metal (a boss) dedicated for this, and it is located where it can be drilled out to install the old style oil filler tube. You can either buy a new filler tube to replicate the old system or pull the old one off the iron manifold (like I did with my 17-foot Sportsman) and re-use it on the aluminum intake. The whole idea of the oil filler tube is to retain the old style valve covers that don't have filler caps.
However, the Performer RPM Air Gap intake does not have this boss, and there would be a need to find another way to admit make-up air into the crankcase. Can be done, just a point of information. Personally I like the valve covers without filler caps on these old engines, but a filler cap valve cover would be an easy solution.
Interesting to note the RPM and the RPM Air Gap are using identical internal port dimensions, but the RPM Air Gap has the divider plate cut down and the RPM does not. This is commonly done to enhance higher RPM power performance because it equalizes the flow a bit at higher speeds. Apparently the base RPM did not need that.
Despite what the photos might suggest, all of these aluminum intakes are NON EGR.
regards,
Paul