This topic has been around for quite some time and we have not gotten an in-depth report on just how all of this works.
We do have two members here on THE FORUM who have done this so far and what we need is an in-depth "how to" pictorial we can share with Chris-Craft Antique Boat Club, ACBS members, and people throughout Europe with these engines too such as members of the Chris-Craft Catalina Club
https://www.facebook.com/groups/chriscraftcatalinaclub/
There are hundreds (maybe thousands?) of boats out there in UK, Sweden, Italy, Spain, France, Germany, Switzerland, including North America too, that can benefit from this swap.
Therefore I think we need to make this an issue so we can publish it big-time, in deference to the entire antique and classic boating community because there are very many boats out there with Q intake manifolds, and the price of replacements is ridiculous, and the alternative aftermarket replacements actually provide better performance if you have the clearance in your engine compartment. Most cruisers with these engines have PLENTY of clearance.
Here is one such example of a FLYWHEEL FORWARD Q motor........our family 31 Commander with 327Q power (FLYWHEEL FORWARD INSTALLATION). These engines are turned around backwards and the front of the engine meets up with the transmission.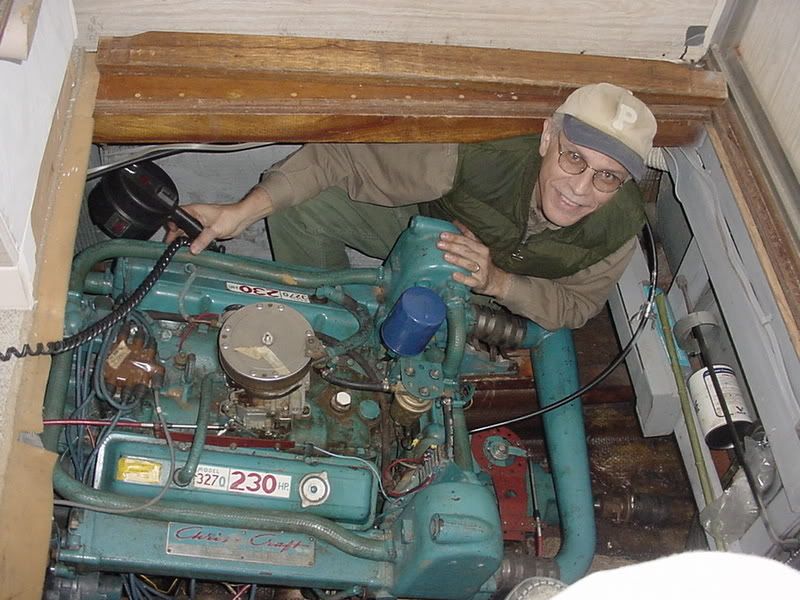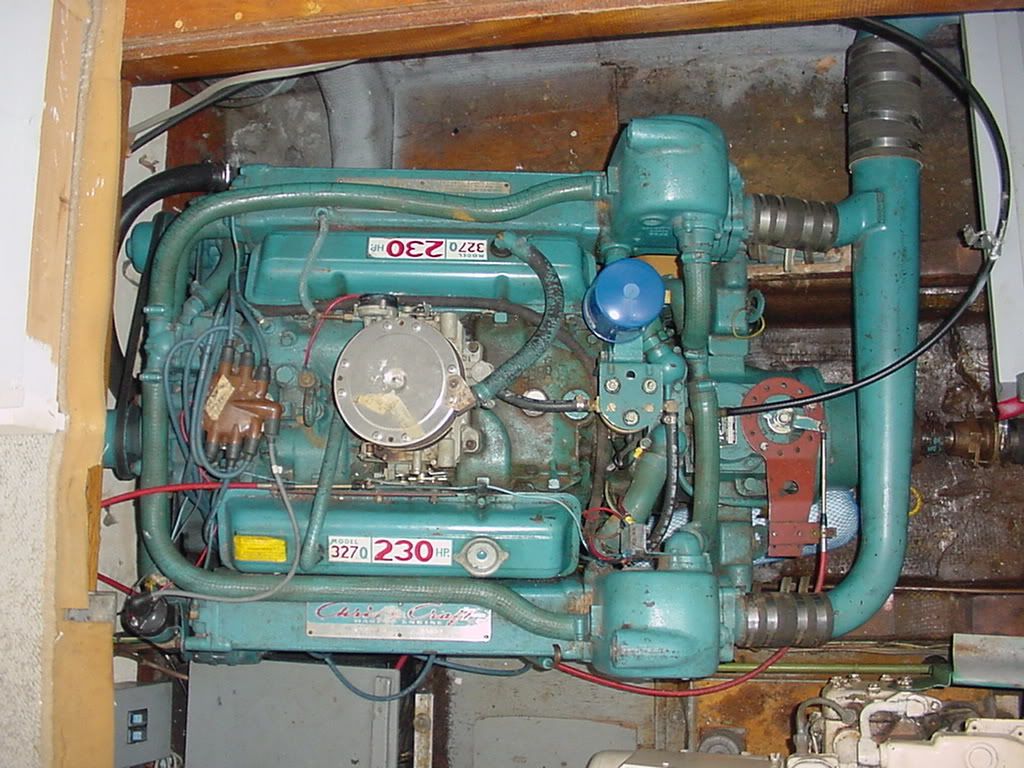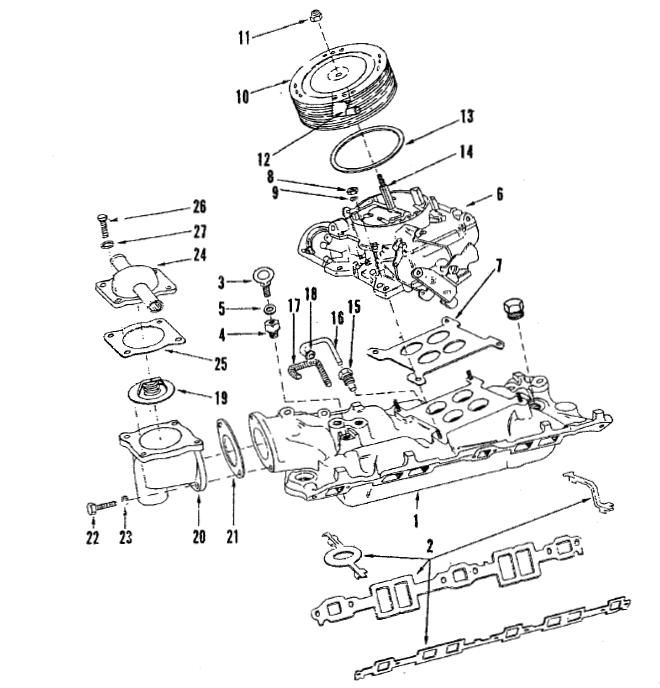 Now for comparison, here is the 327F series with FLYWHEEL AFT INSTALLATION (note the distributor and thermostat are on opposite sides of the motor).
Some of these are my photos, some are taken from the internet, in order to give us a good picture of what we have to contend with. Note.............the typical GM motor installation always has the distributor on the wrong end of the motor, way back near the firewall where you have to lean in to work on it. Therefore, all flywheel aft motors like the 327F and 350F and the K series, has the distributor on the flywheel end of the motor just like the automobile, with the water port on the other end. Note the Q intake (photos above) is FLYWHEEL FORWARD and has the distributor on the flywheel side, but also has the WATER PORT (thermostat and connection to the water pump) on the SAME end of the motor as the distributor. THIS is what makes the Q intake so special (and such an albatross for some).
FLYWHEEL AFT F series shown below...........what we want to make the Q look like, or similar to............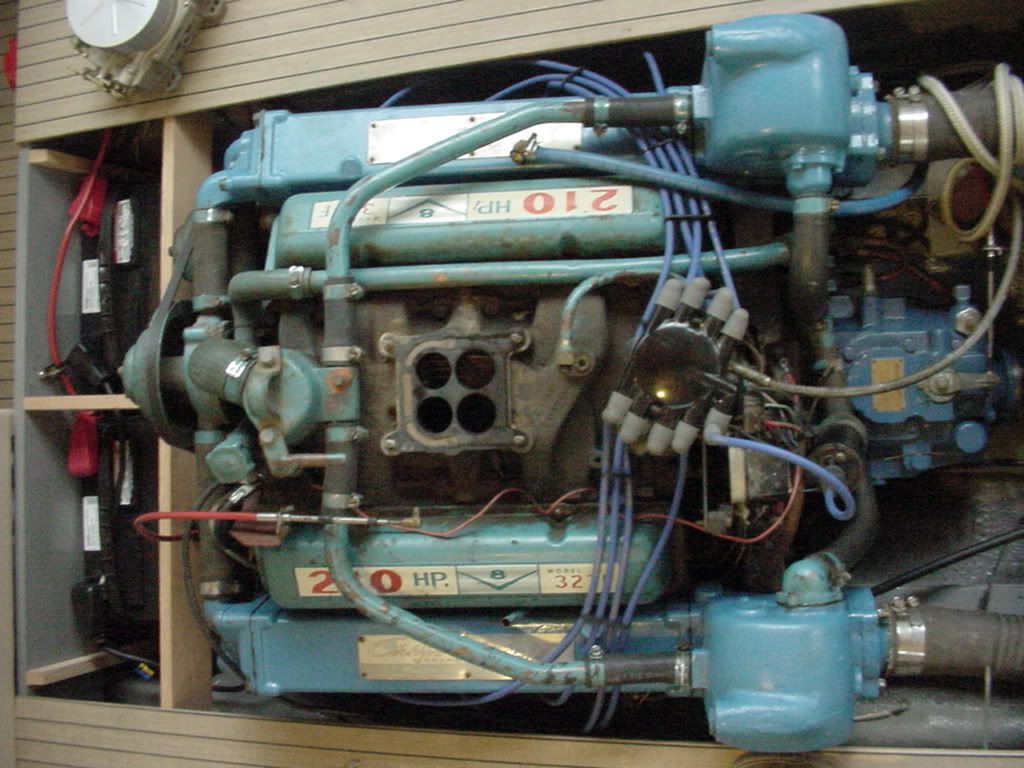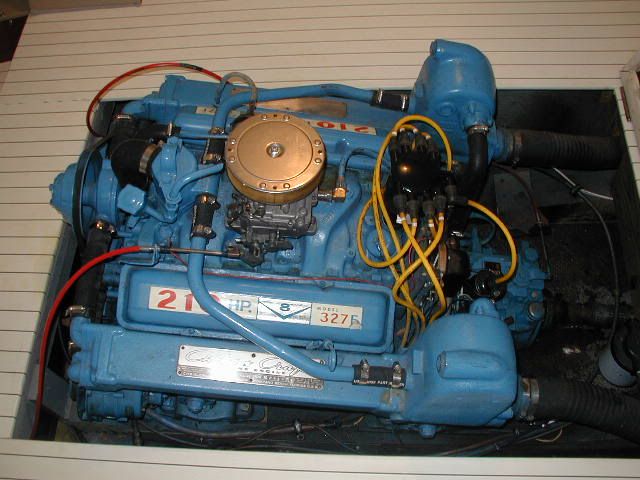 THE BIG PROBLEM:............ In order to solve the problem we have to identify the problem, and we have done that.
So now suppose we installed an aluminum Edelbrock Performer RPM intake manifold on a Q motor ? That would supposedly provide some significant power upgrade right by itself.
Here is one such image of the target intake we are looking for
So on the Q motor the distributor will go into the normal hole in the intake, but the water flow is going to have to be run from the one end of the intake back to the water pump location. The thermostat and all may bolt directly to the Edelbrock intake, but it still needs to be routed back to the water pump.
Gentlemen: this does NOT seem to be an insurmountable task. I think we can find some radiator hose shapes that are pre-formed to do a lot (or maybe all) of this task, maybe with some trimming.
Because the Q intake has a built in wedge, I would certainly consider adding a wedge (my choice for engines in the 4000 rpm and below range is ALWAYS a 4-hole spacer/wedge in phenolic).
Someone needs to step up and DO THIS......and report back with all the details and photos.
By doing so you are going to neutralize the $1200 rip-off market for old Q intakes, and provide a better running motor to many hundreds of boaters who are faced with this very limiting issue on an otherwise very fine engine. I will add, the Q motors run just fine.......very fine indeed, but they can benefit from a much better intake design. They are plagued with a custom unique intake design that was limted production and has a history of rusting out or being damaged by improper winterization.
Hopefully by working as a team here we can find a way to avoid the need for a Q intake on a Q motor.
Regards,
Paul
Added note: due to experience with a recent conversion of a 327F to a higher performance package using a 350 4-bolt main long block and a DART air gap intake manifold, I can attest that you will need that seemingly simple but quite complex little iron casting (part #3) to bridge the gap between intake and standard F thermostat housing of you are using readily available F components.
From the 327F Parts Manual: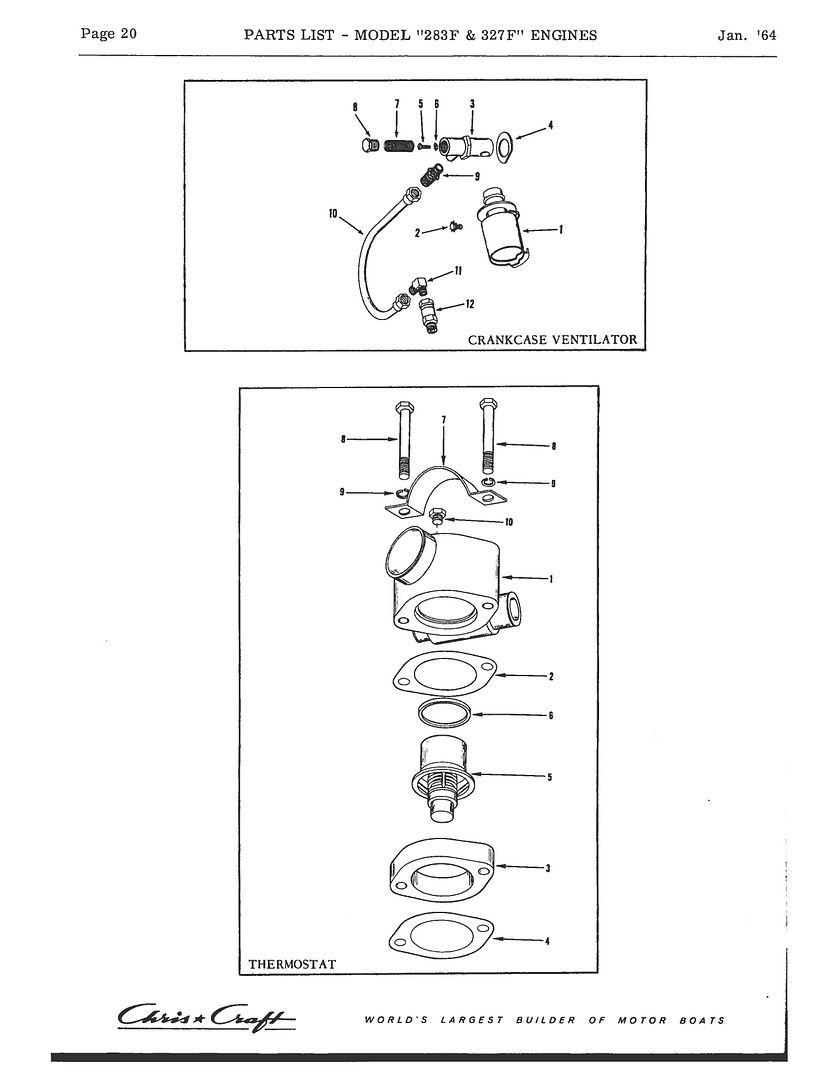 It is not known st this time if Q gasket #21 is the same bolt hole pattern as F gasket #2, and if this is true then it opens up a lot of options.