The purpose of this posting is to give confidence to anyone who is going to be faced with drilling and tapping, and also a tip
on how to avoid it all together.
There are numerous alternatives for some GREAT aftermarket intake manifolds for the Q motors, and I personally think the added
power would be something that would translate into more speed and overall pulling performance for runabouts or cruisers. So if
you have the desire for more speed, or just have a bad Q intake and don't want to be screwed with outrageous cost, you do have
an alternative.
If you use the Edelbrock Air Gap Performer RPM intake, as we have discussed earlier, you already have the holes drilled at the
water ports, and it should be a pretty easy task to re-hook the EXISTING STEAM LINES right to these locations, with special
fittings you'll have to find, but that does not seem too difficult.
If you select another fine intake alternative, like the WEIAND, then you will have to drill and tap the manifold yourself,
but hey, any Any fears about drilling and tapping an aftermarket aluminum intake in order to vent possible steam bubbles,
should not keep anyone
up at night.
The beauty of this conversion is the fact that all Q motors to my knowledge, already have this vent feature, and all we have to
do is just re-use the existing pieces; the existing line will be a couple inches too long, so you can either loop it or trim to fit.
If your motor does not happen to have the feature, then just find some threaded compression style fittings that are similar to
fuel line fittings, go to your friendly industrial supply store and get the drill bit and tap to match everything right there at
the counter. Then get some WD40, which may not be much of a lubricant, but it sure does a nice job as a tapping fluid in aluminum,
thank you Glenn Feilhauer, and drill at a location where you are into the water stream at the upper side of the intake. This would
be at the coolant
passage port at the cylinder head. Bingo !
Then route the small and neatly installed fitting and copper line to the exhaust log in the EXACT same manner (and location)
already provided for you if you have a Q motor
Drilling and tapping the aluminum should be very easy, here are a few of my recent bouts with aluminum.
Here we are drilling and tapping a new #1409 Edelbrock carb to accept the PCV system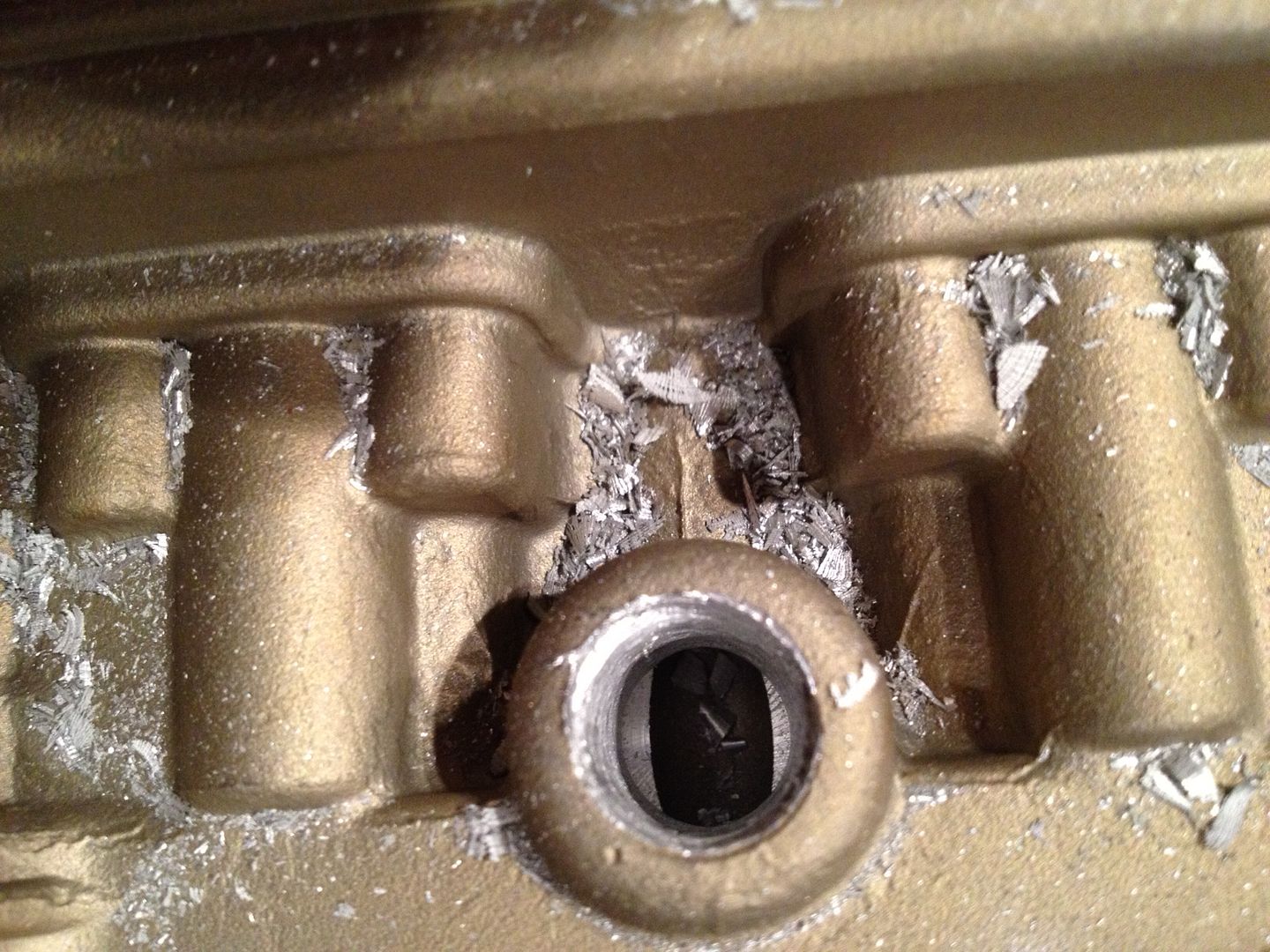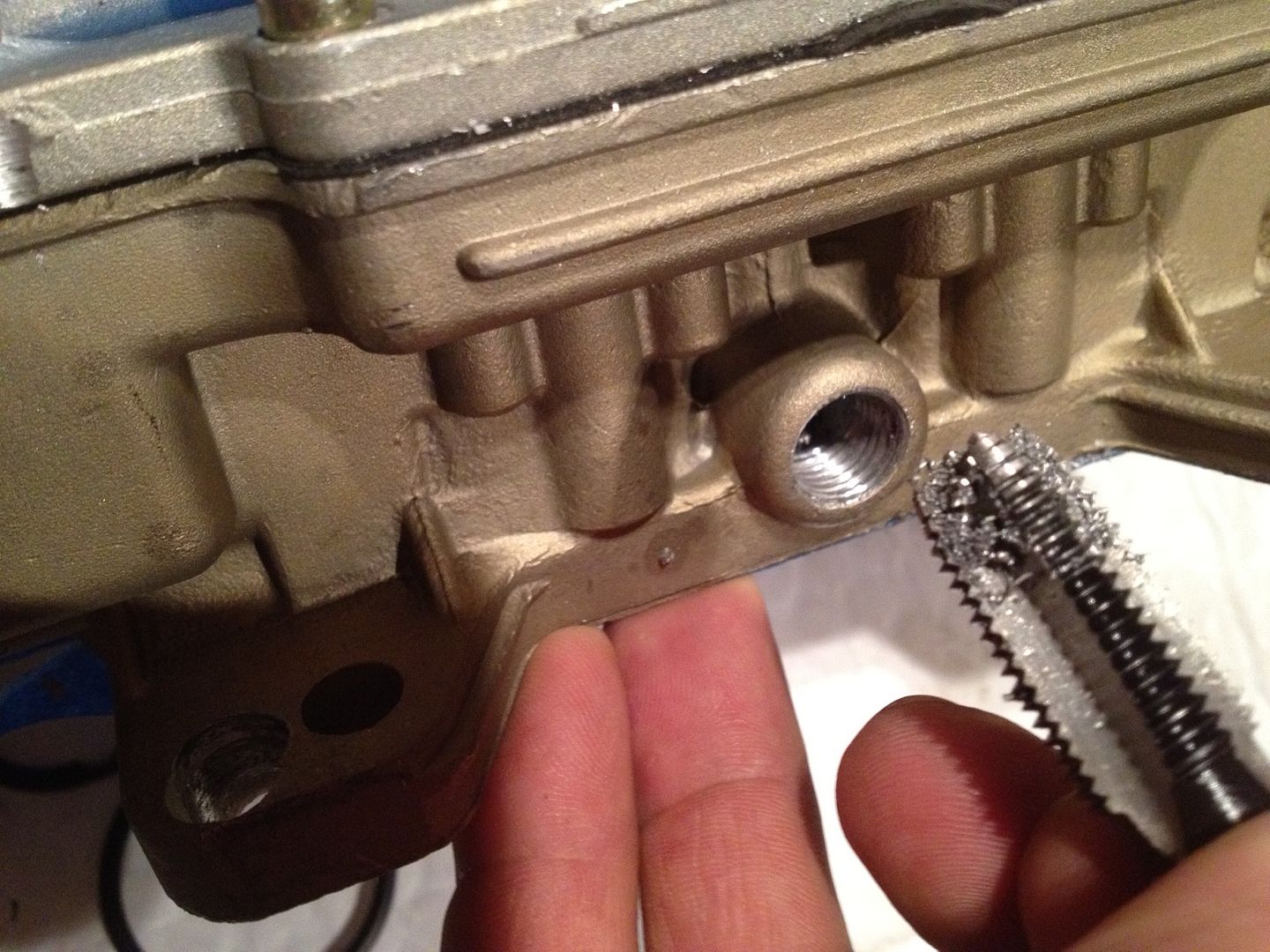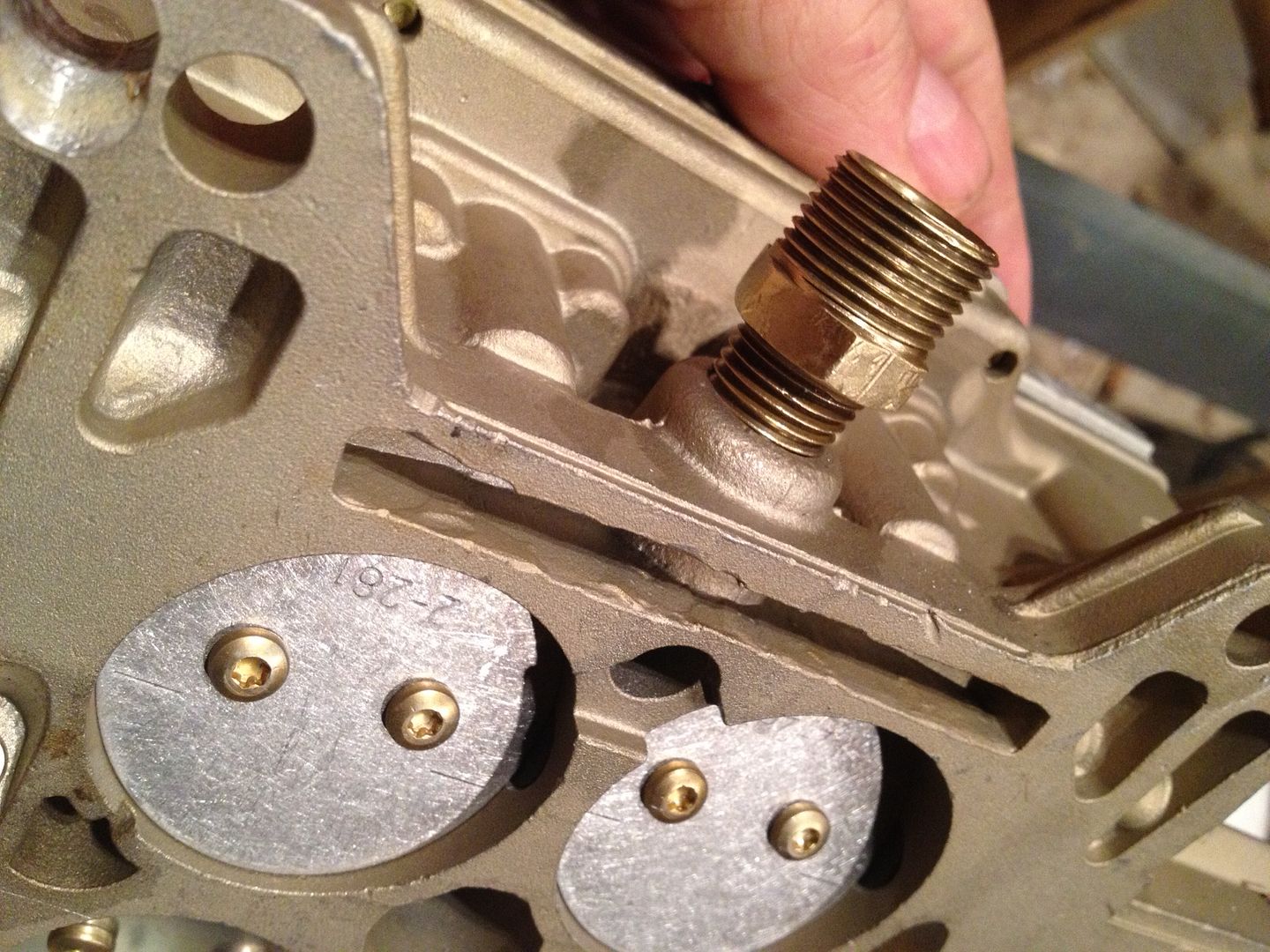 And here is the thread for that operation, in the event any of our antique or classic boating fans want to know how this is done:
you will not find this
information anywhere else except here on THIS FORUM.
http://www.network54.com/Forum/424840/thread/1330011161
And here is a little drilling and tapping going on with aluminum exhaust logs and risers. Just be sure to get the drill bit AND
the tap at the same supply house, to be sure you are not putting undue pressure on the hole by trying to force a tap into a hole
too small. Just take your time, remove a little material, back off, squirt in a little WD40, and you will end up with a nice job.
If you use the noted Edelbrock intake, your holes are already drilled for you, but you have to find some reduction fittings, and all of the following drill and tapping stuff is unnecessary.
This should be a pretty neat and simple operation too, becuase you guys with the Q motors already have the exhaust log side of
the equation already done for you. Just a small loop will give assurance to your cylinder heads that there is no way an air
pocket can get up there and overheat any part of the head. The way this is done is by tapping into the water jacket port of the
head, by going in through the closure piece of aluminum intake manifold, and then right back to the fitting you already have at
the exhaust log.
Guys.....any comments will be appreciated. I think we have pretty well discovered the secrets of this swap and make it look
good, perform better, and to do so in a manner that most people would not notice the difference if the motor was painted up as stock.
Regards,
Paul