I looked through the original production literature for the Italian boats, and I see several XK models, including the XK-18, 19 and 22. In addition I see a lot of information on the ORAZ series 19-foot Lancer with 200-hp and even a boat called the 19-foot Super Lancer with 200-hp.
All of these runabouts received standard V8 engine packages with volvo outdrives, just as they would if they were built in the United States. I have a ton of information showing how much money the Chris-Craft plant in Italy spent each year importing US motors to Italy for the boats built in Italy. The 19-foot boats are listed as "Chris-Craft gasoline with Volvo transdrive". In the case where theyr are options, like the 28-foot Super Catalina, they also list Perkins and Fiat/Aifo diesels, and a note that Cummins diesels are available on some boats with special order (such as the 33 Sports Sedan).
The 20-foot Capri got the 235-hp motor, and I would think the XK did too but have not found any specific info yet. 1975 records indicate a 19-foot Lancer with 1-200 hp took 240 hours to produce, at a cost of 4.041.372 (which I assume is Italian lira)
And just now as I am looking page at a time, I now see an August 1974 Sales Analysis showing a 19-foot XK with power listed as 1-300 which means it received one motor of 300-horsepower, and another notation of nine (9) being sold in August of 1974. So this information ABSOLUTELY confirms the XK was being produced in Italy with 300-hp. To further support this, Herb Pocklington sent me promo material a few years ago showing an ad for the market in Sweden, where they listed the word "Fart" in big letters which in Swedish means "Fast". This ad (shown below) makes reference to a 310-hp motor and I would attribute that to the fact that perhaps they were using a dyno rating rather than taking the rating at the shaft like most US CC boats did.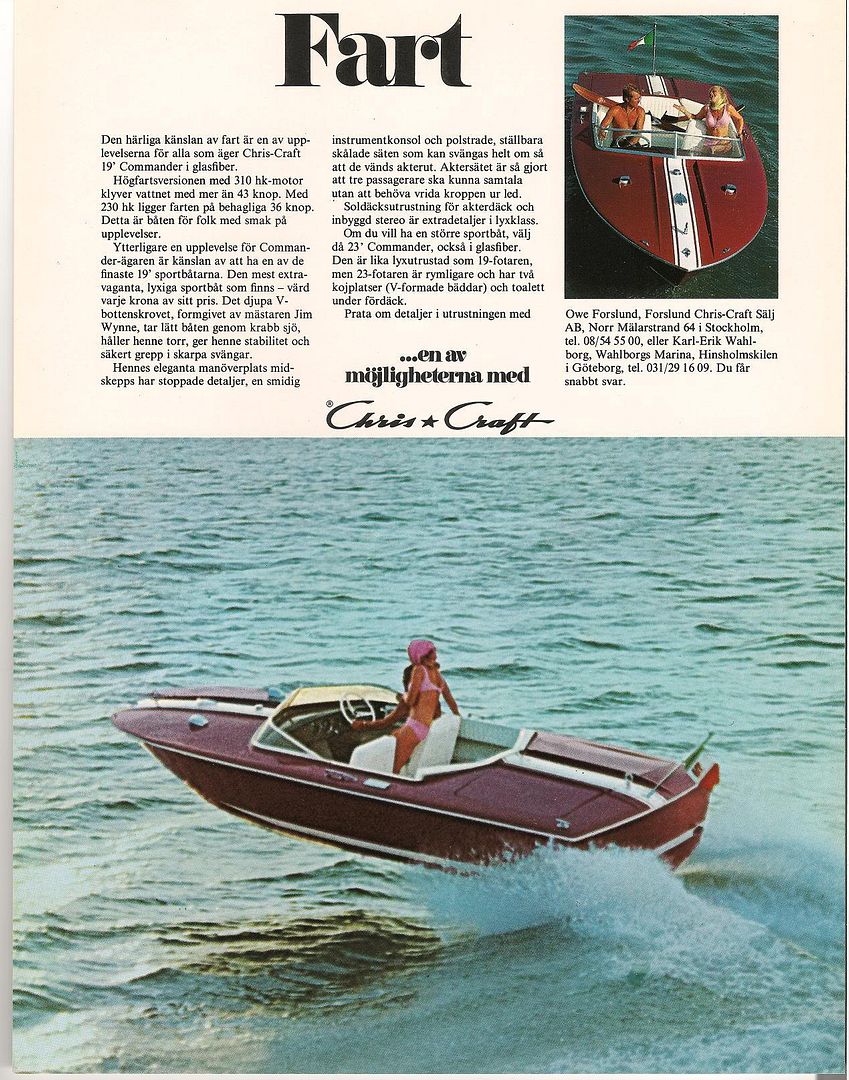 As you may know, the small block GM based V8 motors of this era are all externally identical in size, and only the internal bore, pistons, and crankshaft will determine what cubic inch displacement the motor will have. They all look the same and all have the same motor mount and transmission hook up capabilities. Therefore a search for a motor should not be impossible, and in fact, the motor now in the boat (if it is a GM motor) is the same internal block and only the cooling system and valve covers would be different, and maybe the intake manifold too (basically the block could be fitted with all the pumps, thermostat, etc. that CC used and it would be, in essence, a CC motor). OMC used Ford motors for awhile, and I can't tell from looking at it if it's a Ford or GM but the charts indicate the 504 is a GM.
502APRGDP (GM) 5.0L 1988
502APRJVB (Ford) 5.0L 1993
502APRMED (Ford) 5.0L 1989
502APRPWS (Ford) 5.0L 1990
502APRRGD (Ford) 5.0L 1991
502BPBYC (GM) 5.0L 1998
502BPRAMH (Ford) 5.0L 1992
502BPRJVB (Ford) 5.0L 1993
502BPRRGD (Ford) 5.0L 1991
502BPRMED (Ford) 5.0L 1989
502BPRPWS (Ford) 5.0L 1990
504AMARY (GM) 5.0L 1987
504AMFTC (GM) 5.0L 1987
504AMKWB (GM) 5.0L 1986
504AMLGDP (GM) 5.0L 1988
504AMWXS (GM) 5.0L 1986
504APARY (GM) 5.0L 1987
504APFTC (GM) 5.0L 1987
504APKWB (GM) 5.0L 1986
504APRGDP (GM) 5.0L 1988
Regarding exhaust, I believe the exhaust manifolds will fit onto the boat so they exit forward and reverse. The XK v-drive boats exit forward and there is a big loop back to the lower transom on port and starboard where the exhaust tip is located on those boats. Later models has exhaust tips higher where they exhaust came directly off the motor and out the transom, and yes, that would get some attention when the motor started up
The 300 hp motor was likely the 350FLV, here is a photo and specification sheet.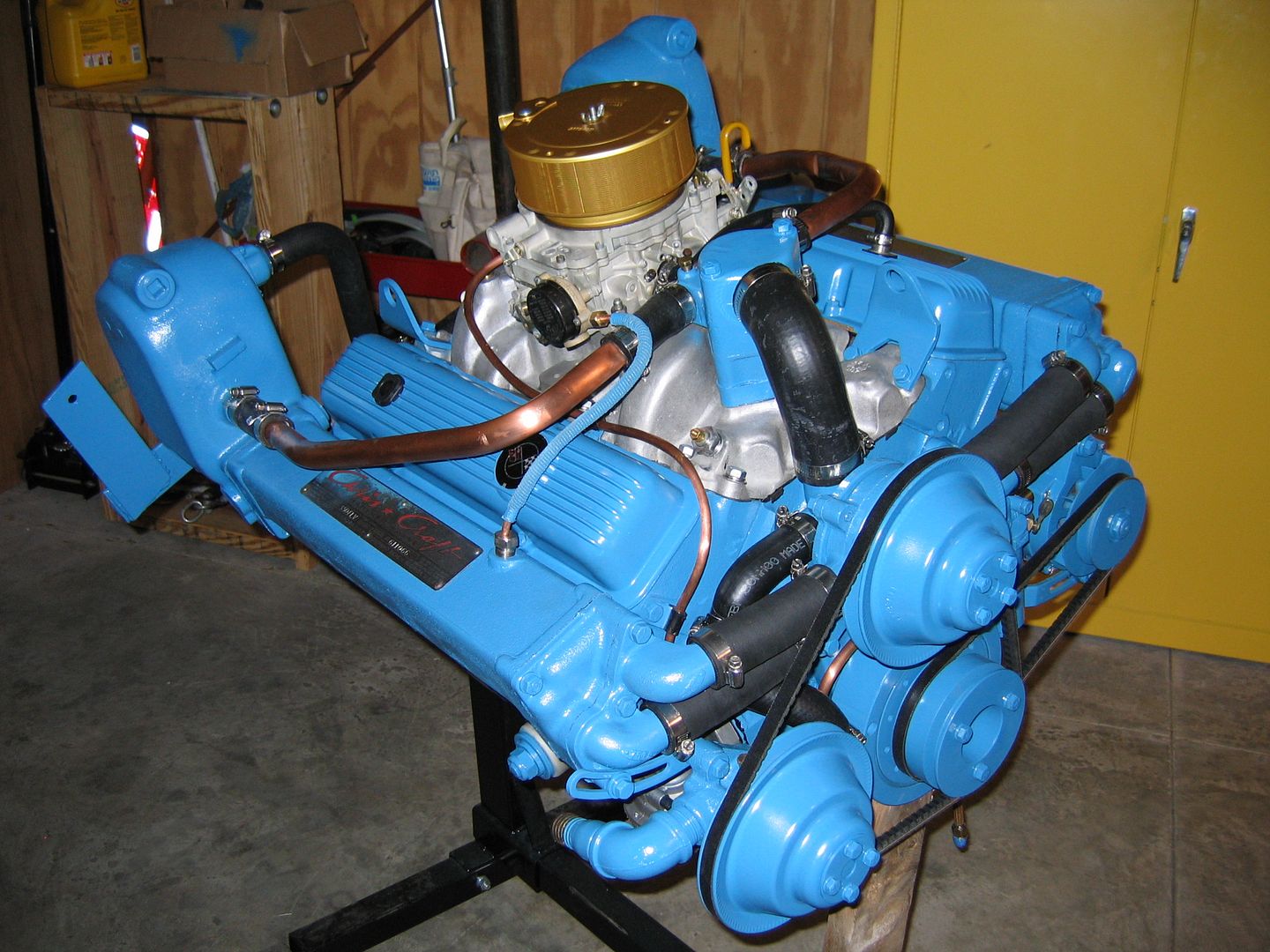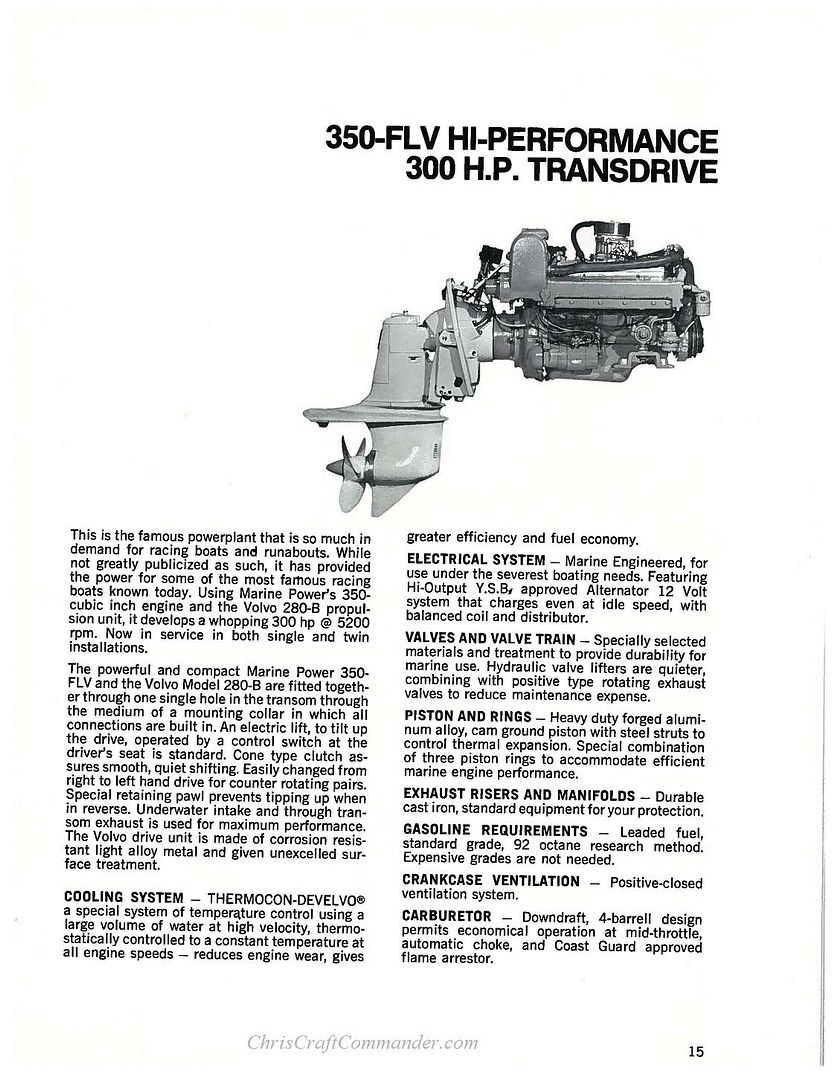 Regards,
Paul