Hey no offense intended, just a reality check. I've been running this forum for over 10 years and it's archived with tens of thousands of images and threads for people to research and use. The information you have found so far is an example, and I am sure there is a lot more you have yet to find if you dig deeper. It amazes me just how much info people have shared over the years. Since I am familiar with how the forum is set up, having done all the html myself, starting from scratch, self taught, I can find things quicker if people ask.
People in general, have become impatient in the instant gratification sound byte world we have evolved into these days, especially when enthusiasm is added to the equation, and I'm one of them. When I get excited about a project I devour EVERYTHING I can, and in some of the Facebook pages you can engage in live time conversation with someone who, by chance, wants to talk. The problem with FB is you get who is online at that moment, and then the thread quickly evaporates.
The difference is, here the threads linger for a longer period of time so more commentary can be added, so they can be edited when necessary for accuracy so we are not putting out incorrect information, and so the information can be archived and used for research. We have threads here that are loaded with good information going back to 2005. On Facebook we can get "instant gratification", but then in a week the thread is long gone and it's not researchable.
This forum is not intended to work like Facebook, nor do we want it to. The Forum has two facebook sites that refer back to threads here, so we are using the FB technology to help people there and make FB actually work better, because without links like we have archived here I honestly don't know where people would find some of the info we appear to have here exclusively.
As an example of our coverage, I looked up the data for this morning and copied it below. I block out the actual numbers because I keep that confidential, but this forum is getting "MILLIONS" of pages read each year, and there are many other forums and facebook pages out there that are getting their information here. As you can see, there are enthusiasts in 84 countries who have tuned in just this month, and nobody knows about your boat on Lake Arrowhead, but we'll eventually find someone.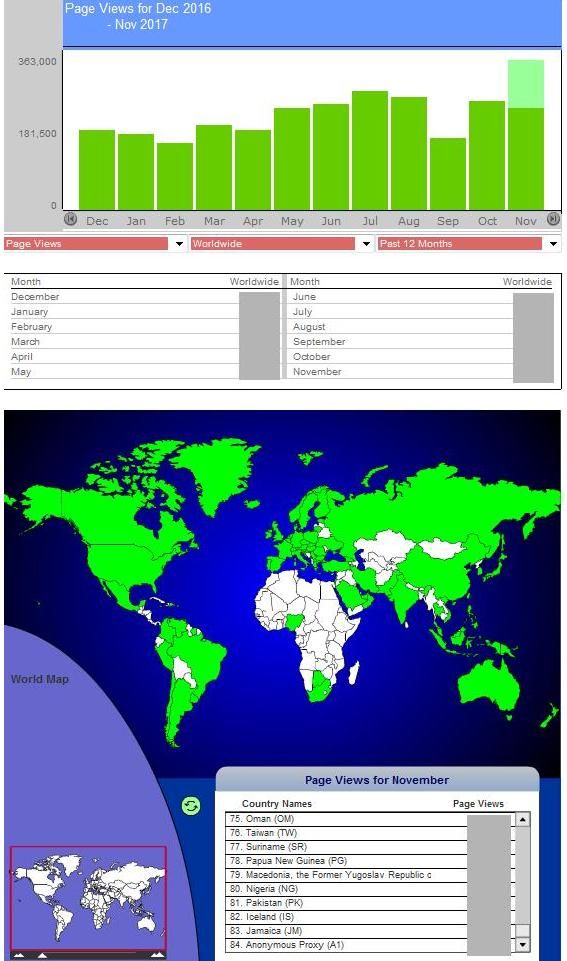 The cool thing about this forum, is it is NOT a chat forum, and that is what I have promoted for many years. We don't want chat, we delete chat, becaue nobody is ever going to research or benefit from chat. We go for the informational postings (like yours) that show images, models, year of manufacture, and issues that may be common to what others may experience. Therefore, the quality of archived information here is what makes the forum viable, and it's what those 84 countries are looking at this month
Your boat is very special, I did not mean to downplay the rare and cool factor. What I was referring to is the reality of actually trying to catch someone on the internet here or anywhere else, who may actually know about that pin-point on the map of the United States in the flash moment of time they may have actually seen your boat in action or know who owned it. The same goes for the Commander cruiser line, although we have a huge contact with the Commander community, we are only scratching the surface of reality, because the vast majority of Commander owners out there are not living online lives like I am, lol, and most of the boats out there are beyond our sphere of contact. For your boat, being more rare, the sphere of contact is even less populated. For us to catch someone who knows your boat would be very cool. I will post a note on the Chris-Craft Antique Boat Club site, and I am sure if we tap into the Arrowhead ACBS community there must be someone who will know something.
Keep those postings, questions and photos coming, and stay tuned.!
Regards,
Paul
"\"\""