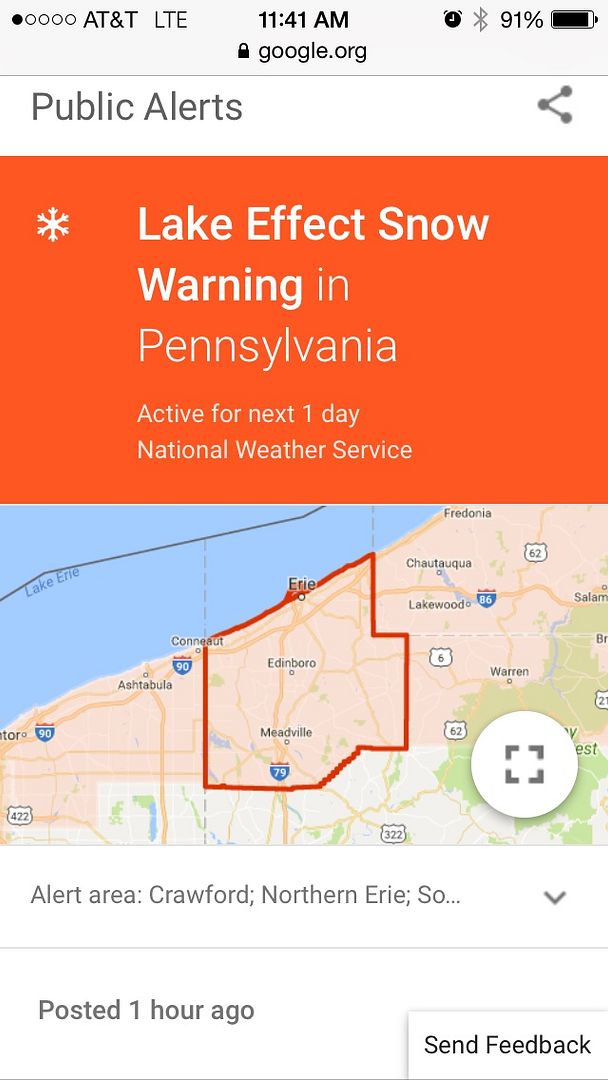 ...Heavy lake effect snow expected through Wednesday....
.A prolonged and intense lake effect snow event is expected to
continue through mid week. Lake effect bands will meander over the
snowbelt counties producing periods of heavy snowfall with some
areas receiving well over a foot of additional accumulation. As
bitter cold settles in over the region, look for air temperatures
to be in the single digits late tonight and Wednesday morning,
with wind chills falling below zero.
...LAKE EFFECT SNOW WARNING REMAINS IN EFFECT UNTIL 4 PM EST
WEDNESDAY...
* WHAT...Heavy lake effect snow occurring. Travel will be very
difficult to impossible. Additional snow accumulations of 6 to
10 inches are expected through this evening, heaviest from
portions of Lake County east through northern Ashtabula and Erie
County PA. Expect another 4 to 8 inches of snow from tonight
through Wednesday evening with locally higher amounts possible.
Snowfall rates up to 3 inches per hour are expected. This will
bring the additional forecast snowfall to 1 to 2 feet now
through Wednesday evening. Locally higher amounts are possible.
Wind chills will be around 5 degrees below zero tonight into
Wednesday morning.
* WHERE...In Pennsylvania, Northern Erie, Southern Erie and
Crawford counties. In Ohio, Lake, Geauga, Ashtabula Inland and
Ashtabula Lakeshore counties.
* WHEN...Until 4 PM EST Wednesday.
* ADDITIONAL DETAILS...Be prepared for significant reductions in
visibility at times.
PRECAUTIONARY/PREPAREDNESS ACTIONS...
A Lake Effect Snow Warning means significant amounts of lake
effect snow are forecast that will make travel very hazardous or
impossible. If you must travel, keep an extra flashlight, food,
and water in your vehicle in case of an emergency. The latest
road conditions can be obtained from the Department of
Transportation web site.
"\"\""