The 327F requires a .018" valve lash on the exhaust valves and a .008" valve lash on the intakes. This is the setting for a hot motor, so it took some warming up prior to setting today. I ran the motor with the auxiliary water intake and winterization system I hooked up last fall, and it doubles as a handy dandy device for getting water to a boat sitting on a trailer.
After warm up I popped a valve cover and thought I was going to use the technique I like for the 427, just checking everything quickly as the motor is running, by just working the appropriate feeler guage in and out of each valve. It doesn't work very well on my particular installation, because the engine is tilted so far back the oil is close to running out into the bilge, and today I didn't have feeler guages that had the hocky stick bend on the shaft.
I use the motor running technique on the 427 because for one, it won't leak oil when the valve cover is off, and I can get down into the bilge and use a single feeler gauge quickly on those cast iron rocker arms. I wouldn't use this technique for setting a cold motor from scratch because there would be a lot of adjustments to get right, however, when I do my routine checking, this works like a charm to quickly check a hot running motor to assure everything is set properly. If I find something that needs adjustment, I shut down and do the deed with the motor off, or on occasion I'll adjust with motor running.
That technique didn't want to work on the 327 but thats not a problem, I warmed the engine nicely, shut it off, popped the valve cover and used the technique of setting to TDC and measuring the valves noted in the manual, and then rotating the motor one full revolution and measuring the others. Mine is a RH motor in the 1966 20' fiberglass Sea Skiff because it's a single motor installation (that's opposite rotation from an auto installation).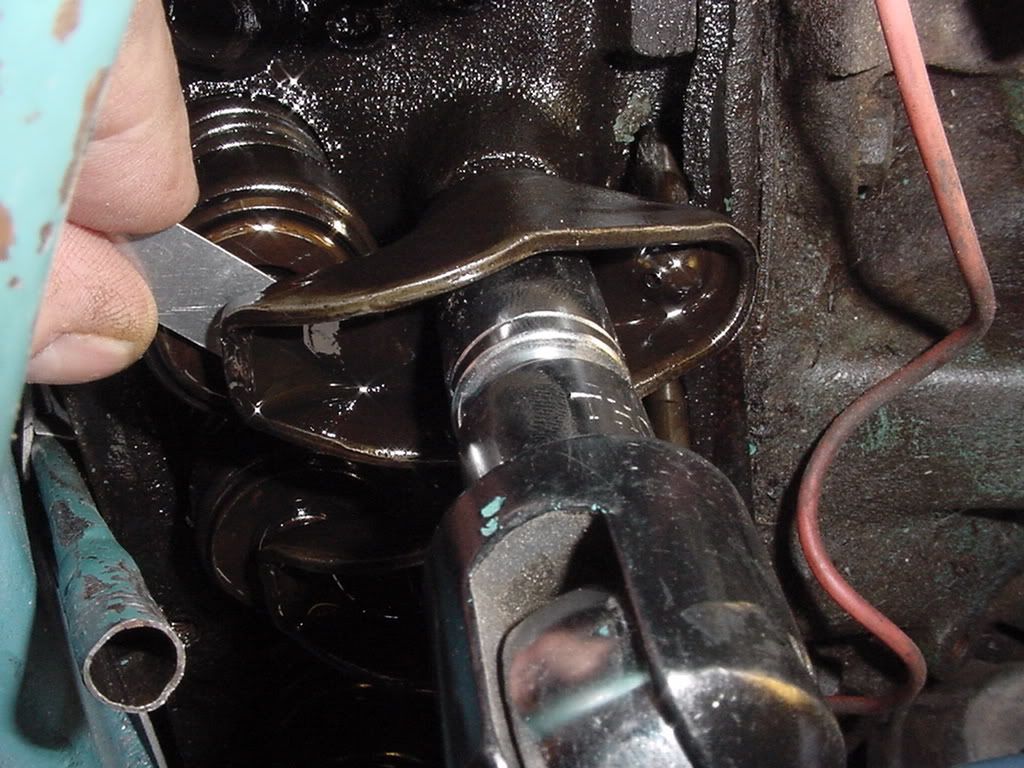 The valves needed adjustment. I never did it last year because the boat was only on the water twice. Now that I'm getting serious about performance and reliability, and not just a shakedown cruise, it was time to set valves and other things. I noticed a difference in the way the motor idled and revved after the setting. Now I'm anxious to see how she performs on the water! Here's a photo of working on the Port side. The big socket wrench is a 5/8" by the way, and that same socket hooked to the breaker bar was used to rotate the motor, because the main crankshaft bolt is also a 5/8".
See 327F valve setting requiremet chart on the next post.
regards,
Paul