I have the drill bit and the tap..........you can use em.
A tip from our machinest of the group, Glenn Feilhauer, is to use WD40 as a tapping lubricant.
WD40 may not have the best reputation for some functions, but it works well in this application.
Using care it can be done. It would have been better if I had found a way to build a plywood vise that would clamp the pieces securely so they could be placed under a drill tower and do it right, but I did mine by hand. It worked for me, but not without risk of cracking or otherwise boogering up a nice aluminum piece. Here are a couple more photos.
The Glenwood exhaust log is engine specific, but the parts that bolt to the log is a system of "one size fits all". In otherwords, you have two choices at the eventual final discharge point from aluminum to rubber hose. For smaller motors it is fine to use the appendage they give us, but for the 427 (and your hi-po motor?) I found it necessary to open it up.
Photos should be self-explanatory.....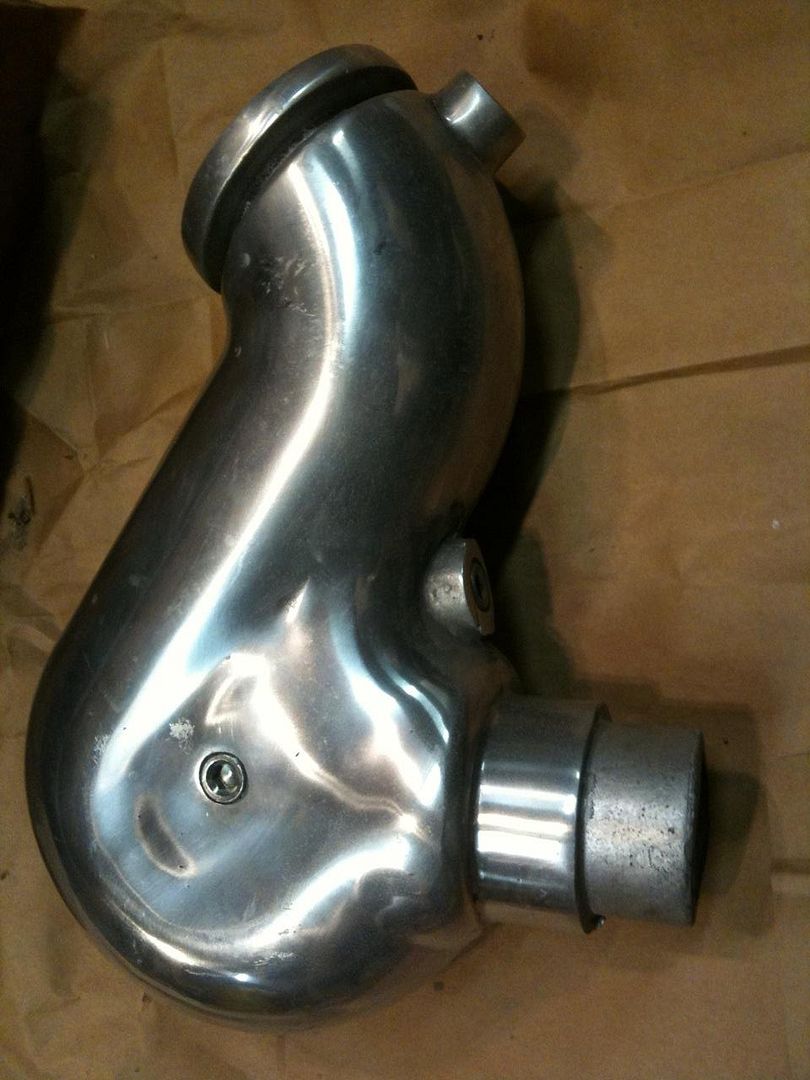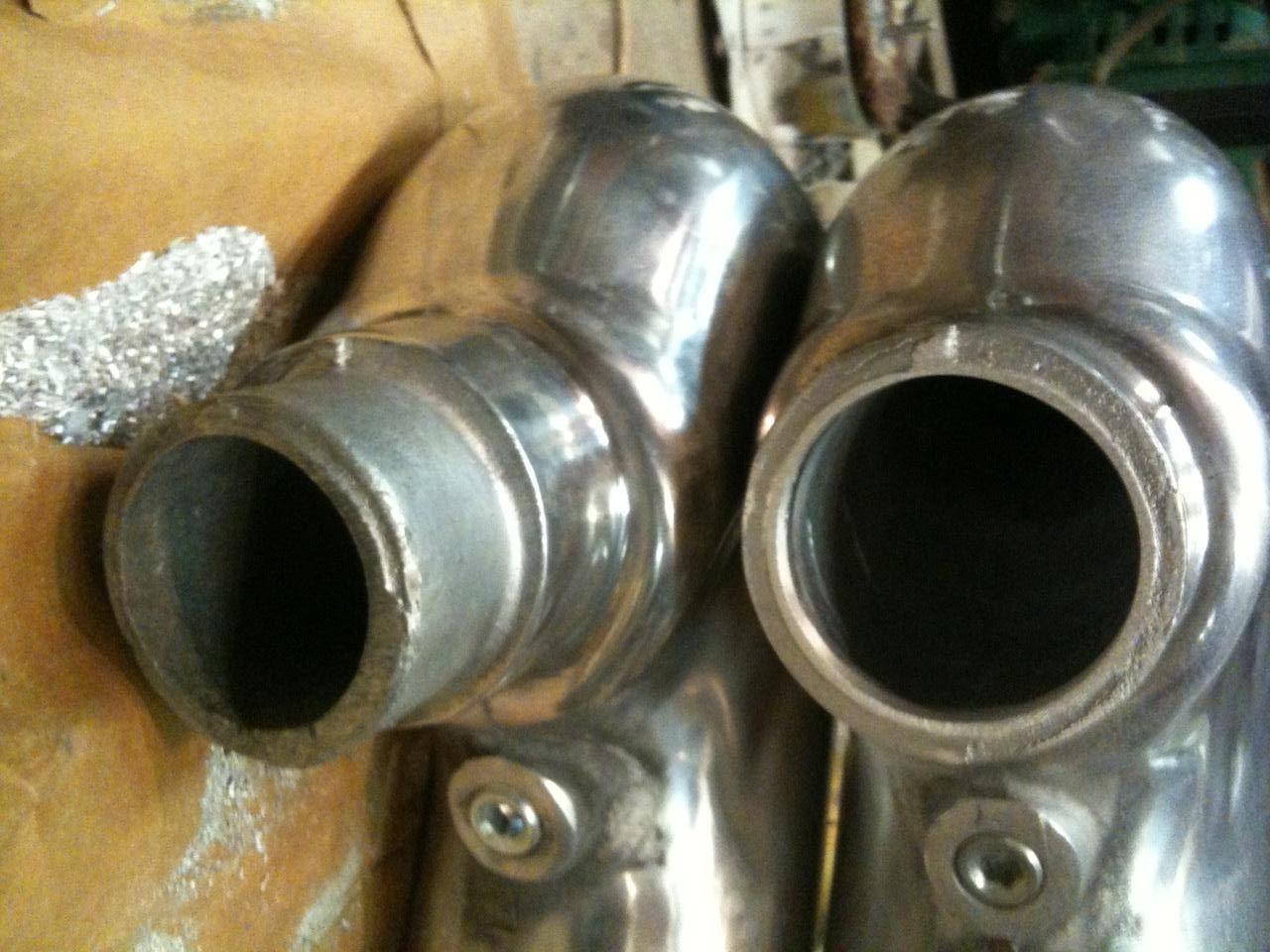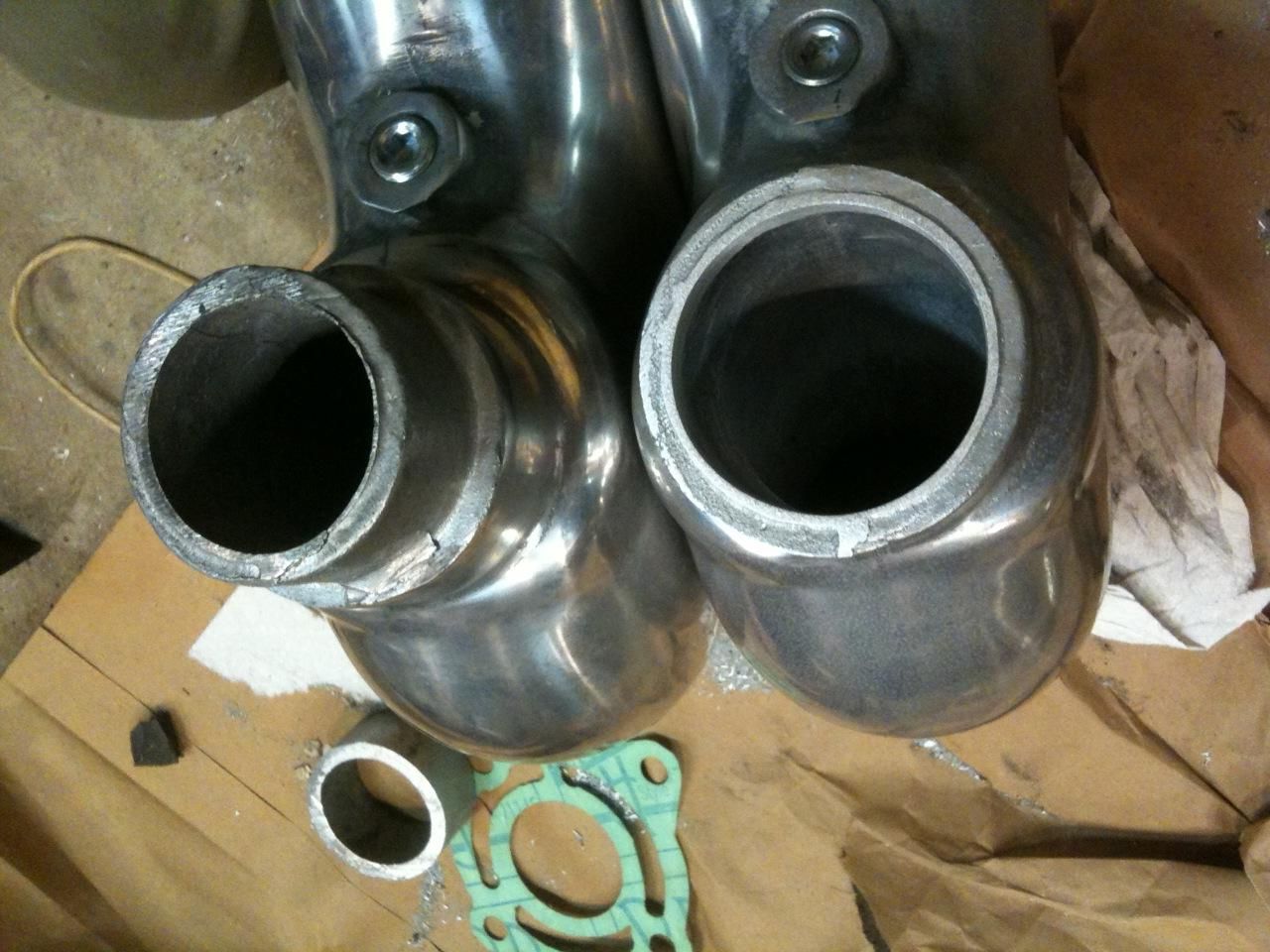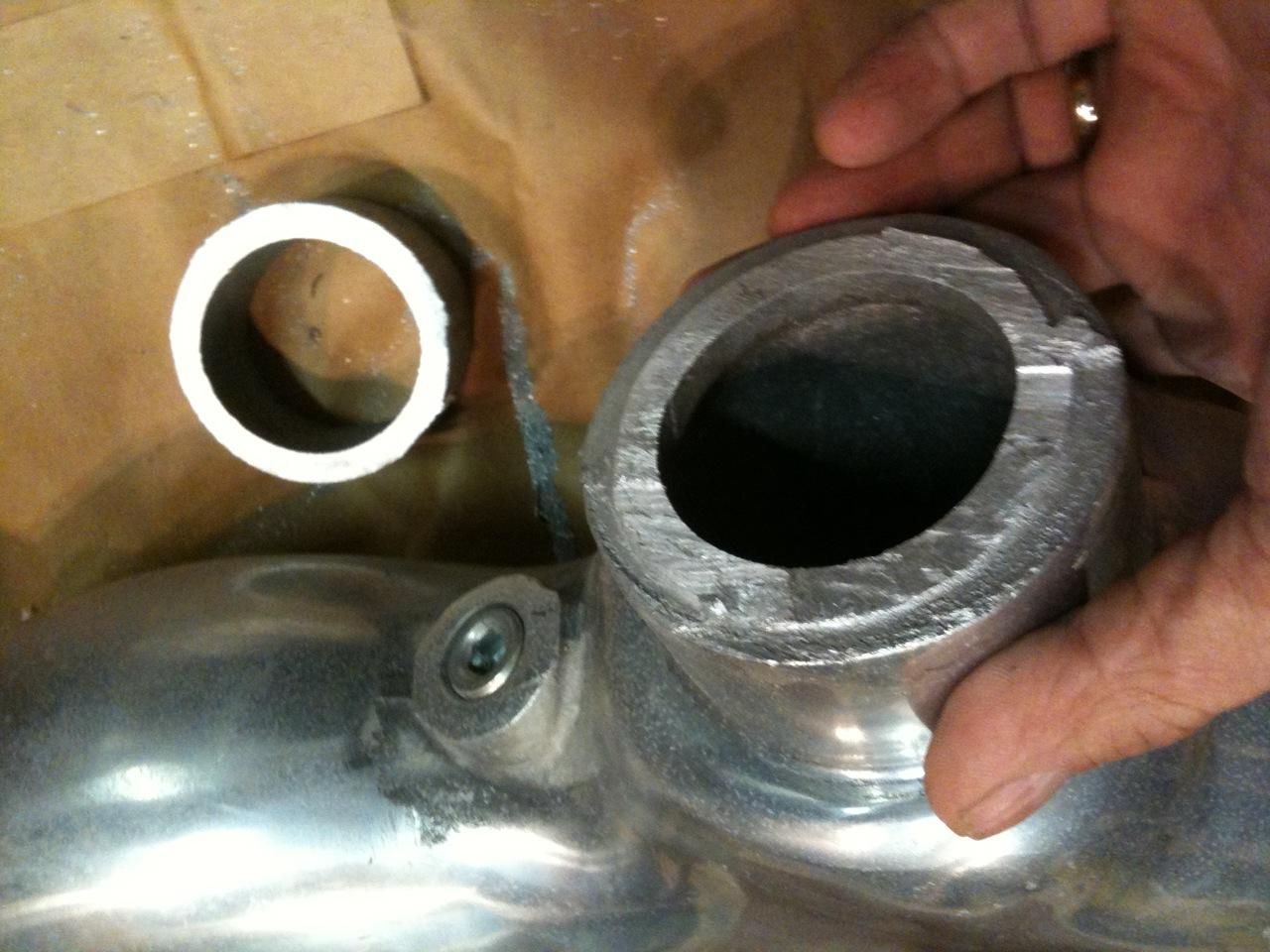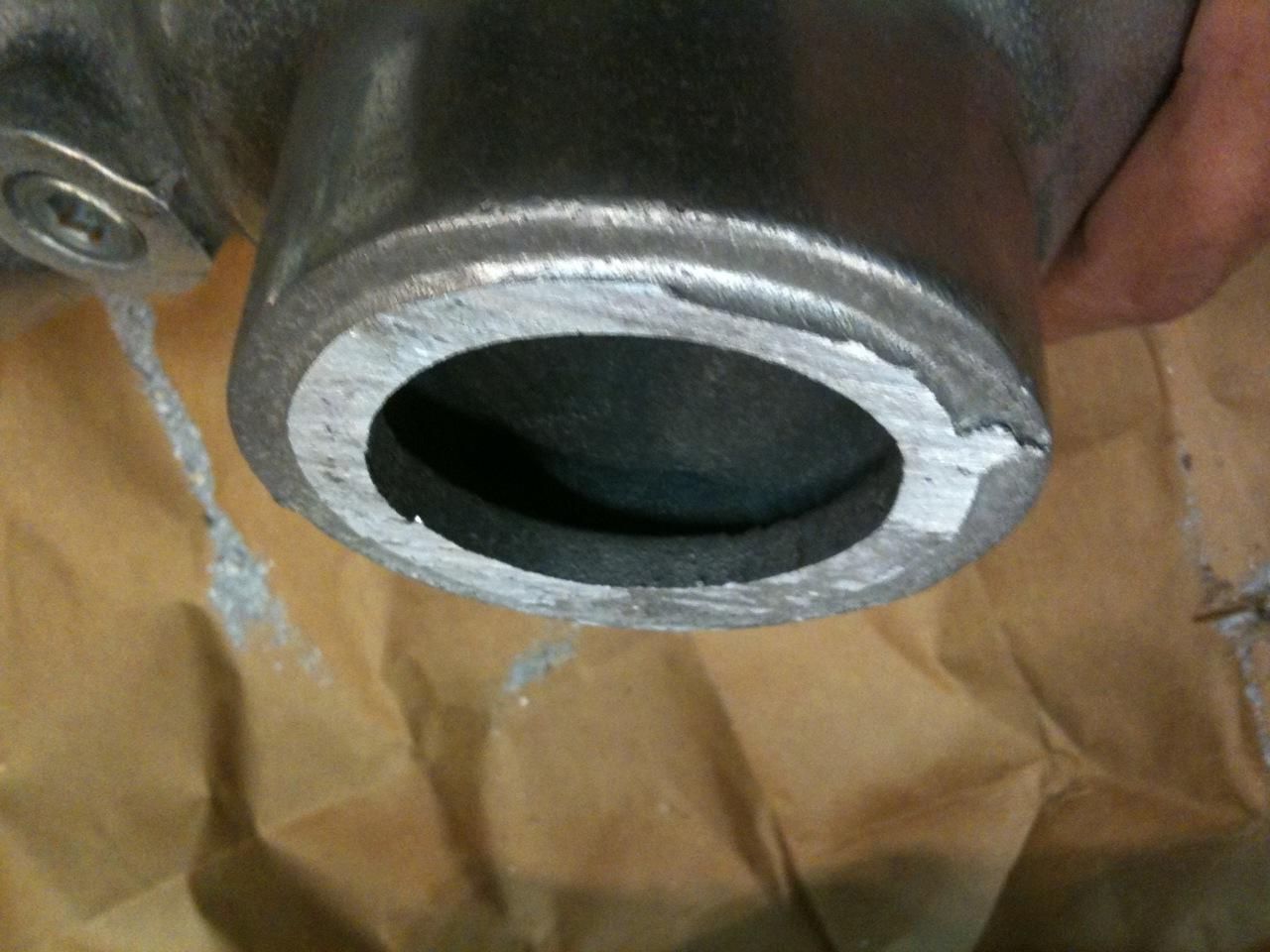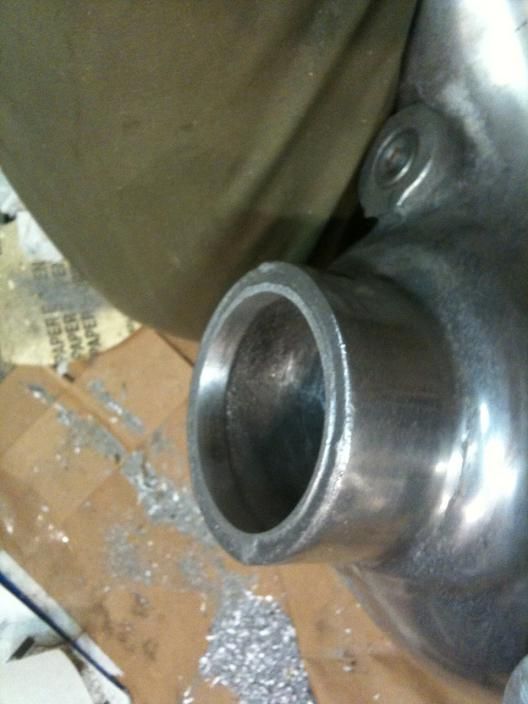 Cutting the ends off is easy, reaming out the inner lip is the tough part, and be prepared to work on it for a while.
Now for the drill and tapping part.
I was so concerned about changing the CC system which is reliant on FLOW that I was determined to be sure my logs and
risers would not be the weak link in the system, so I put in larger size fittings.
These are still very small compared to the size of the stock CC system, so those PRV pods will likely get a workout at
higher rpm. Since there is only one water pass through the system, I am hopeful it will take the flame of a 427 howling
in anger.
The large drill bit will follow the existing hole, but you can see the "drill bit chatter" here is due to the fact that it was hand
held and not done properly with a drill tower and a secure piece. If I were going to do this again, I would get some 2x12 or other
suitable wood pieces and use long bolts to clamp the piece at the angle I wanted, and then find a way to secure it under a drill tower.
That would give a nice smooth bit entry instead of the crude way I did it holding the piece between my knees on a bed of pillows and heavy
canvas cover to keep from scratching up the aluminum. Thankfully I had speed control on the drill bit and used extreme care, and it worked.
Going a little deeper here, exploratory drilling.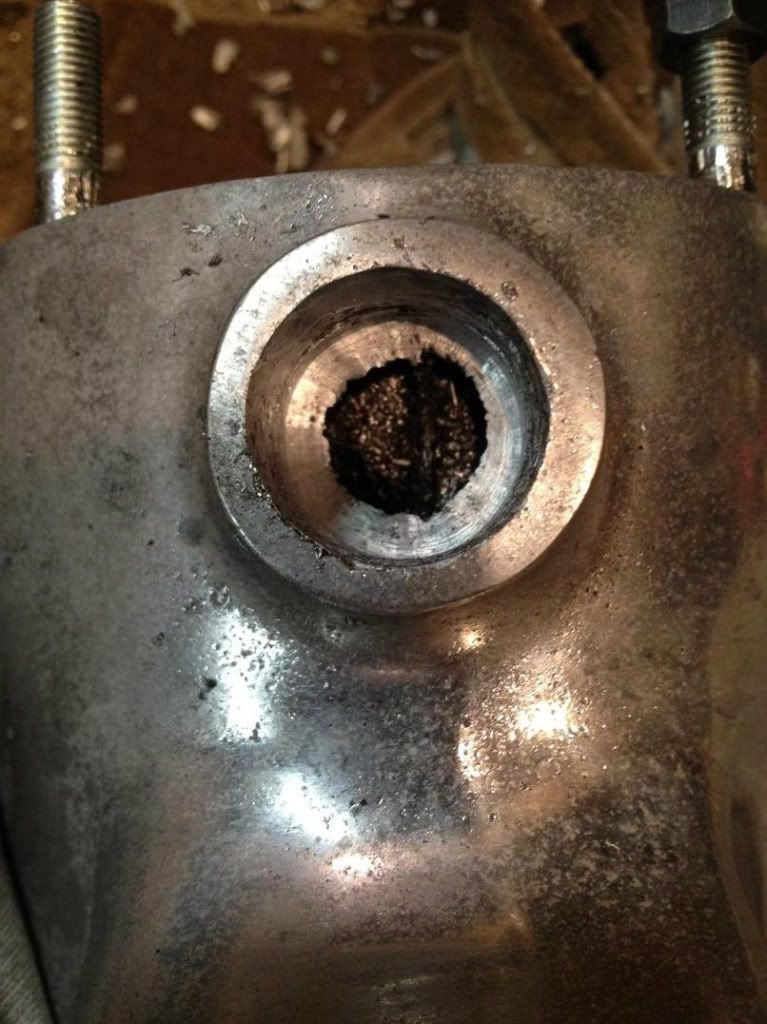 Finally opened up, naturally I was being very very careful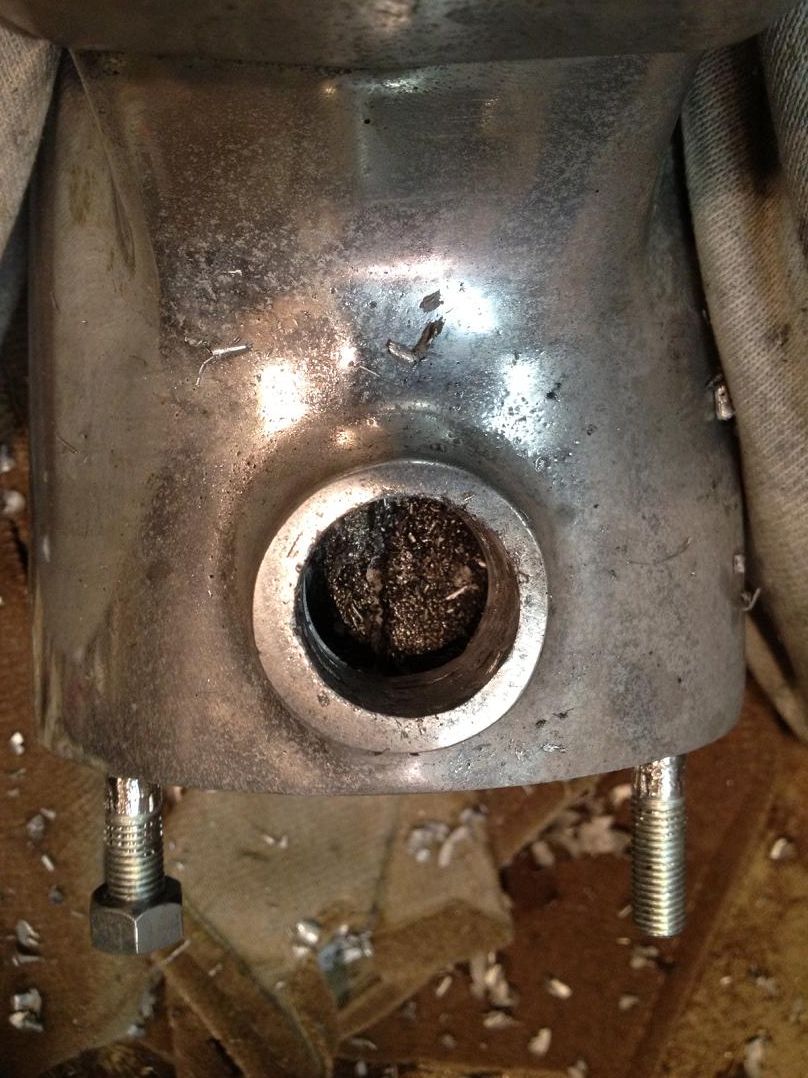 When it came time to tap, I lubed it up good and was VERY careful to work it back and forth without trying to cut it all
with one or two passes.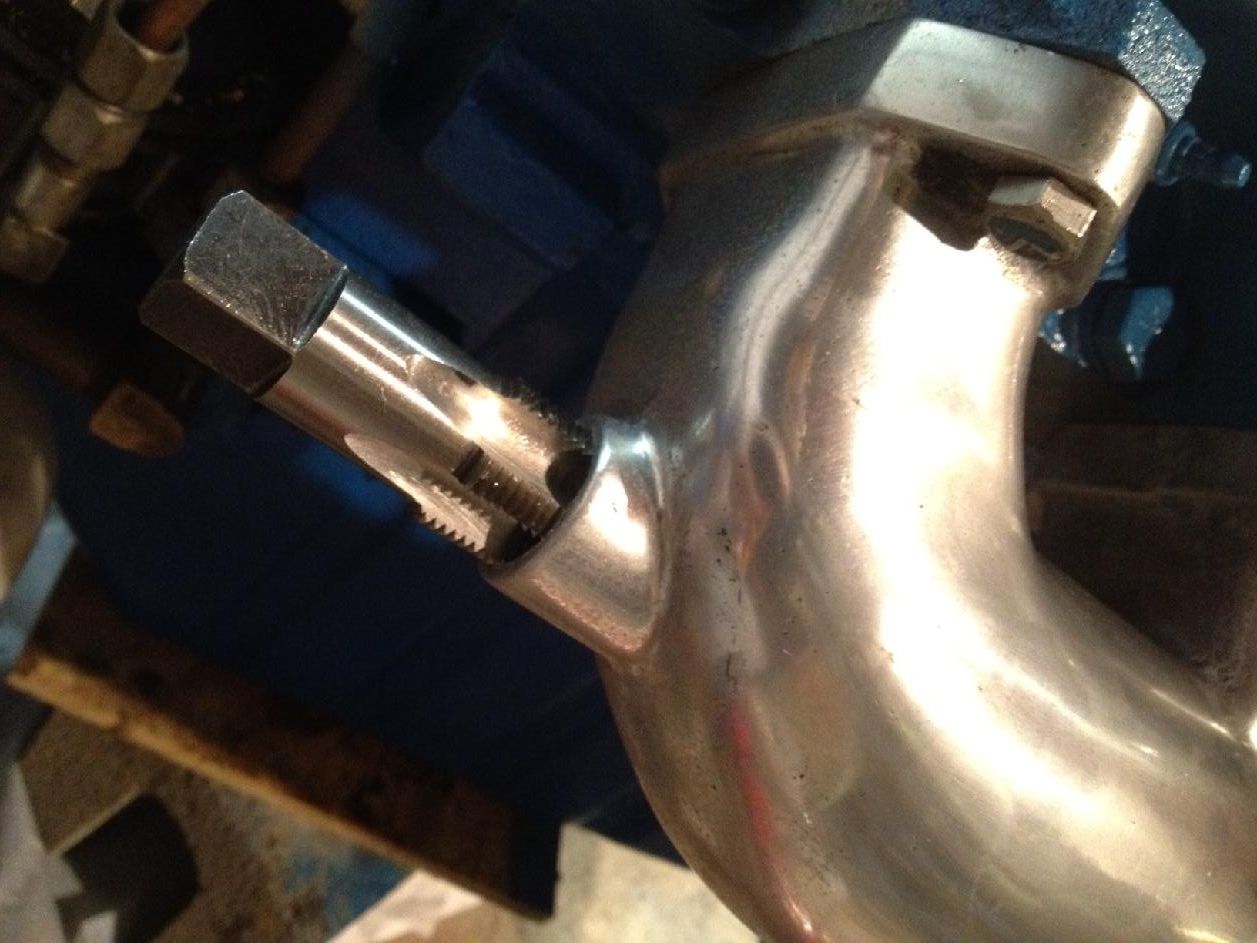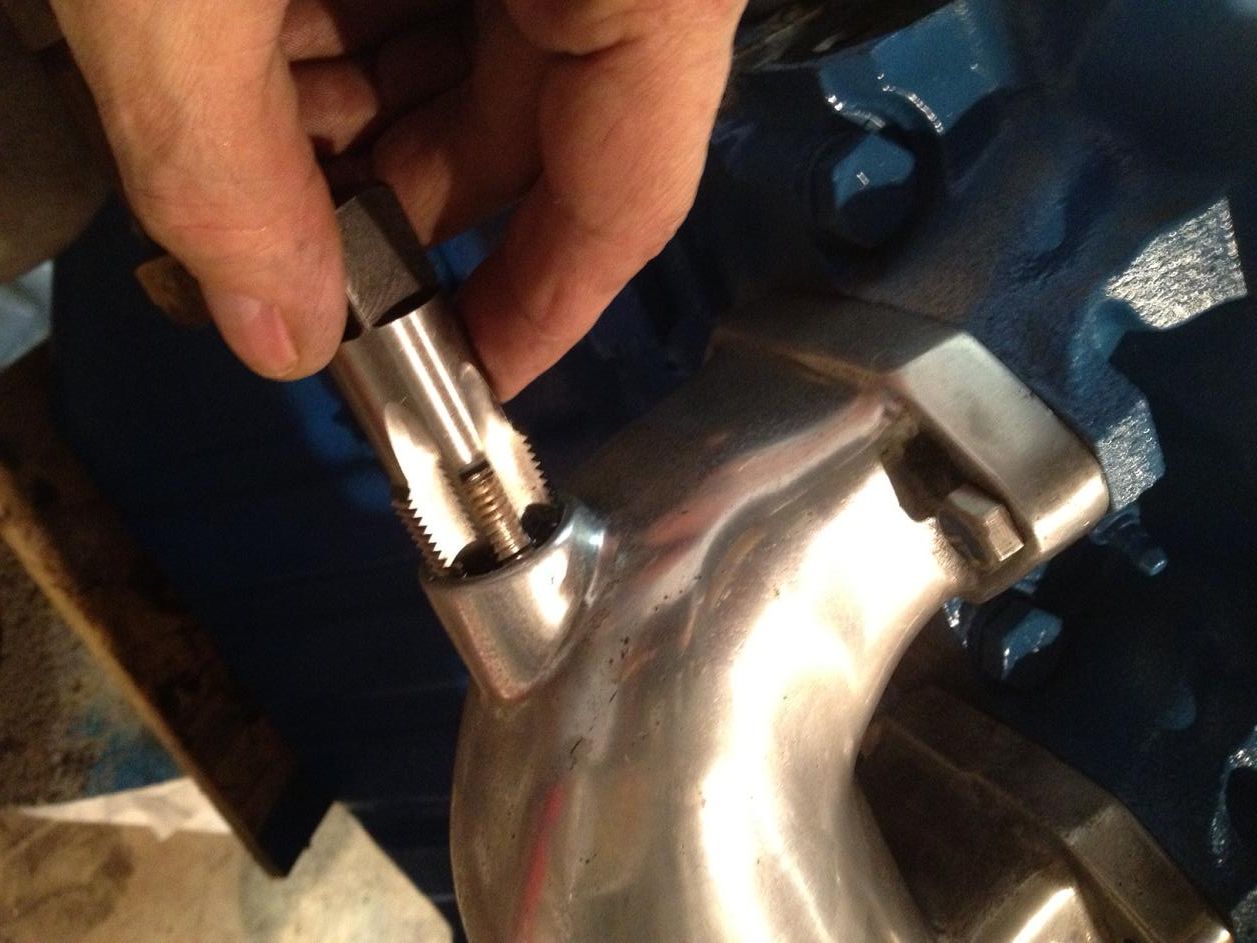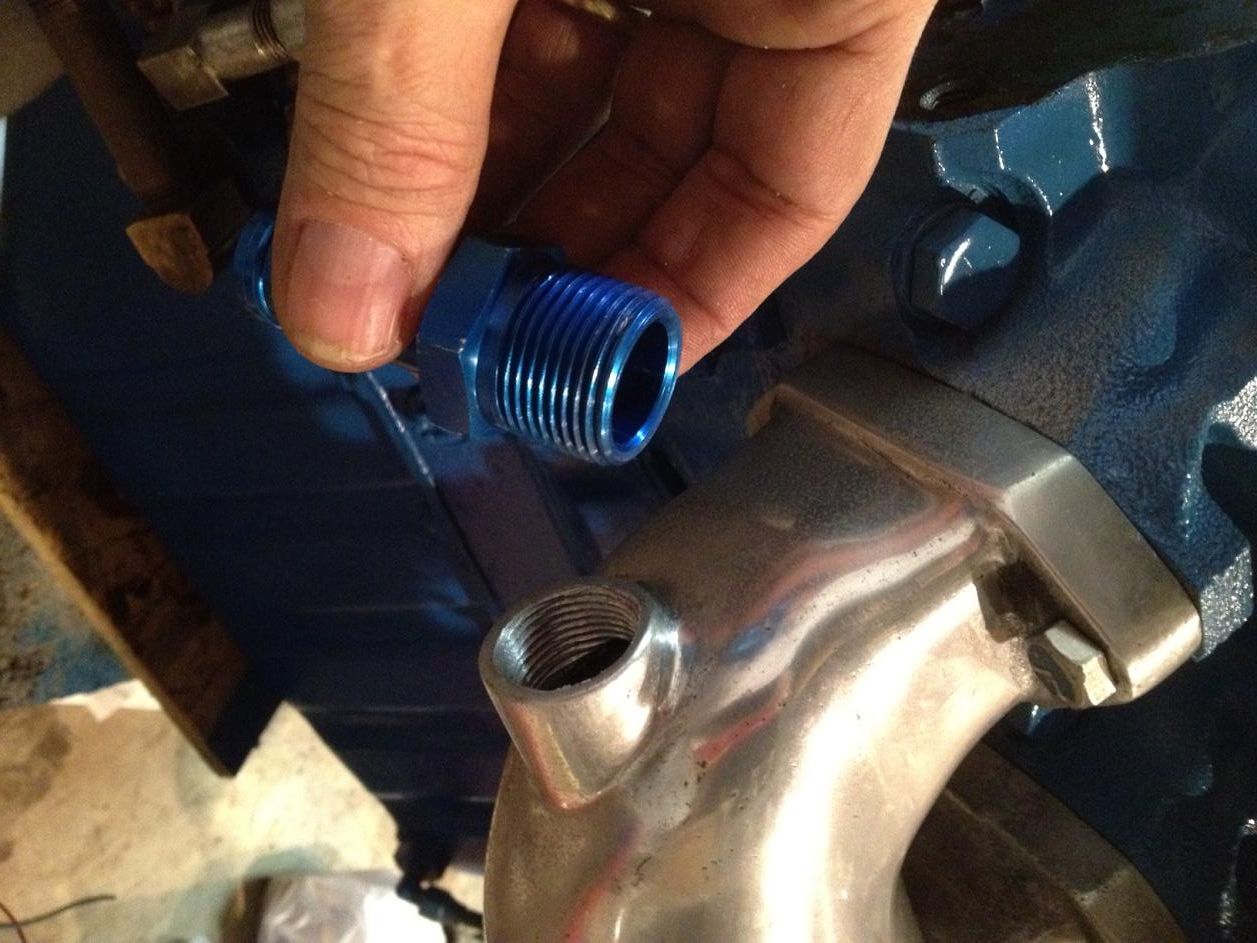 Interesting thing about the Glenwood risers, there are plenty of places to add another tap!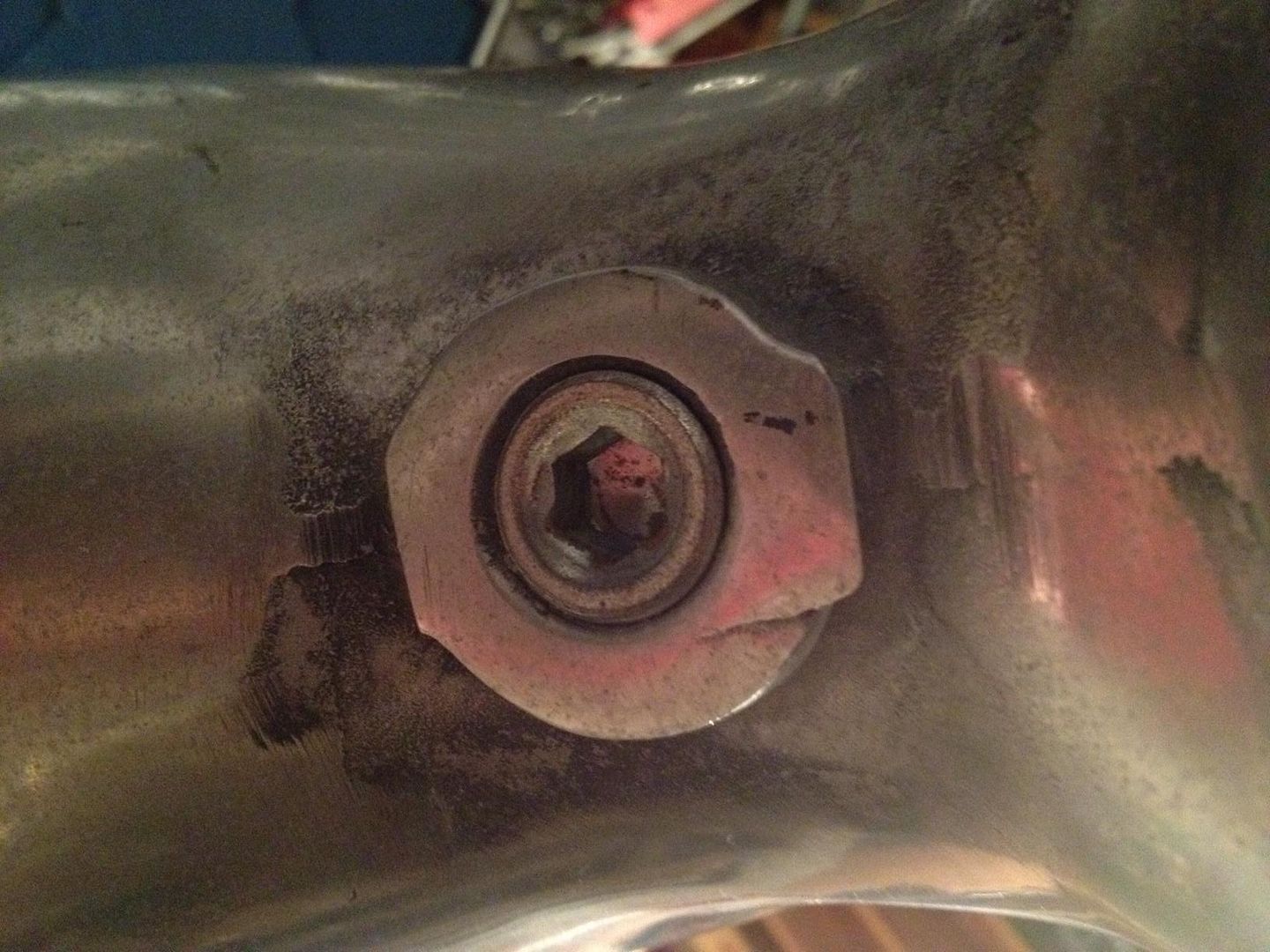 Lastly, when you select fittings you will have a choice of brass, stainless, or aluminum. I chose aluminum due to my running
in fresh water and a compatible expansion coefficient. In searching for fittings, and having some come in, returning them,
getting more in, returning those too, I eventually FOUND a brand (EARLS) that had a consistant inner flow. As you can see from
the photo, there are look-alike brands out there with the same finish on them, but they are not the same internally. I thought
"why would I drill and tap these pieces and NOT use the larger flow piece"? They are not inexpensive.
Photos below show the same 3/4" NPT threaded area, the fittings were both called 3/4" NPT but they obviously have a different outlet
size and differnt internal structure. I have a record of what I purchased in the event you or anyone else will ever need that. Since
you are going to be generating a lot more heat with your motor, you may (also) want to think about some of this. It's a great way to
get to know your riser up close and personal, and spend money on the boat too.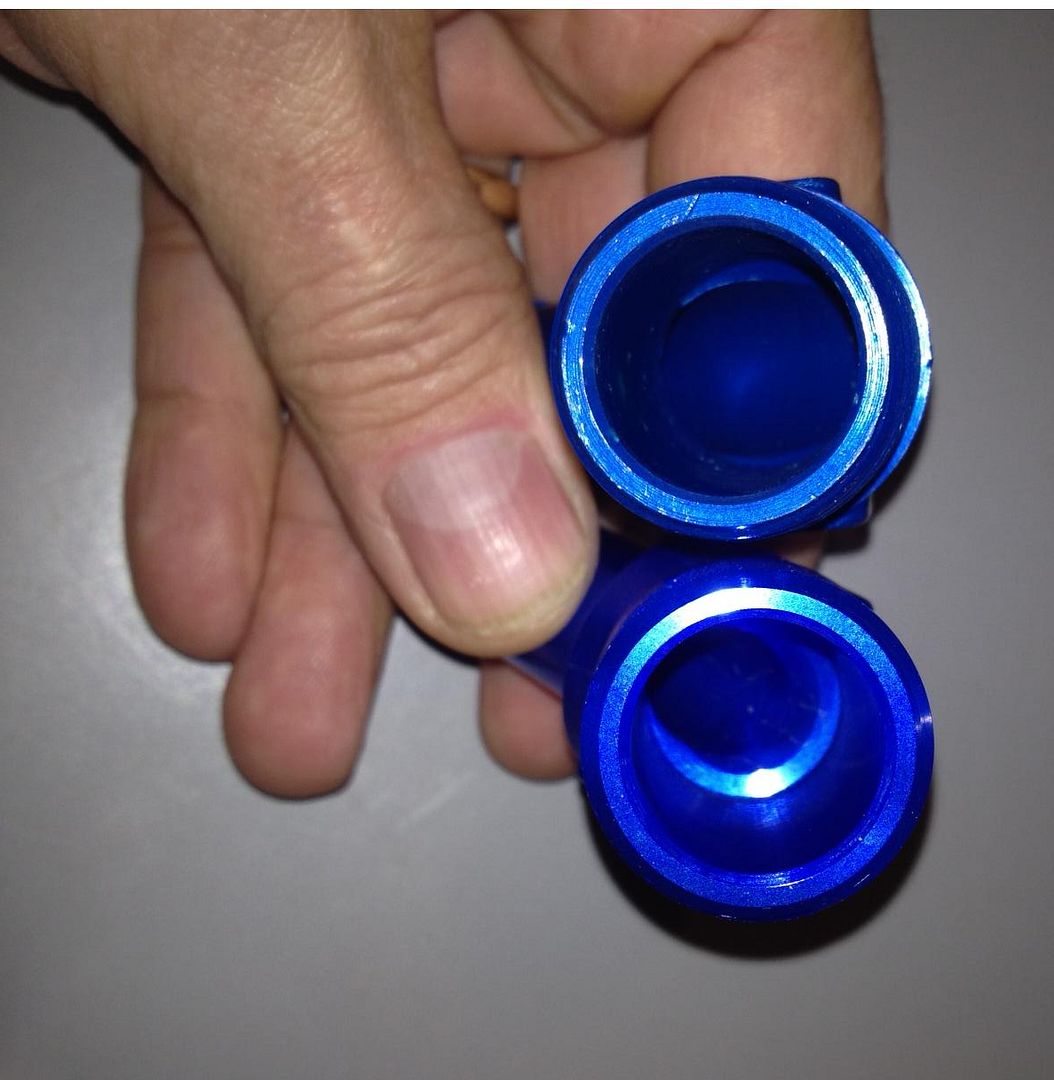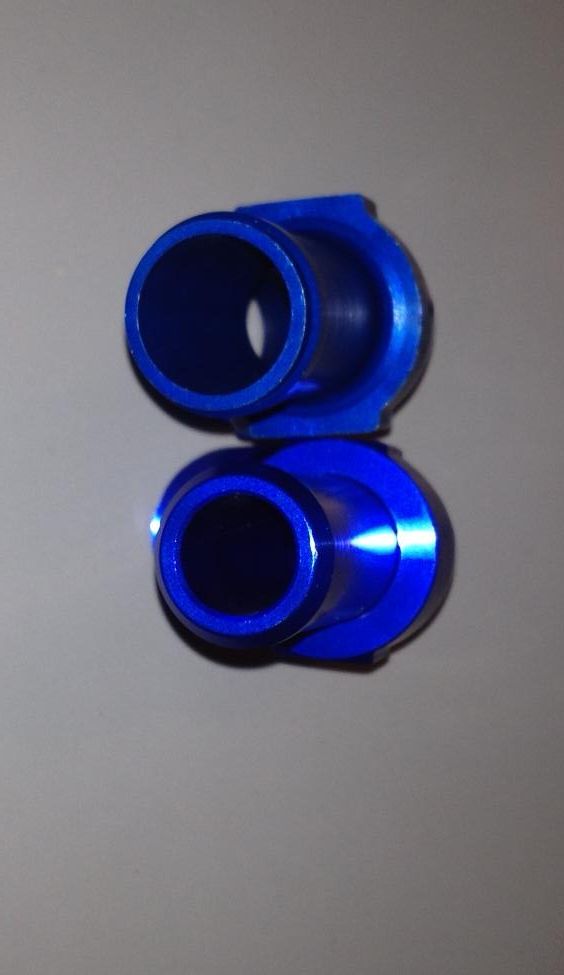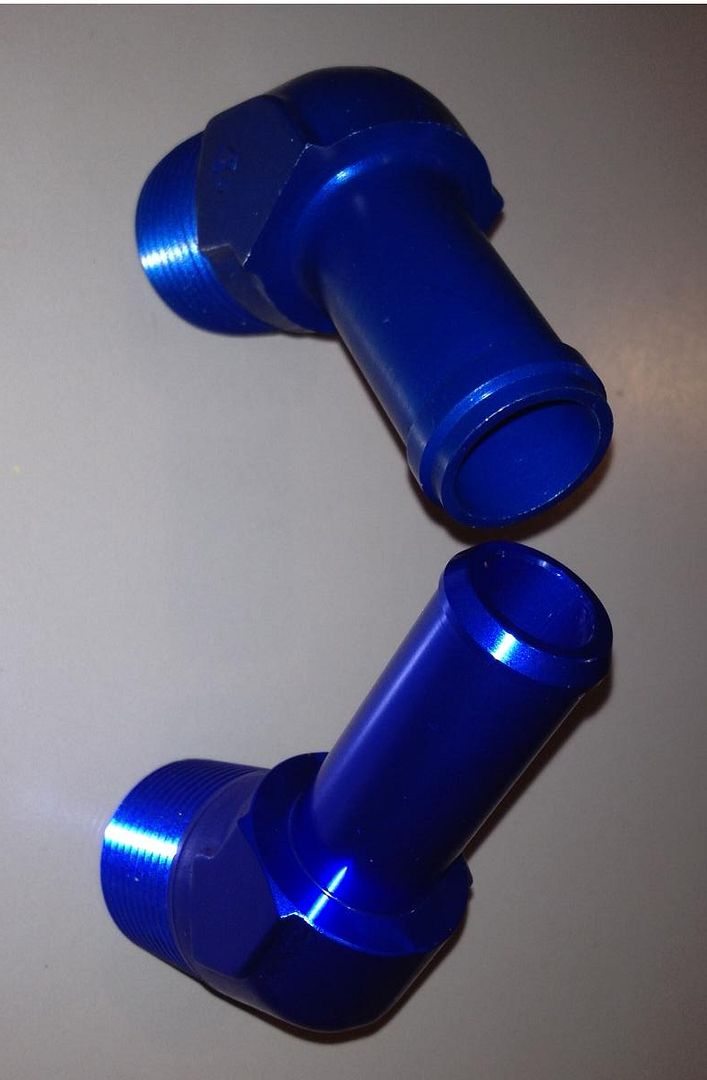 As you get into your small block Q conversion project, we'll start up a dedicated thread to this, as I know there are a lot of people in
North America and elsewhere who are going to be looking at this information very closely. They are going to need new intakes
eventually, and they may also be interested in the performance upgrade they can get by installing a Performer RPM
Regards,
Paul