How To Rebuild BIG-BLOCK FORD ENGINES by Steve Christ, is a VERY informative book, available in "paperback" and I have seen them on ebay for $15 or so. Every owner of the 427 should have a copy.
The 427 motors are certainly able to be rebuilt, they are basic, solid, and parts are available but..............and this is a big issue............beware of using a "Chevy Shop" or "Chevy-think" when working on this FE series. They have some issues that are ONLY found on the FE series. That's not to say a Chevy shop could not build one, but it is ALWAYS best to find a shop that is familiar with this series. I went into one machine shop here in Nashville, and the owner had several FE motors in various stages of rebuilding, and THAT is the sort of shop you should seek.
The 427 is a thinwall motor, not able to be bored out as far as others. Therefore if (if) you need a rebore and not just a deglaze and hone job, go for as little metal removal as possible. Many times the original hone marks are still visible in the cylinders due to the high quality iron used. Just about all pistons for the FE rebore these days are custom. Stick with forged, and stay away from anything made in China. Heads should not be milled because that throws off the way the intake fits, and would require it to be milled too.
There are a lot of mistakes people make when rebuilding these motors if they treat them like they are going into an automobile. Marine engines work hard all the time, there is no coasting like a car. The major mistakes are made by owners and machine shops that are enamored with the history of the 427 and want to add racing parts or "improve" the motor. For marine use in the non racing aspects, there is little or nothing that can be done to "improve" the industrial marine 427, except to improve on ignition and fuel delivery. On the latter, fuel delivery, the old style Carter AFB heat furnace chokes are not all that good, but the basic AFB is just fine. In my experience with the 50,000 volt DUI system, I don't need the chokes to start anyway so I have deactivated mine in order to assure I am not running with a motor that is partially choked.
All the BS you may hear about oiling issues, whatever, is from 'internet experts", so beware where you hear it and WHO you hear it from. Some of us have used aftermarket intakes. The basic Edelbrock Performer is a good choice for a cruiser motor, they build torque, have smaller internal plenums, and give good signal to the carb. For a runabout like my 23 Lancer, I chose the Performer RPM but I caution use of that without very careful plug reading to assure there is not a lean mix. The Edelbrock #1409 is a 600 cfm carb, while the Carter was (is) 625. Both are just fine, don't make the mistake of going bigger.
I would stay the heck away from the hot rod shops, and stick with the industrial machine shop guys. The best thing that can be done to an industrial marine 427 is to rebuild it in the stock form. That way we avoid the catastropic destruction we've seen with some of our members like the 42 Commander, PARAMOUNT, that went through two (2) expensive rebuilds of the 427 before a total repower. That example was the result of adding power, which looked just great on the dyno but when hooked up to pushing a cruiser just generated too much heat internally and literally melted pistons.
If and when you get into your 427 let me know, I have a lot of info I can share on this series, and since I own four of them I have quite a bit of hands-on time with them. With your experience as a mechanic you should be in fine shape, especially if you are doing the work yourself, and watching over the project as something you will continue to own !! A 427 in a 23 Commander is quite a package, lots and lots of torque, real easy cruise, amazing, similar to Freeman's 427 1970 Lancer Premier that I had the pleasure of driving.
Here is a photo of your boat, from our archives.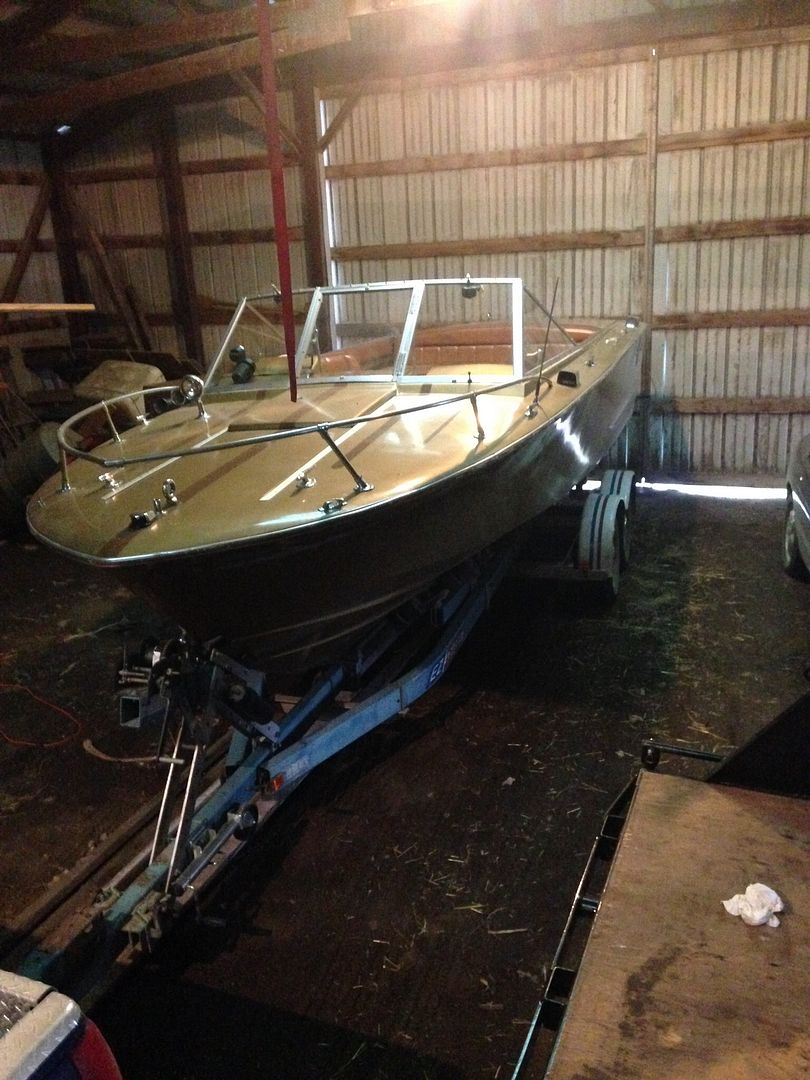 Also, I am interested in what cylinder heads you have. I suspect you have the C7AE-A heads and not the C7JE like the early motors had. There is an intake port size difference there, power ratings remained the same, but the aftermarket RPM intake, for instance, works better for the early series because it matches up with the bigger ports. The C7AE-A was referred to as the "acceleration port" design, smaller passages, faster flow, and it was just fine for what the motor was intended to do, and that was build lots of torque. For racing obviously there is much higher rpm and much higher flow issues to contend with, and in our boats the way we run them hot rodding a 427 can get us into trouble especially if the wrong compression is used, wrong carb, wrong pistons, etc., as in the PARAMOUNT example cited.
Here is a link to the complete parts manual as a reference.
http://www.network54.com/Forum/424840/message/1158113925
Regarding your question about torque numbers, yes, the basic torque numbers for cylinder heads, intake, etc., etc., stands for the industrial motors just like it does for the automotive versions. The Steve Christ book has much of that info, I strongly recommend you pick up a copy, lots of good stuff in there, some may be questionable, but most FE guys think highly of it as a good guide.
Regards,
Paul
"\"\""