A ghost float!? Sounds like a dreadfully delish dessert for Zombies!..Let's find out!
by Viper

..But as Gideon struggled to get to his feet, his hands reached out and touched a shoe, a high heeled shoe and feeling a bit higher, his hand ran over an ankle then a leg wearing fishnet stockings. Raising his face with a cheeky grin thinking it was Viper, his eyes widened with horror, Rocky Horror that is when he saw the owner of said leg.




"How do you do.. I" I see you've met my faithful handyman..he's just a little brought down, cause when you knocked, he thought you were the candyman"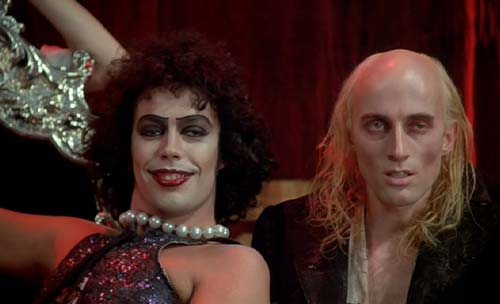 King: "Hahahaha how does Viper do that?!"

J.R: "I don't think it's Vi.."

King: "Amazing, i'll tell you, the first time was priceless! She and the Godsend gave Cerberus nightmares for a week i hear!"

J.R: "I really don't.."

"Don't get strung out by the way i look, Dont' judge a book by it's cover...I'm not much of a man by the day, but by night i'm one hell of a lover"

"It's astounding" Rick laughed

"Time is fleeting" Viper answered with a gulp, taking a step back and then another which didn't go unnoticed by Astin. But as she took another step, Rick did a double take and pointed at Viper then to Frank N Furter then back to Viper who simply offered a nervous grin while her eyes darted around looking for an escape..

"If you're here then who is..?"

"It's just a jump to the left and...then a step to the right..."

Frank: "....."

Rick: "No we're not going to do the Time Warp again!"

Frank N Further gave Rick an angry glare and realizing that Furter thought he was speaking to him, Rick tried to explain by pointing at Frank who conveniently and "accidentally" fell backwards and behind the headstone leaving Rick on his own. But that was the least of their worries, all the noise and singing had "woken" up or alerted some of the "residents" who appeared behind tombstones and clawed their way out of crypts. Frank n furter and Riff hightailed it out of dodge leaving the three combatants to deal with the "residents"

"Oh shit, look what you two big mouths did now!" Viper squeeked as she backpeddled from the moving ground just beneath her. "Us?!" Astin protested, following Gideon's lead in backing away, all three looking around as the ghastly ghouls and decaying corpses were joined by even more, their half rotting hands reaching out, their dead unblinking gazes locking on them as they began heading right towards them.

There was nowhere to go for our hapless heros(okay maybe) and as Gideon and Rick backed up another step, Viper remained where she was, seemingly frozen in place with her back towards the Holy warrior and the Tinman. The zombies were closing in and as they came right up behind her, Viper turned to look at Rick and Gideon, her face had changed into that of a zombie!

Gideon and Rick stood open mouthed and outwardly paralyzed as Viper grinned a deadly grin and started towards them...but as they got into a defensive stance, the zombies stopped and in a scene right out of Thriller, the zombified vixen began to sway and move, hitting the beginning dance steps from that famous video exactly.

All Gideon and Rick could do was stare at he with a wtf?? expression on their faces and wonder if all the shots to the head they'd taken through their careers had finally caught up with them and at the same time(Hey it could happen
) but as Viper and the zombies swarmed them, they both found out what was up when Viper came back around and dropped Astin with a Running knee!
The huge thud that Astin's body made when it hit the ground alerted Gideon, who turned around in time to catch a shovel shot to the gut and found himself planted with a ddt by the evily grinning Viper whose face had shifted back.

"Dementation, gotta love it"

J.R: "That Jezebelle! She was faking!!!"

King: "Hahaha and that's why she's the most dangerous superstar alive! She used the zombies as a distraction to slow down Gideon and Astin! Brilliant!"

"Catch me if you can boys"Viper laughed sadistically and still armed with the shovel, took off running towards the mauseleum door, leaving our heros surrounded by the "zombies".

When she finally reached the door, she pushed her way inside quickly and slammed the door behind her, knowing the other two wouldnt' be far behind. With her eyes scanning the dimly lit halls, she cautiously proceeded down one of the corridors with her hands gripping the handle of the shovel in ready....





Posted on Nov 4, 2006, 8:22 PM

Respond to this message

Return to Index

Responses