Plants are classified and grouped together by their characteristics,
Kingdom -> Division -> Class -> Order -> Family -> Genus -> Species
It doesn't have as much to do with their compatibility as the plants DNA would, but a brief run through for our family:
Kingdom:
Plantae - Plants
Division:
Magnoliophyta - Flowering plants
Class:
Magnoliopsida - Dicotyledons
(Plants that flower and have two starter leaves.)
Order:
Solanales - contains 5 families
(perfect flowers, superior ovary, fused petals, 5 petals, alternate leaves, scented tissues, fruiting in the form of a capsule or berry)
By the way, the morning glory family is also in this order.
Family:
Solanaceae - about 75 genera
Possibly from the Latin term solari, meaning "to soothe," or solamen, meaning "quieting," referring to the medicinal qualities of the chemicals found in the plants.
Ethnobotanical family, extensively used by humans as a source of food and medicine.
Genus:
This is where we have Brugmansia, Datura, Iochroma, Solandra, Atropa, Hymoscyamus, Mandragora, Solanum, Nicotiana, Petunia, Capsicum, Lycopersicon, Physalis, Cyphomandra, Browallia, Brunfelsia, Cestrum, Lycianthes, Lycium, Nicandra, Withania, and a bunch of others. Nope, can't remember them all, lol.
Kathy, there are several vines in the Solanaceae family, however if you want a big one with large Brug-like flowers, your best bet is going to be a Solandra. I think that's the one Mike is referring to with the big yellow flowers,
Google image search
.
Solanum rantonnettii, aka Lycianthes rantonnettii is a perennial, but would probably need to be over-wintered, they love full sun down here. I recently got cuttings from mine to root, so now I've planted the big one in the ground to see how it holds up through our flooding.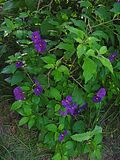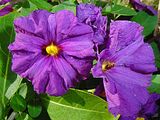 Lynne
USDA 9b, Heat 10
Bradenton, Florida