Just thought I'd share some photos of butterflies that like to frequent fruit....excuse all the bees...they like fruit too
I usually cut up fresh fruit and set it out on a plate for the butterflies. They aren't picky...they also frequent rotting fruit too.
Sometimes I mix up a batch of what I call "butt-bait" and then I pour a little on a plastic scrubbie that I place on plate (a scrubbie keeps the butterfly from getting sticky - it can use it's probiscus to reach into the scrubbie for food) or I pour a little onto a piece of firewood that still has the bark or grooves sawed into it. Any old piece of wood will do...just cut some small grooves into it with a saw (the liquid will seep into the grooves) and wrap a wire around each end and hang it from a tree.
Red Admiral
Tawny Emperor
Leafwing (you can see part of the yellow plastic scrubbie with butterfly bait poured onto it in this photo) - also the butterfly's probiscus going into the orange slice. You might have to give the pieces a squeeze during the day to get the juices flowing again as the fruit tends to dry or seal up in the heat.
Tawny Emperor and Leafwings
...and this colorful Harlequin Flower Beetle - Gymnetis caseyi Antonie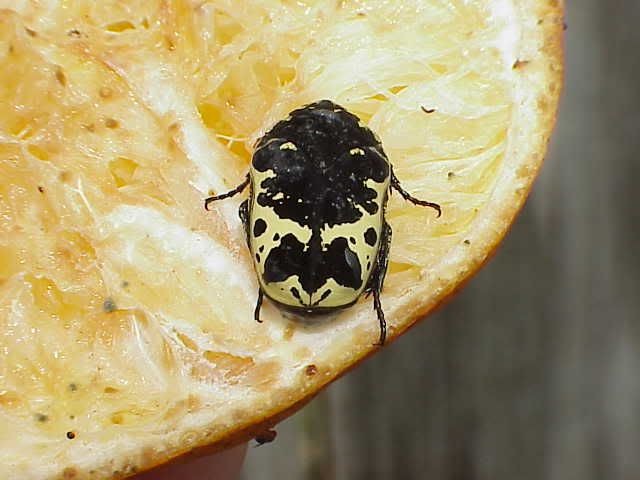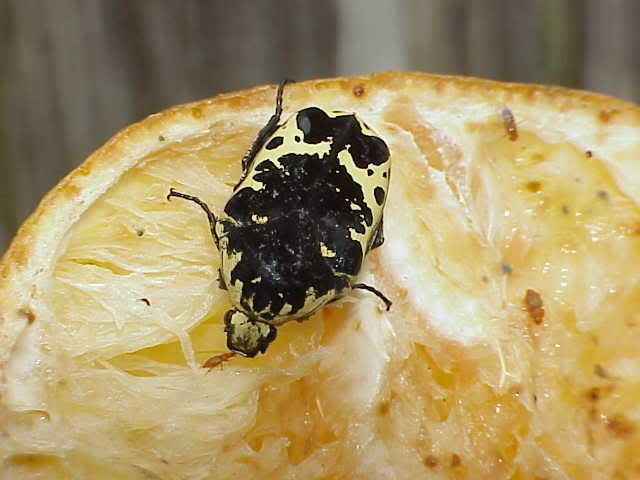 Here's the recipe for butterfly bait...refrigerate what you don't use...letting it ferment just makes it more tasty
1/2 cup molasses (or corn syrup)
1/2 can of stale beer
1/2 cup of orange juice
2 mashed bananas (the riper the better)
1 ounce of rum
Try whatever you have on hand - I cheat and use a can of fruit cocktail and the liquid, honey instead of molasses, gatorade or pretty much any type of juice I have. I use whatever fruit is in season too - out here we have lots of watermelon, mangoes and papayas...and it's a good way to use the bananas and citrus from my trees.
~ Cat