~A Non-Profit Quit Smoking Support Community~
*People Helping People * ~ *We Can Do It - TOGETHER!*
We subscribe to the HONcode principles. Verify here.
---
"The information provided in Freedom Village is meant to support
and not intended to replace the relationship that exists
between a member/visitor and his/her physician."
FV is a community of people who have the knowledge, experience and success
in the fight against smoking or are in the process of quitting.
Every individual is unique just as their quits are or will be.
YOU ARE SPECIAL AND ONE OF A KIND, NEVER forget that!
*Our Purpose & Mission*
"A place for friends to support friends in quitting and staying quit from smoking
by sharing their journeys through life with
their faith, their laughter, their tears, their struggles and their joys."
*Forum Guidelines*
The butterfly is a symbol of freedom, renewal and rebirth.
The dove is a symbol of peace, tranquility, love, sharing, friendship and fellowship in faith.
~ Freedom Village Forum was created on July 23, 2002 ~
This page modified July 4, 2005
ALL POSTS MADE IN THIS COMMUNITY ARE PRIVATE AND CANNOT BE REPRODUCED
AND USED FOR ANY PURPOSE OTHER THAN THE COMMUNITY NEWSLETTER.
---
Addict: from the Latin addicere, to surrender or to be captured into slavery.
Webster's Dictionary, 2nd ed.
An addiction has a personality.
Its one goal is survival, even at the cost of the life of its host.
It's a liar and a thief, but it's stupid. Know your enemy's strengths and weaknesses
then beat the living crap out of the d*mned thing.
~MiSC~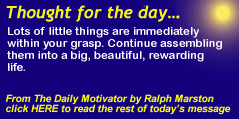 ---
A no "frills" quit smoking forum. Click here..