With a free spell checker,naturally
Download one of these for your particular Browser:
For Firefox :
Spellbound
For Internet Explorer :
ieSpell
After you finish typing your message, just Right Click on it and select Check Spelling. Each of these programs will spot spelling errors and offer suggestions if it has one. In this case,using Spellbound to check, I misspelled "naturelly," and it offered the correct spelling;click on this example: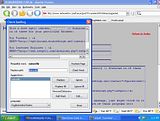 Please let me know if you need help with these spell checkers.