This is an excellent way to post several images without making it difficult for the dial-up users.
If you are using
Photobucket
,here is how to do it. Say you want to post three thumbnails that people can click on to view the full size,like this: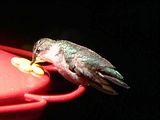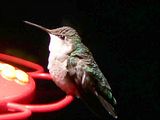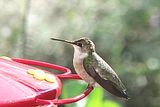 This takes a little "walking through," but you can do it
1. Select the images you want to convert into clickable thumbnails by putting a check in the little blank white box just below each thumbnail;see the little box next to the image name (11feb04.jpg) in this example: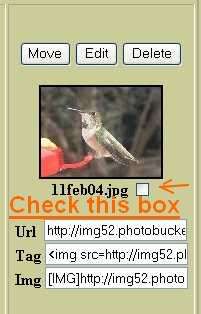 2. Scroll down to the bottom of the page and find:
"Generate HTML and IMG Code" - Click that.
Magic will happen and a page will open with HTML codes. You want to use the first codes:
"HTML click able thumbnails for Ebay, Livejournal, MySpace, etc. - recommended"
Copy and Paste
those codes into your message here, then
use the Preview button
to see if it is working properly.
FOR ADVANCED USERS (only attempt after you master the above )
To put the images side-by-side, there must not be any space between the two codes.Each image code begins with "<a" and ends with "a>" Just put the second code at the end of the first,so they will be like this
<a....a><a...a>
They will appear like this: