which is my Desert Shield Commemorative, commissioned by a US Distributor and produced by VOSTOK to honor the troops serving in Desert Shield.
Here's a little background, courtesy of my friend Ed Brandwein's Blog:
The Desert Shield Generalskie represents a fascinating piece of history between the United States and the Soviet Union. Here is a Russian made Vostok watch, the standard supplier to the Red Army, building a watch for the U. S. Army during Operation Desert Shield. As I understand it, some 200,000 pieces were ordered for sale. The watches were advertised in Stars & Stripes, the U.S. military's newspaper, at $99 for service personnel or $149 for everyone else. The distributor reportedly presented one of these watches to then President Bush and another to Senator Kerry.
Here's a shot of my Desert Storm Commemorative: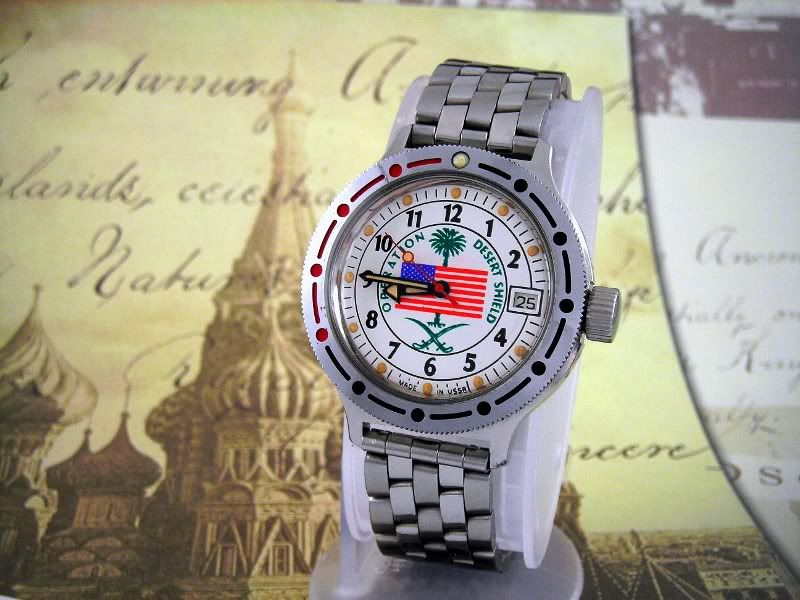 BTW, the "wobbly crown" is a distinct "quirk" of Vostoks. I found the easiest way to wind with the "wobbly Crown", is to tip the watch crown down toward the floor, and keep a very light "pull pressure" on the crown and wind it up.
(Use just enough pressure to maintain winding contact, but not enough to pull the crown to the time setting position.)