It was a serene drive from the San Francisco Bay Area to Southern California. The California Airgun Shooters Association was going to have their last Angeles Range FT Match and I was looking forward to seeing the CASA crew and shooting with them.
Upon entering the most populous county in the United States (LA County), it looks like the weather is going to be sunny; albeit cold, and with some wind today. Behind this mountainous backdrop lies not Disneyland, Beverly Hills, or the Hollyood sign on the hills, but the real attraction
: Southern California's Angeles Shooting Range
http://www.angelesranges.com/
), one of the fine venues where CASA hosts some Field Target matches!
[IMG]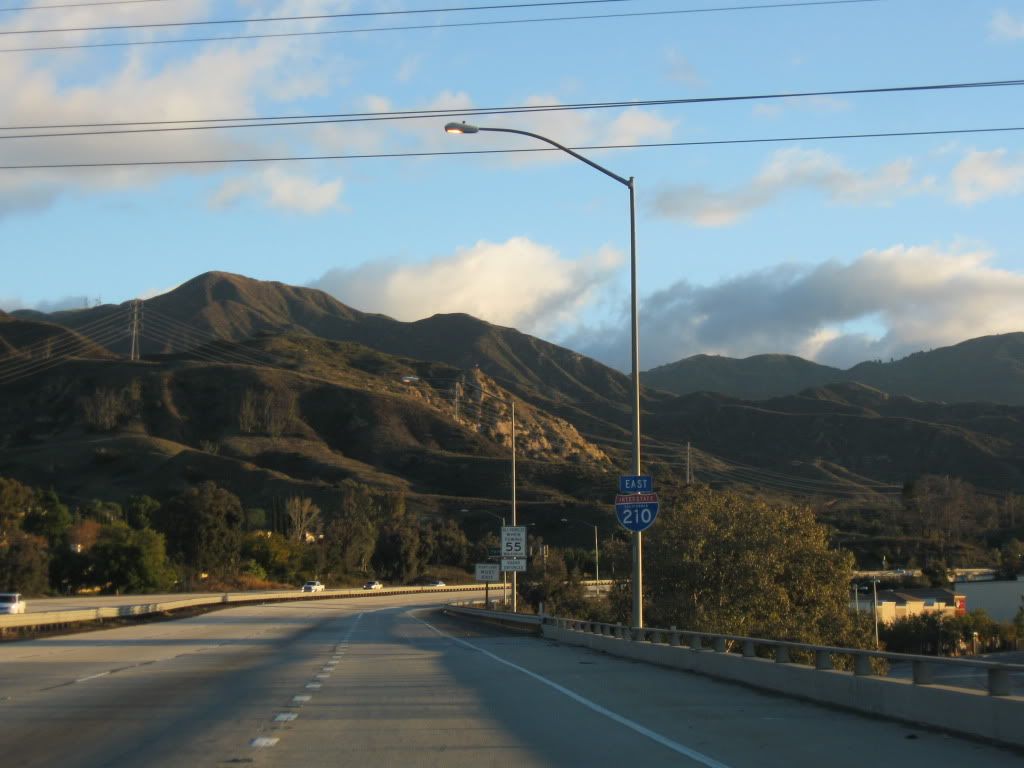 [/IMG]
[IMG]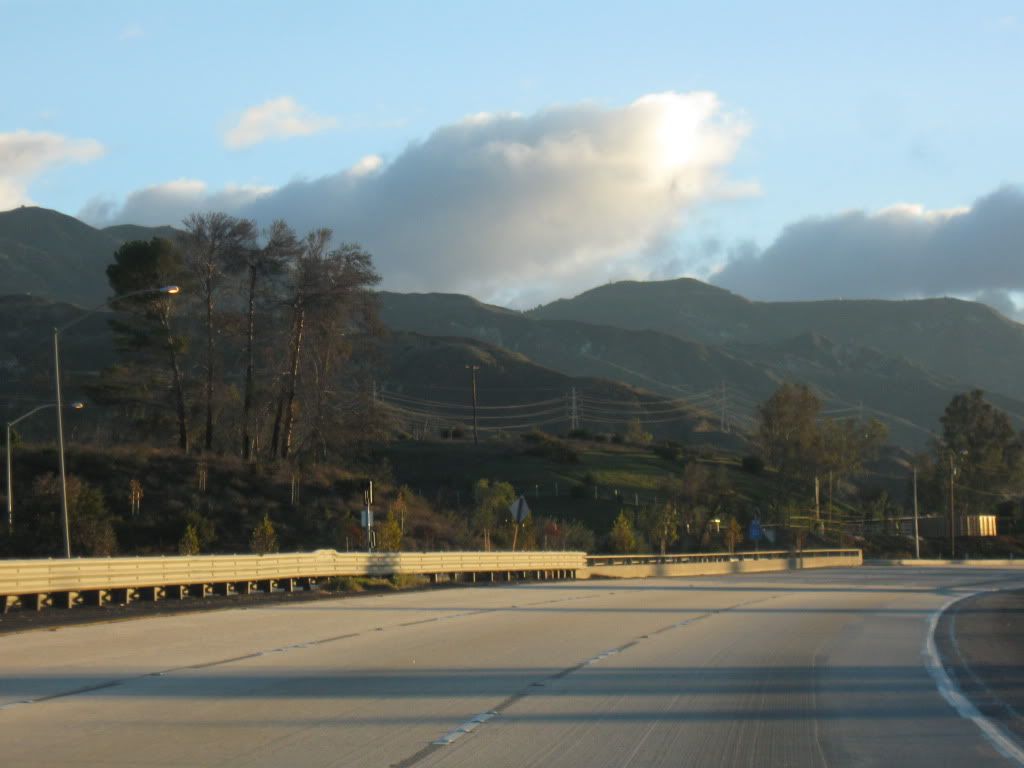 [/IMG]
Up until recently I've been using JSB 4.53s (8.4 gn) almost exclusively. I've gotten pretty familiar with their performance in the wind, and was now curious as to how 7.9 Expresses would do. I've used 7.9's for a couple of our local Diablo matches and being pleased with their performance decided to try them out some more. Luckily it's the pellet that shoots best out of a TX200MK2 I have, fitted with a V-Mach Ultraglide kit, set at 11.5fpe. Determining the holdoff for wind has been the steepest part of the learning curve with these lighter pellets, and I thought it'd be interesting to see how they fare on a full length AAFTA course (up to 55yds), fully exposed to the elements. It's time for some good ole' sighting in to verify clicks and all, but first- a meet and greet with fellow shooters as we get our gear ready.
Living legend LD and James Brinkley, with LD's HFT rig (looking the part!).
[IMG]
[/IMG]
Tim McMurray, 3rd generation Air gunsmith (MAC1 Airguns) conversing with a very bundled up Vipha Miller. Faithful dog Kelly to Tim's right.
[IMG]
[/IMG]
Vipha's trusty P70.
[IMG]
[/IMG]
She shoots Field Target often. And when she does, she usually reaches for this rifle. Stay thirsty for FT, my friends.
It felt good seeing everybody again. Last time I saw the Millers (Vipha & Doug) & Tim McMurray was about a month ago in Maryland for the US Field Target Nationals.
The course is now set- and we're ready to make sure our rifles are sighted-in while the wind isn't blowing that hard.
James Brinkley, Tim McMurray, Larry Durham & myself. Along with LD's and Rich Woods packages I had to drop off to them, I brought along my cherished sight-in targets: Birchwood Casey 3" Shoot-N-C's
Worth their weight in sheet-gold to this air-gunner!
[IMG]
[/IMG]
Sorry to interrupt your sight-in session, PFT Czar Ron Jobbes, but is that a .22 caliber Brocock pistol on your lap or are you just happy to shoot some Pistol Field Target?
[IMG]
[/IMG]
My spring-gun brother Larry Pirrone, ready to check the zero on his sub 12fpe TX200 MK3.
[IMG]
[/IMG]
Hunter FT shooter Bruce Adamson, sending some .177 CPH's downrange with his Benjamin Marauder:
[IMG]
[/IMG]
The Man, the Myth, the Miller ( Doug Miller that is, with unique head warming apparel ). Shooting his highly customized Feinwerkbau P70, faithful FT rig which has served him extremely well throughout the years.
[IMG]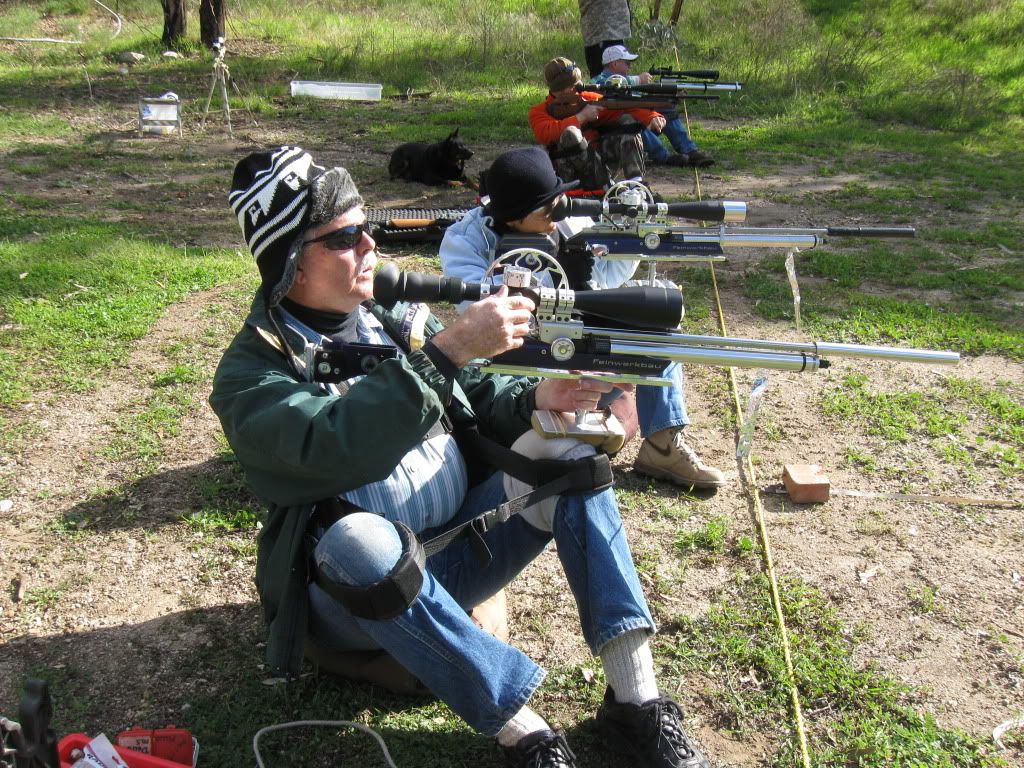 [/IMG]
James Brinkley, Conoisseur of fine, custom built English made spring guns of the Recoilless Opposing Pistons Variety checking zero on his JW60, set up a bit shy of 14fpe. I take it Tim McMurray's dog Kelly (pronounced CALI a-la Mr. Schwarznegger) caught a whiff of some Whiscombe Honey lubed pellets? No Kelly, no! Bad dog! (lol)
[IMG]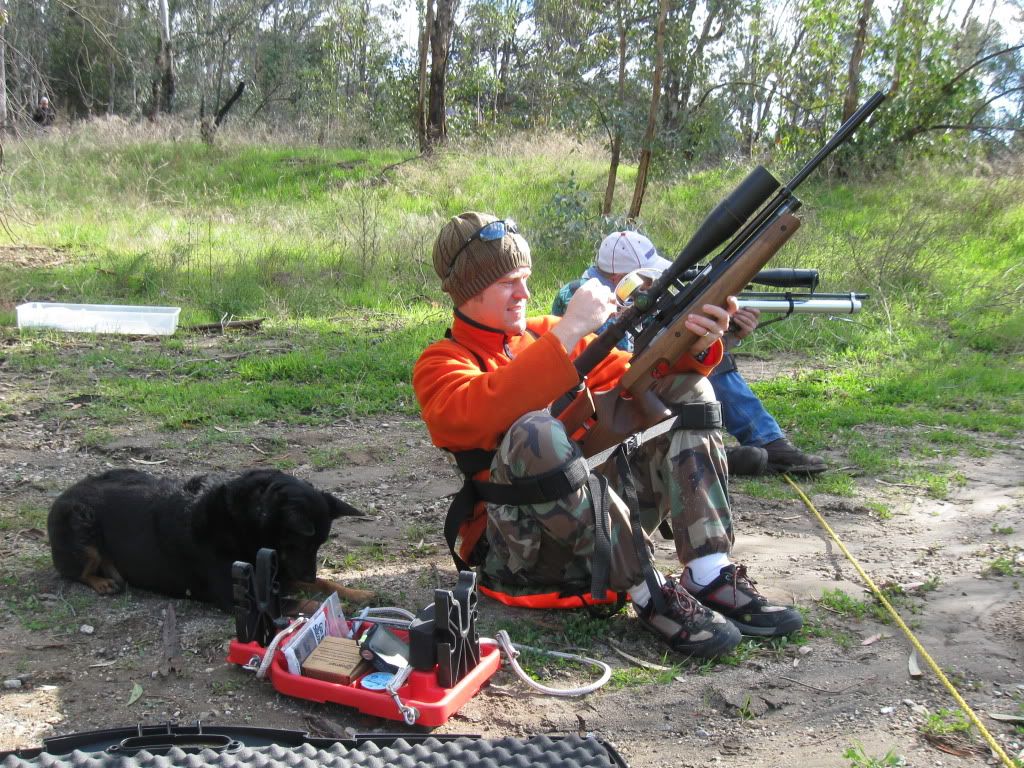 [/IMG]
Tim McMurray giving us the thumbs-up: Another fine day to be shooting some FT!
[IMG]
[/IMG]
A few of us take a break from the practice shooting. Discussion at hand: Spring gun balance, and the various weighted materials that can be used to achieve this. For this match, Larry Pirrone has duct-taped 30oz of lead to his stock to rebalance his rifle. Caught up in this duct-taping trend, I follow suit, but duct-tape a 16oz mercury recoil reducer (7/8 thick by 5 long) to the heel of my GinB stock. Not pretty, that's for sure, but after all, the rifle's not meant to be a museum piece, right?
Squad mates are assigned and we're off to our starting lanes. While getting settled in pea-gravel based lane box #3, I hear movement to the left of me. Ahhh, it's LD shooting Hunter Field Target. Very effective camo job on gear (apparel, bipod, rifle & scope!) Having the opportunity to hold his HFT rig, which is a stripped down USFT (no cheek piece, no adjustable stock), I must say, the entire rig weighs about the same as my AA Pro Elite scoped with Bushy 3200 7-21X40 (my hunting springer).
Check out LD in action:
[IMG]
[/IMG]
[IMG]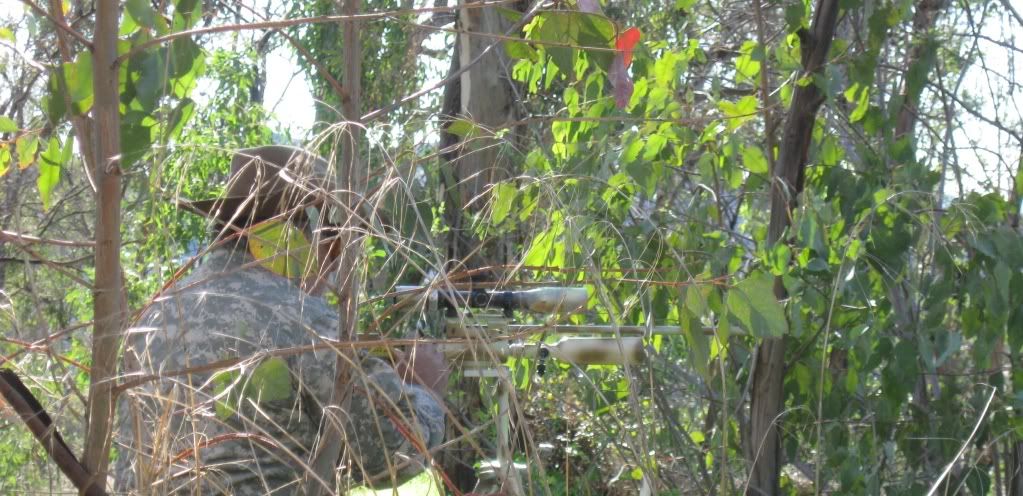 [/IMG]
News travels down the lanes fast that Ron Jobbes, the PFT Czar, has just successfully dropped a 45 yard target with his Pistol.
[IMG]
[/IMG]
[IMG]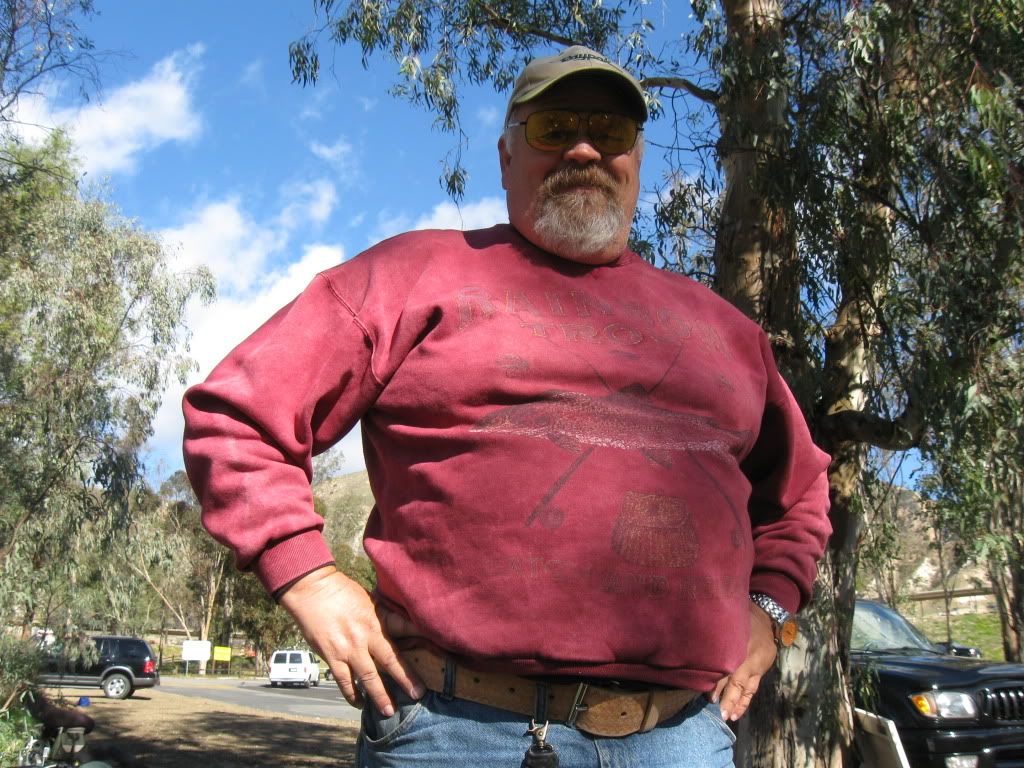 [/IMG]
Good stuff, Ron!
A few more glimpses from around the Angeles Field of Honor:
A Piston class duo: Larry Pirrone scoring James Brinkley
[IMG]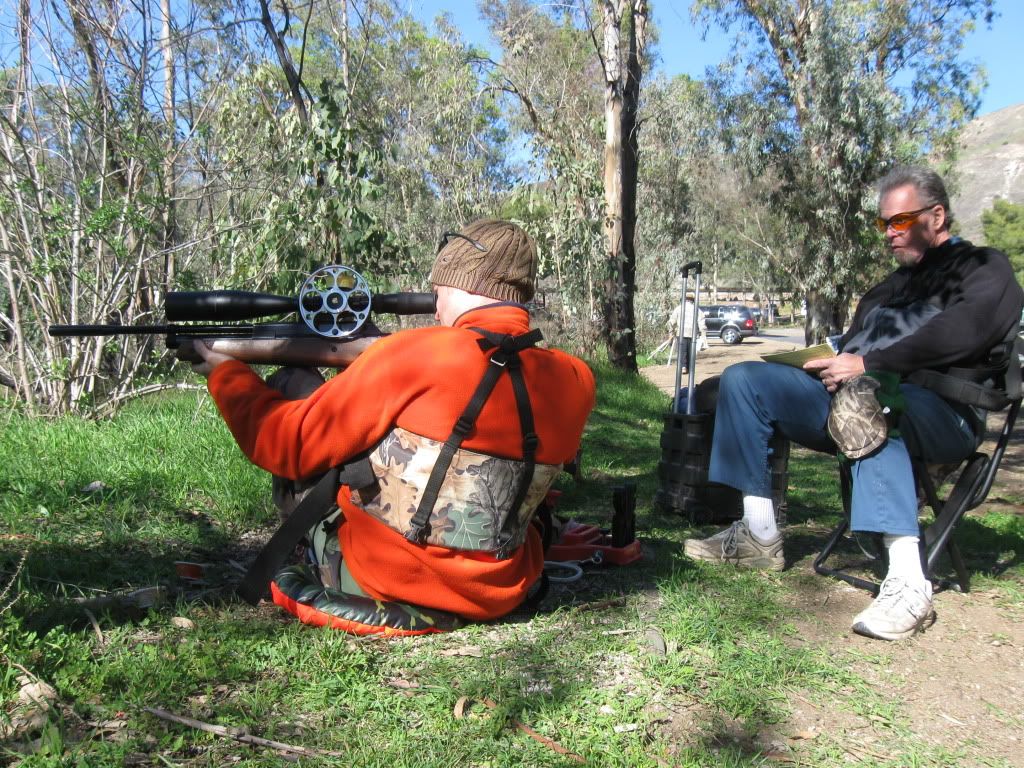 [/IMG]
Notice position of Tim McMurray's wind indicator:
[IMG]
[/IMG]
[IMG]
[/IMG]
Here's my crude attempt of a 'panoramic' view of the far end of the range, a challenging spot to dope the wind!
[IMG]
[/IMG]
To the left is a wind swept ravine, which climbs up and opens into the Eucalyptus grove. To the far right is Bill Tramel, addressing a motionless metallic Southern California bull frog.
I had the pleasure of shooting with Bill Tramel today, a fine piston shooter who made his FT debut on day 2 of the CA state championships. He's improved a lot since then, and was making some fantastic shots despite the wind we faced!
Here's Bill with his gorgeous HW97K with thumbhole stock:
[IMG]
[/IMG]
[IMG]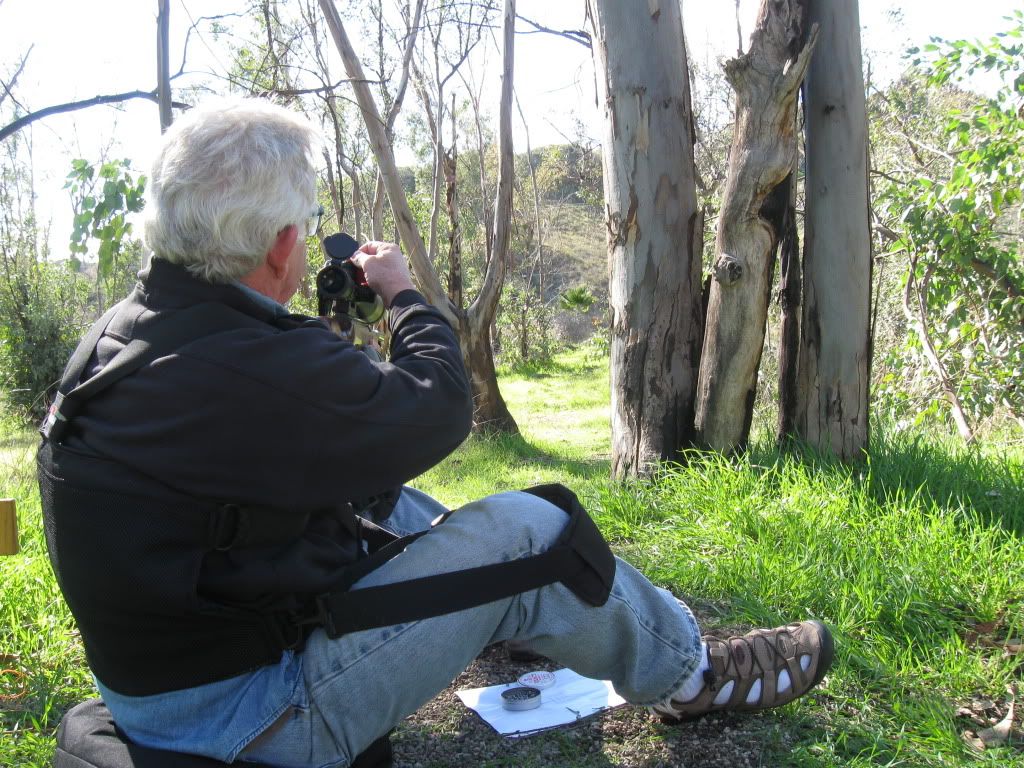 [/IMG]
We had a great time shooting together! I believe one of the FT targets on lane 8 or 9 may have received a new nickname by Bill. Its a black bird, with a unique downward curved bill, with a kill zone of about ˝. It was around 28 yards if memory serves me right. The newly named
Black Angeles Warbler
was one of the most sought after game birds on this day. Bill and I both agreed that when shot with a spring-gun they make for better eating
We had a good laugh about that. I havent had that much fun hitting a steel critter in a while!
Well, our 40shot match comes to an end, and I was pleasantly surprised with how the Expresses performed in the wind today.
See wind conditions h
http://www.youtube.com/watch?v=qU-cUk5ihTs
I was also glad to see that my new positioning/stock changes didn't alter performance adversely- for this match I took my scope off of the drooped riser block, used the knee-riser and abandoned my knee-pad. I had the previous afternoon to get acquainted with the new changes, and it seems to be working just fine. The rifle balances fine with the mercury recoil reducer, and isn't hold sensitive to positional changes (seating to kneeling/standing).
But the fun isn't over yet folks. James Brinkley let me try out his JW60. It takes a bit getting used to, the under lever cocking followed by the sidelever loading
Nonetheless, a mechanical marvel that would be a gem in any air gunners collection! And that triggermy oh my!
[IMG]
[/IMG]
[IMG]
[/IMG]
What a great time. Shortly after the course is taken down a few of us stop by the Ranch Side Café conveniently located just down the road. Where else in the world does the Café owner have photos on the wall of herself shooting a USFT and posing with Keanu Reeves?
[IMG]
[/IMG]
[IMG]
[/IMG]
[IMG]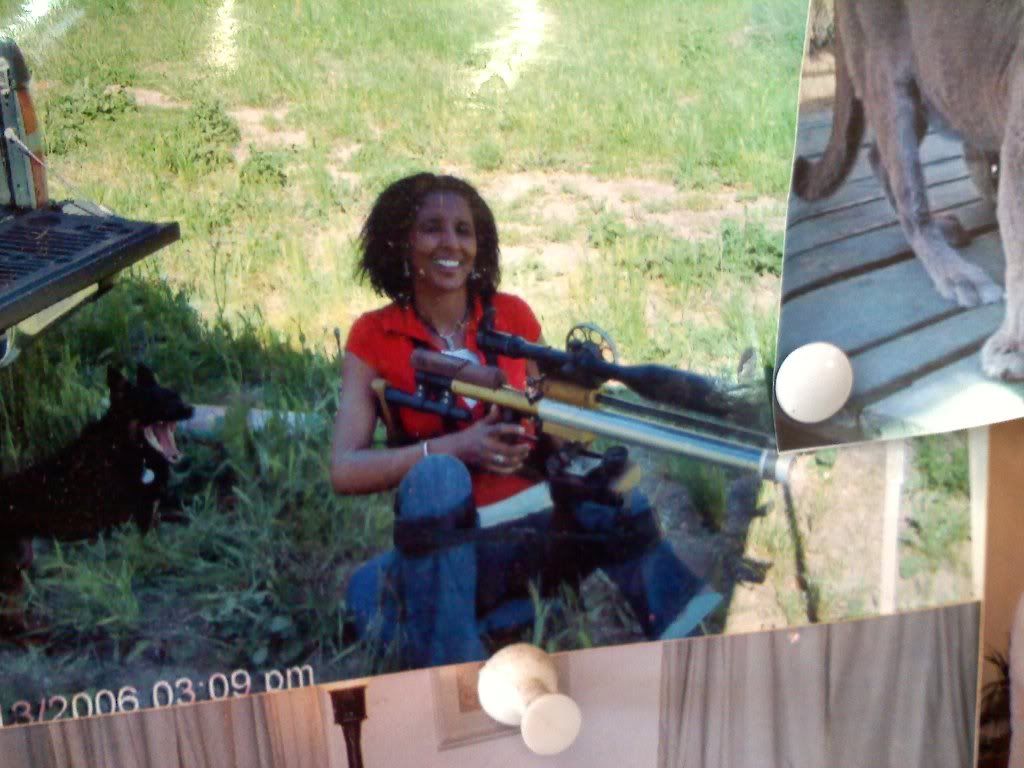 [/IMG]
[IMG]
[/IMG]
In closing, many thanks to the California Airgun Shooter's Association and their members for all that they do! CASA is truly a monolithic institution in the realm of Field Target; a club whose roots penetrate deep into the Los Angeles County mountainous soil from which their rock solid members emerge. It was an enjoyable experience in all that wind today with you guys. See you guys for the Christmas Party/swap meet/pot luck at the Prado range!
[IMG]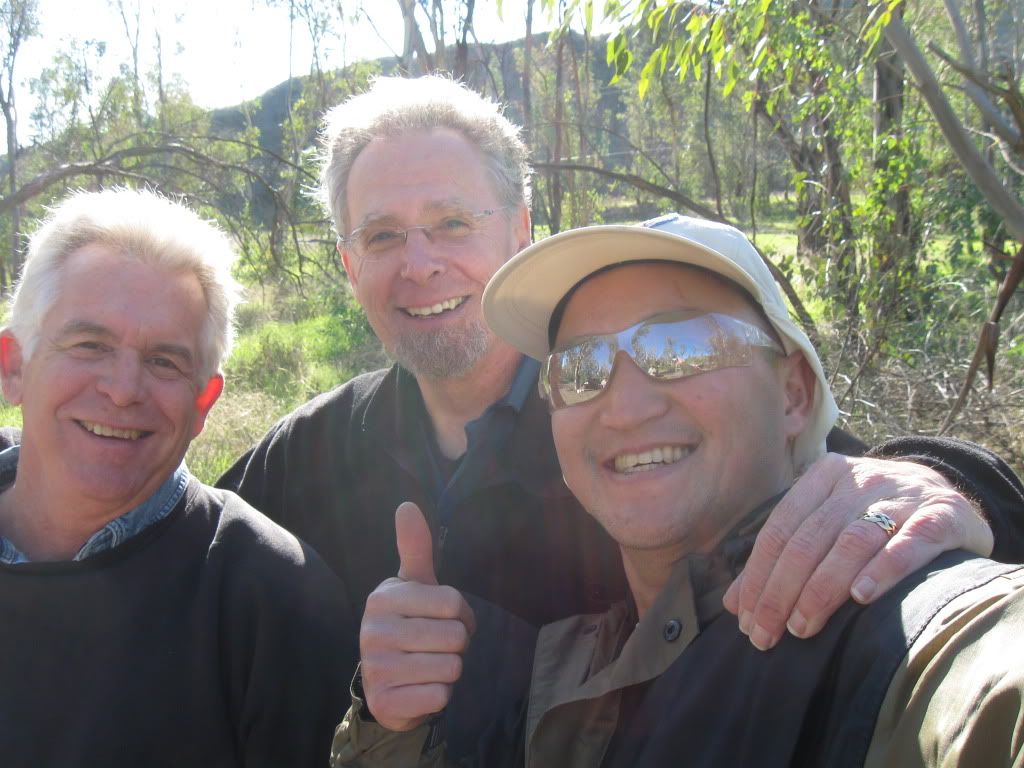 [/IMG]
[IMG]
[/IMG]
Larry Pirrone holding my baby:
[IMG]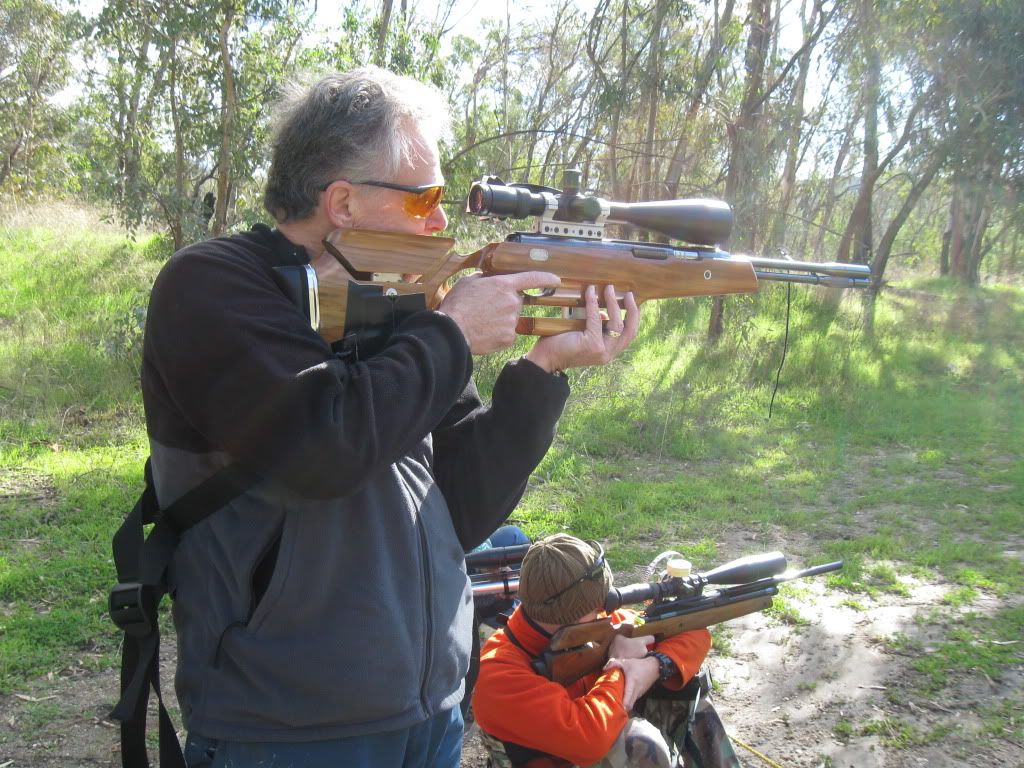 [/IMG]
And Tim McMurray holding his:
[IMG]
[/IMG]
Departing the mountains...
[IMG]
[/IMG]
And into the LA traffic
[IMG]
[/IMG]
Thanks for letting me share!
link to Match Results
http://www.network54.com/Forum/451309/thread/1291007524/CASA+FT+RESULTS+AT+ANGELES+11-28
Jonathan Reyes