Airgunners of Arizona Field Target Match Report
December 17, 2011 BASF, Phoenix, AZ
Well, the last shoot of 2011 is now complete and the Airgun gods smiled on us with sunshine, blue sky, lots of big, puffy, fast moving clouds, and WIND. Good grief was it windy! The National weather service called for winds out of the north from 11 to 13 miles per hour, with gusts of 20 miles per hour. The good news was that it did not rain. That will happen tomorrow, but for today, it was perfect, if not blustery weather for airgunning. It started out rather chilly but warmed up nicely as the day progressed.
There must have been more than a few wives who nixed the plans of some of the guys that said FOR SURE that they would attend today. Some of the excuses have really good entertainment value also. We know that some have work, family, or other obligations to attend to, but the others
Either way, we had 11 shooters present to battle the wind. One of them was a brand new shooter, who attended with a new gun and no sight settings. Inside of 15 minutes on the sight in range, he was zeroed at 25 yards and deemed himself ready. Bill Stevens was ultimately paired to shoot with me, and to say that he impressed me is an understatement. He ended up taking first in HFT with a 33/40 score! That is phenomenal. He missed 2 of his shots due to running low on air, but the rest were solid. He did mention that he shot on the Army high power rifle team at one point, so I guess that has something to do with his performance.
[IMG]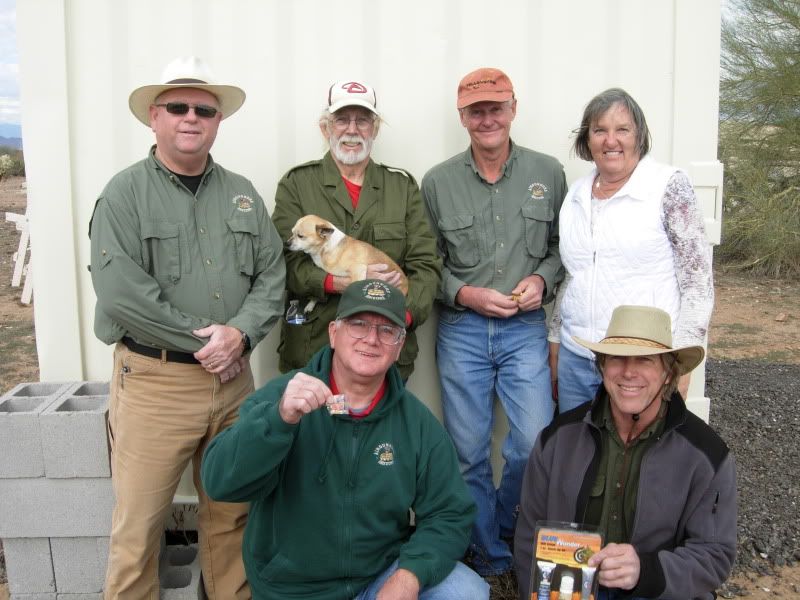 [/IMG]
Open class shooters: front row L-R; Mark and Bob. Back row; Larry P, Larry N with Arrow, Dale, and Deb
[IMG]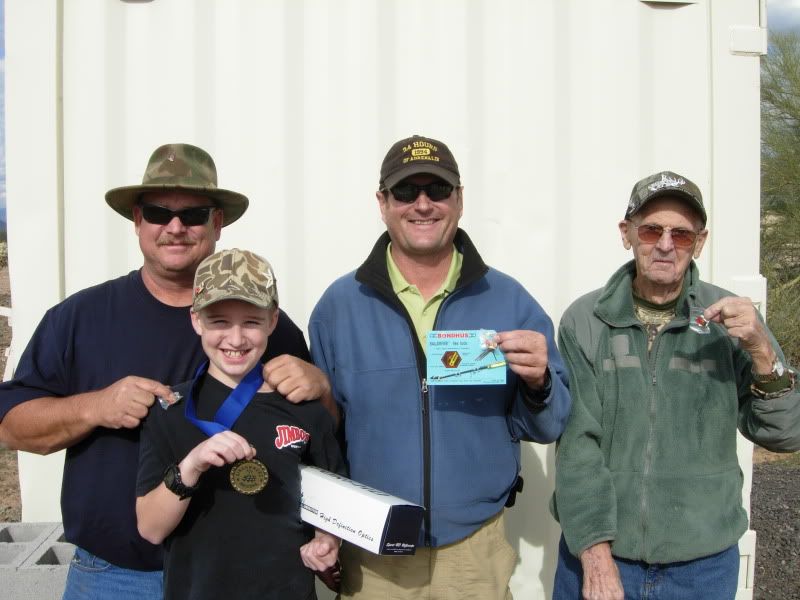 [/IMG]
Hunter Field Target shooters; L-R; Jim, Justin, Bill, and Ray.
Unfortunately, I left my camera in the truck and did not get any pictures of the shooters or lanes this month. Sorry. I did get a chance to just sit and concentrate on my shooting and reading the wind. It was fairly consistent, coming out of the north and did not swirl as it has in the past, which allowed me to judge it correctly and post a clean score for only the second time since I have been shooting air rifle. And, yes, it felt good!
We were fortunate in seeing the return of two of our favorite senior shooters. Ray Horneman and Larry Nelson were both in attendance after recent health concerns and we are glad to have them back. A very exuberant Justin Stringer and dad Jim rejoined us also. Although a bit windy, we all had a good time.
Here are the scores:
[IMG]
[/IMG]
After shooting was complete and all targets were collected and stored away, we had a short awards ceremony followed by an impromptu raffle. Several members acquired assorted and sundry shooting items from past matches and decided to raffle them by shuffling the score cards upside down, and pulling names for the winners. We did this at the end of the match last month and it went over well, so we did it again this month. I think we will try to make this a monthly event after each match. The big winner was Justin, who went away with a brand new Hawke scope. From the look on his face, you would think that Santa came early.
Our next match will be Saturday, January 14, 2012 at Ben Avery range. We will be at this location until March with the AZ state championship and Grand Prix match in February. Information on that is in the works and will be available soon; as soon as I can put it all together.
A big thank you goes out to Larry Peircy, this months match director, along with Dale and Debbie Kieser for setting up this months match. You guys did a great job as always.
In closing, Airgunners of Arizona would like to wish everyone a very Merry Christmas and a Happy, Healthy, and Prosperous New Year.
Respectfully submitted,
Mark Kauffman
Secretary, Airgunners of Arizona