BAGA Field Target Match Report
September 26, 2015 In Bristol, Wisconsin
This match started off a little different because Alex, Bill, and Ron could not attend. That means we were going to cancel the September match so I volunteered to be MD for the next 2 matches just so we could have matches before Nat's. Ron and Bill are the ones that do the food for our matches so that was another thing we had to account for. We decided we were just going to order some pizzas for everyone and keep it easy. My fiancé baked a cake for Don Carkhuff's b-day so we had that on site for starters. Turned out we could not order pizza! We called that dang place 10 freaking times and nobody answered the phone. So that sucked! After the match 4 of us went out to eat at a local Pub & Grub and had burgers and beers and enjoyed the afternoon.
So let's get to the match stuff…
As many of you already know I bought a new Steyr and went out last Sunday to get numbers. When I got to the club today all my numbers beyond 30 yards were off and as the yardage got longer the numbers were off by more so I had to do a little on course triage and figure it out. The pellets were impacting about 1 inch higher than they were last weekend and only on the distances past 35-40 yards or so. I ended up just using 7 less clicks for everything past 40 yards and it worked out well. I know the 55 yarders were still a little high and I was holding a little low because of that.
So this was my first match with the Steyr now that it was set up. I ended up grouped with Greg Sauve today and had a blast! Greg started off very strong and cleaned the first 7 lanes he shot including the standing and kneeling lanes. Greg was on fire and I was afraid he was going to clean the course in front of my own eyes! Now this course is set to a 38 troyer and we have a ton of small kz's so this course is much harder than it looks on paper. Through my first 5 lanes I had cleaned 3 and missed my first standing shot and last kneeling shot. Both misses were 100% shooter error and could have been avoided so I was disappointed by that but 3 out of 4 on each positional is going to have to do today! After the 14th lane in the bottom of the course we had the trek back up the hill to the 1st lane. Lane 1 is open on the right side to the sight in range and that brings plenty of wind with it that most of the other lanes do not have. I cleaned the first target(squirrel climbing tree 28 yards ¾" kz) and moved on to the longer target between 50-55 yards. This target has a full size 1 ½ " kz and is just sitting there out in the open. Easy to range, easy to hold on target… So I could feel the right to left breeze sitting there in the box and my flag was also moving right to left so I held just outside the kz low at 5 o'clock and let the shot go. NOT THAT MUCH WIND EFFECTon the pellet at all and the pellet hit directly at 3 o'clock on the face plate… DANG IT! Ok now I had to watch the wind and see what was going on… I set up the 2nd shot and watched the wind, it was still moving right to left but not a whole lot, so based on the results of the last shot I was not going to hold out of the kz. I set up just inside the 3 o'clock position inside the kz and took my breaths slowly. Released half my breath and felt the trigger break. Looking through my scope I could clearly see the pellet in the last 10 feet of flight and it was clear to see it move right to left and hit the dang face plate at 9 o'clock, just outside the kz. Now I was aggravated because I had not missed 2 shots on a single target all day and until that lane I had only dropped 2 shots total so I was not happy. I proceeded to clean 6 of the last 7 lanes and only dropped a single shot in those last 7 lanes after the misses on lane 1. I ended the day with 51/56 but that did not really mean anything on this day!!! Someone else is about to break the sound barrier and turn some heads on this day…
Greg was also shooting well. He started off with 7 clean lanes and stayed strong all day long. I think he was getting a little worried down the stretch because he was up on me by 3 shots through the first 9 lanes but he dropped 3 shots through the last 5 lanes and that made it very tight. I was shooting first all day so after I cleaned a lane he definitely wanted to do the same thing. It is a blessing to be able to learn from someone like Greg! It sure is fun shooting a BAGA match with Greg!!!
Now VLAD!!!! Vlad went off today!!!!
Vlad had a little issue with his gun early this year but that is all cleared up now and he obviously took advantage of shooting his own rig again. Vlad only dropped a single shot all day long and it was a tough one. He missed his first shot on the woodpecker we have out about 40 yards with a ¾" kz. That is one hard target but that is the only one Vlad missed all day long. On this course that is just awesome!!! I would never expect that but how much does that say about how well Vlad can shoot?!?! He is also in tons of pain with neck problems so this is even more impressive. Vlad is quite happy to have his rig back up and running properly and it shows big time!!!
Congrats Vlad! Just awesome shooting today!!!
On the Hunter side of things, Phil continued his winning ways though he slipped a little from last match so he is going to buckle down for next match and I bet he does a little better than this time. Phil ended up with 47/56 today for top honors in the Hunter class. Phil was closely followed by Ken Hohenstein with a 44/56. Ken is really getting the hang of his new BSA R10 and it shows in his scores every match since he started using it. Bill Zinaveah pulled his Steyr LG110 out and shot much better than his last match. Bill's last match was 16/56 so for him to improve to 31/56 that is a huge deal! GREAT JOB BILL!!!! It was great to see him out there smiling like he was 40 years old again.
Unfortunately we did not provide food as we typically do, but like I mentioned earlier 4 of us(Vlad, Brando, Don C, and I) went out for some food at The Thirsty Horse and had some Bison burgers and ice cold beers! It was the perfect end to a great match and everyone was laughing like little kids. We shared stories about the match and all kinds of other topics. While we were there a wedding group showed up and had drinks and took pics. They had a couple dressed up like pirates and a few of the women in pirate garb had old dueling pistols in their belt lines. It was awesome! They really played the part well and it added to our enjoyment of the day.
Great way to end an awesome match day at BAGA!!!
Open(including WFTF)
Vlad – Anschutz ZM2002 Alu- BSA 10-50---CPH---55/56
Greg Sauve(WFTF)- Steyr LG100ZM March X 8-80---JSB 7.87---52/56
Brian Vandenboom(WFTF)—Steyr LG110FT –Sightron 10-50--- JSB 8.4---51/56
Brando—Steyr LG100ZM – BSA 10-50---JSB 10.3---48/56
Hunter
Phil Eakley—TM1000— Optisan Viper set @ 12x ---JSB 10.3---47/56
Ken Hohenstein---BSA R10---Optisan Viper set @ 12x---JSB 10.3---44/47
Bill Zinaveah---Steyr LG110--- Optisan Viper set @ 12x---JSB 10.3---31/56
Spring
Don Carkhuff---TX200---Nightforce 36x---CPL---18/56
Pic of the score board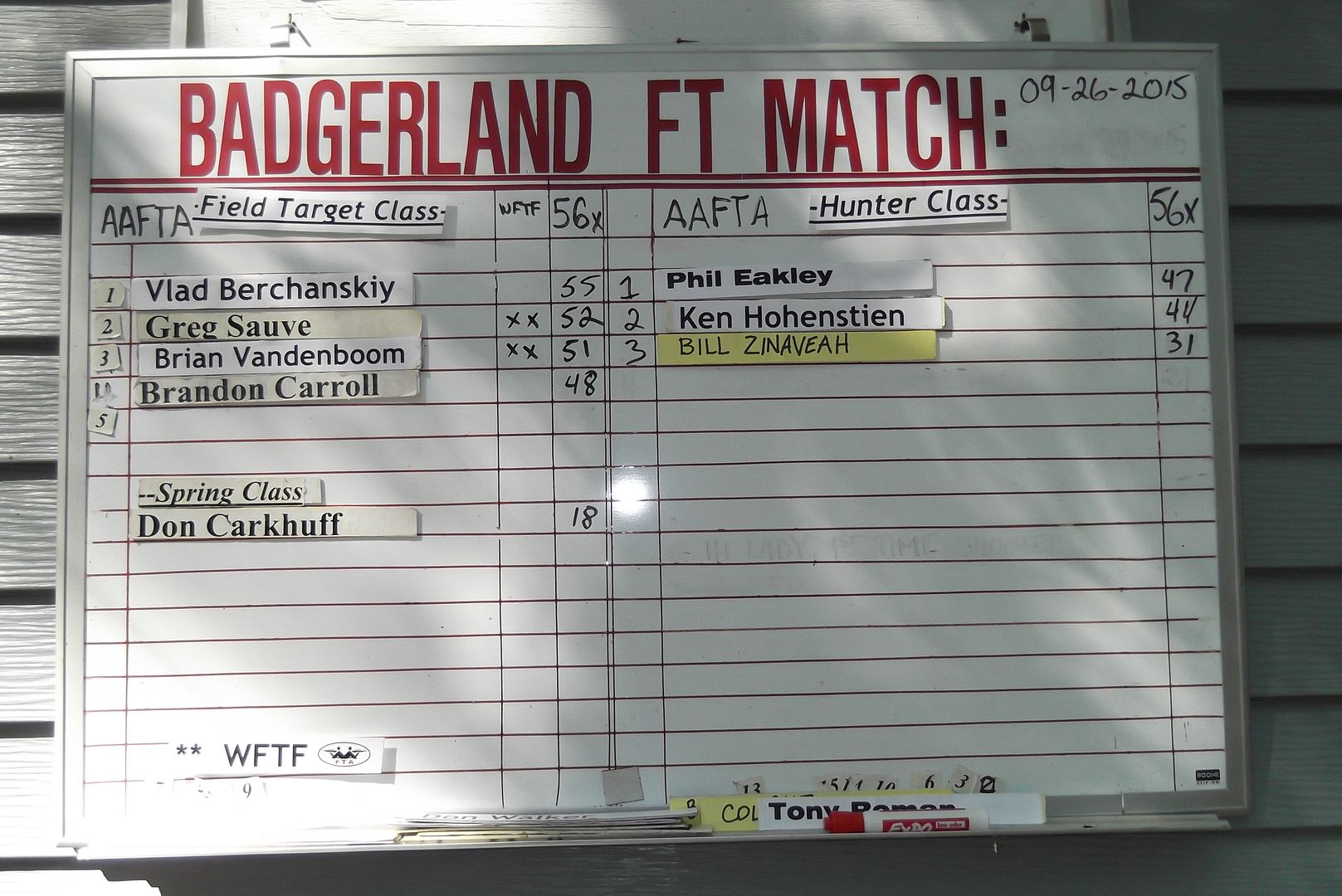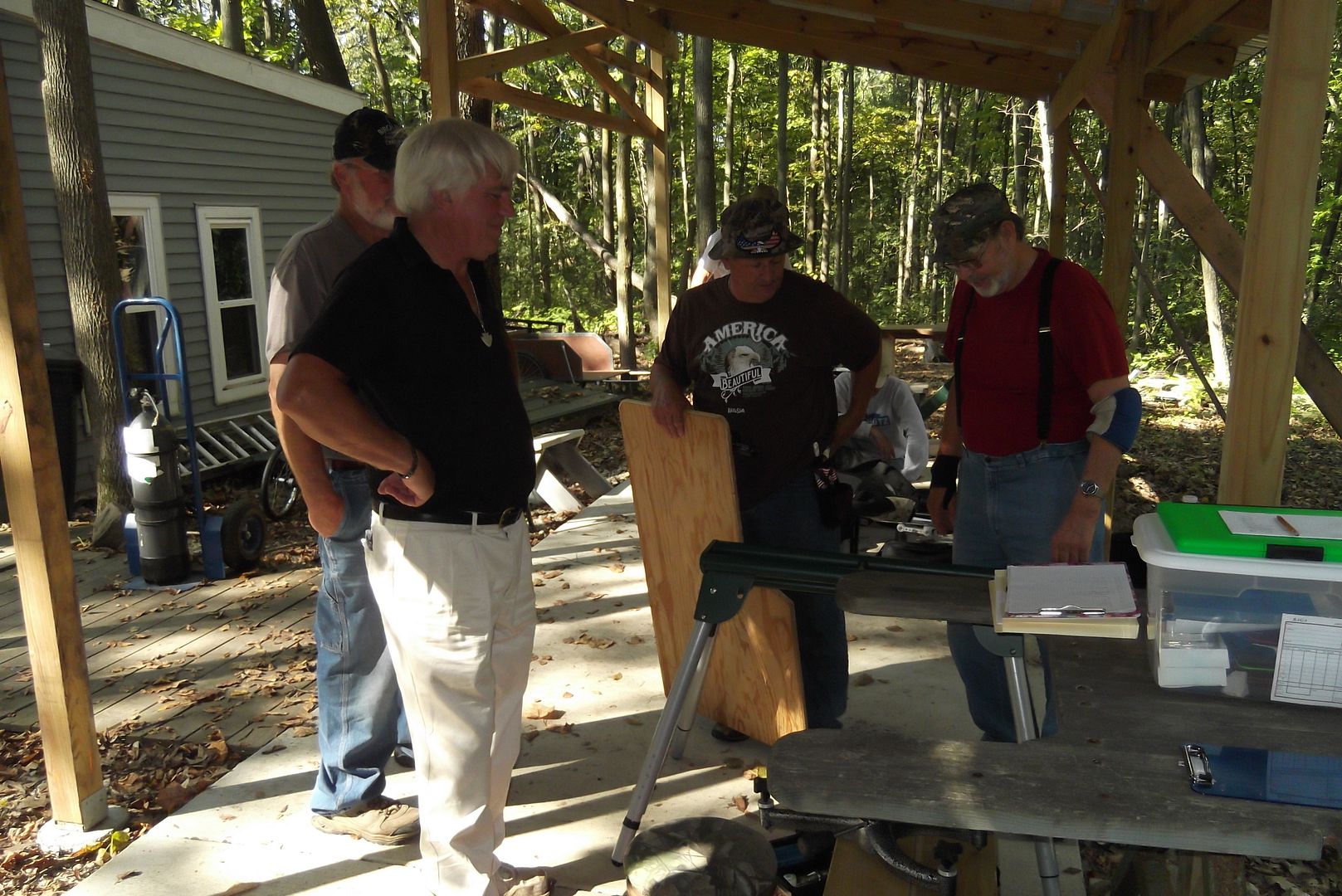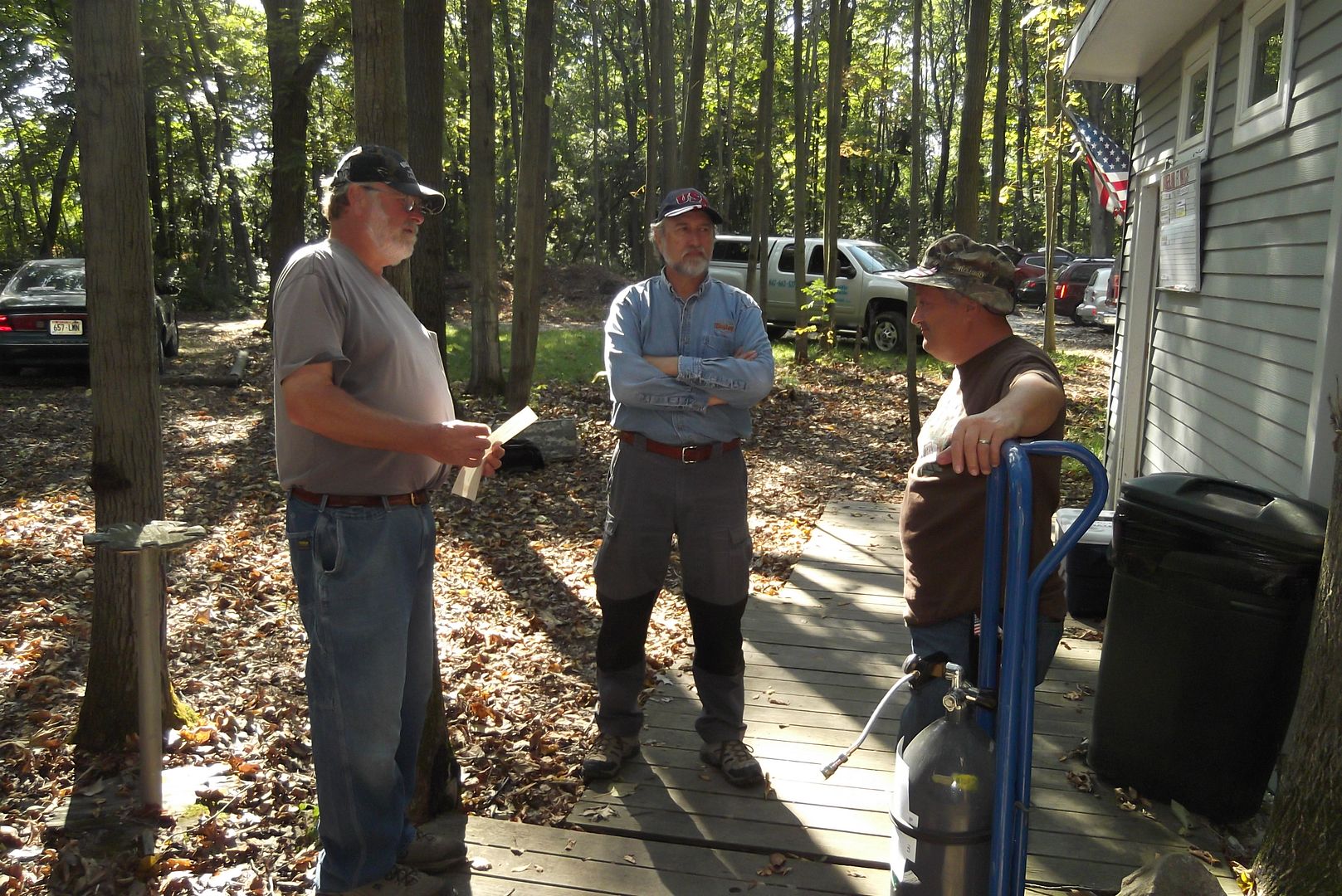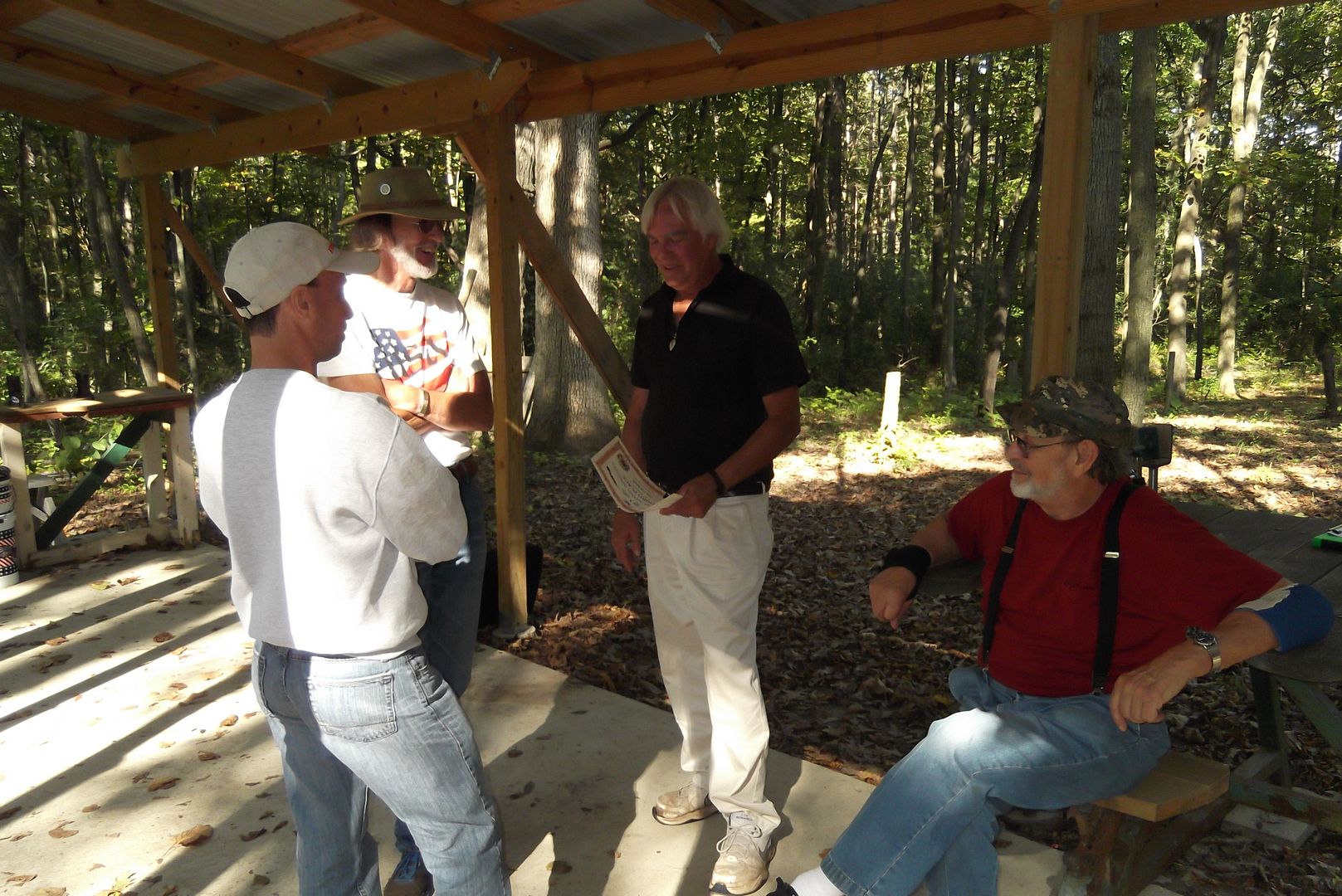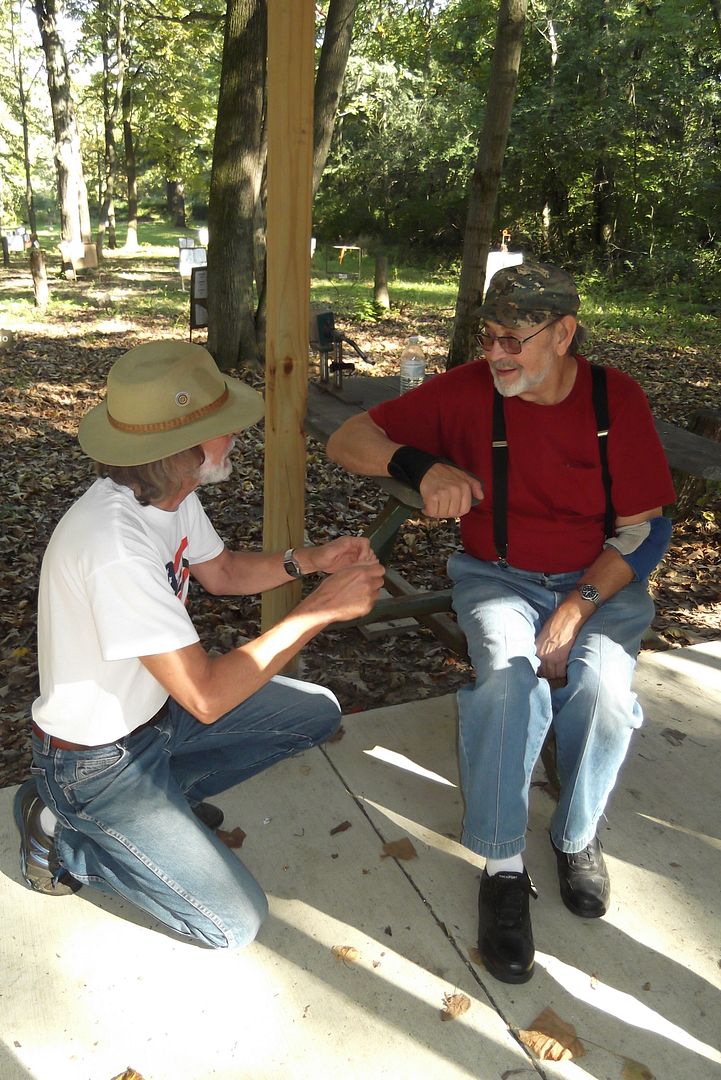 The theme of the day!!!
Good Ole American fun!!!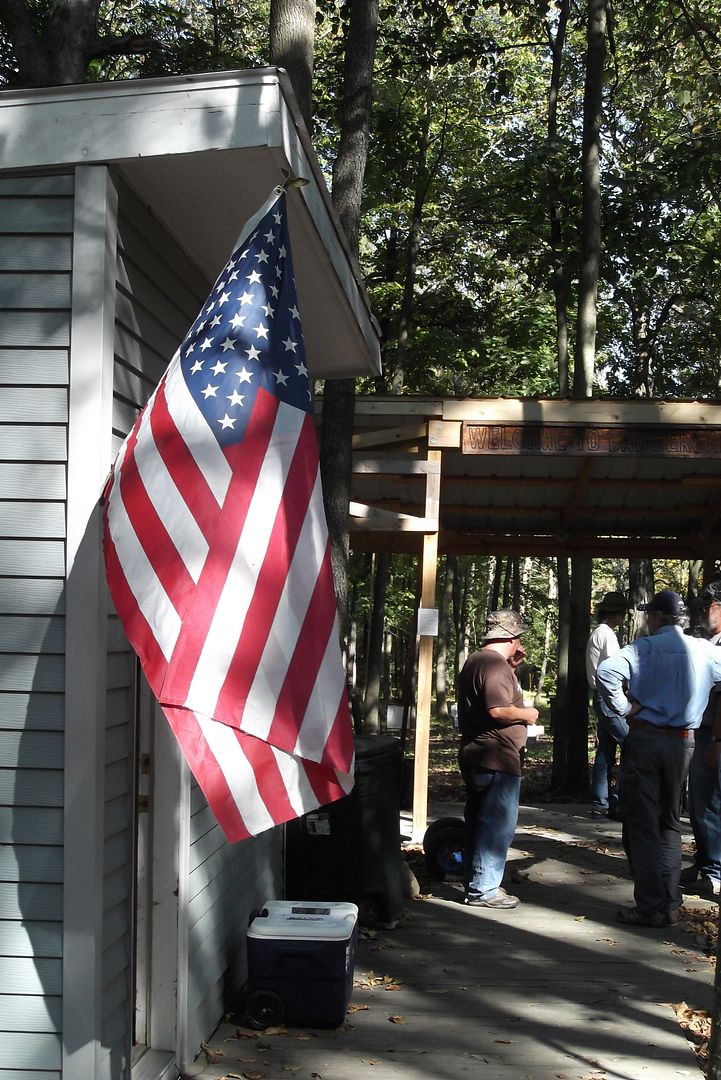 All the pics of the day
http://s1381.photobucket.com/user/PneuSniper/library/2015%20BAGA%20Matches/BAGA%20FT%20Match%20September%2026%202015?sort=9&page=1
See you all on the lanes,
Boomer
"I am not addicted...I can quit anytime I want...I just don't want to..."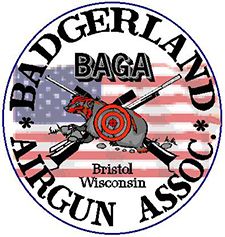 http://www.bagaclub.com/