and worthy of a separate discussion.
AAFTA could require that all GP matches have standard sign/numbers at each target. Then more Hunter Division shooters would learn how to bracket.
And when someone in Hunter Division then complains about not being able to range the far targets, we tell them: "You need more practice - Learn to use mil-dots, and then practice bracketing".
It becomes a practice issue rather than an equipment allowance issue.
As it is now, I bracket when I want to. Compiling the info is not alway easy, but most all info is out there if you're willing to put the time in. Even AAFTA obliges us by providing scales and KZ sizes for their target inventory:
http://aafta.org/Assets/images/Targets/aafta_targets.html
Those targets are often included in the National match. Some of the commercial targets (Gamo for instance) are easy in comparison.
A standard sign at each target would save people a lot of work. They would still need to insure scope calibration and practice their bracketing.
For the Temecula WFTF only match, it's not really an issue.
Note:
I don't really mind when MDs attempt to thwart bracketing. It makes it fun/challenging. I then have to come up with alternatives. Weird angles? Hiding faceplates?, etc. Bring it on. Besides, I can focus range and/or guess the target distance as well/or better than most. If they make it easier to bracket, it will help others more than it will help me. I then might lose some of my "unfair" advantage.
Fun with math - angled block correction factor: (COS(ATAN((dots-Length/Length)*(dots-Width/Width))))
I did that early on when I started to see more angled blocks. So I put it in a chart: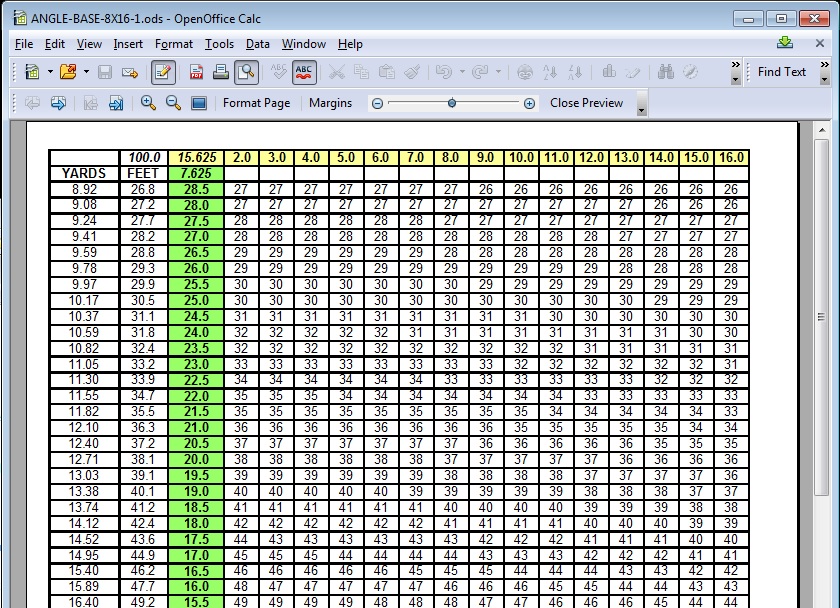 Angled blocks take two dot measurements instead of one, but even with a sloppier dot read, it can give a more accurate distance than when the block is straight on. I think that angling the blocks fell out of favor as I see more straight blocks these days. The straight blocks are faster/easier, but do not give a more precise distance.