BAGA Field Target Match Report for June 10, 2017 in South/Eastern Wisconsin.
It was a perfect day for a Field Target match back in the woods at BAGA. The Temp was in the high 80's, just under 90 with VERY strong winds. The Weather Channel indicated we were experiencing 20-30 MPH winds, though Alex had an electronic wind meter on hand and was only reading 15mph, it was still a challenge for many on the lanes susceptible to wind.
Bill Howarth came out with high score of the match with a 57/64. Bill was shooting his trusty Thomas again and it did not let him down. After 10 years of not shooting at all, Bill has come out and won both of his first 2 matches back in the game. That is awesome to see!!! Boomer came in 2nd place out of the WFTF class with 54/64. There were only 2 WFTF shooters in this match so they get lumped into Open when there are less than 3 participants in a class. Ron Weber ended up in 3rd place out of the with 51/64 and he was hurrying up so he could start cooking up a great meal of BBQ chicken and sirloin burgers. What a spread it was!
Here is the list of participants and gear by class:
Open
Bill Howarth…Thomas…March X 8-80…JSB 13.43...57/64
Brian Vandenboom…Steyr LG110BV…Sightron 10-50…AA 8.4…WFTF...54/64
Ron Weber…Steyr LG100 AZ…BSA 10-50…no pellet listed...51/64
Brandon Carroll…Steyr LG100AZ…BSA 10-50…JSB 10.34...47/64
Vlad Berchanskiy…Anschutz 2002 Alu AZ…BSA 10-50…CPH...40/64
Tyler Patner…borrowed AA FTP 900...Sightron 10-50…JSB 8.4…WFTF...33/64
Hunter
Ken Hohenstein…BSA R10…Optisan Viper 8-32 set at 12x…JSB 10.34...48/64
Don Walker…Steyr LG110…Hawke 10-50…JSB 10.3...41/64
Jeremy Zorns…Brocock Compatto…Hawke 4-12…AA 10.34...36/64
Fred Joachim…TX200…Leapers 3-12…AA8.4(Springer)...23/64
Brandon McGrew…Brocock Compatto…Hawke 4-12…AA10.34(First FT match)...19/64
Our next FT match is going to be held on July 8th 2017. See you on the lanes!!!
Thanks,
Boomer
"I am not addicted...I can quit anytime I want...I just don't want to..."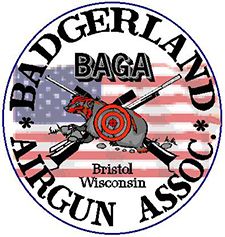 http://www.bagaclub.com/